Mailbag - December 2015
Click the Buzz Me button to receive email notifications when this writer publishes a new article or a new article in this column is published.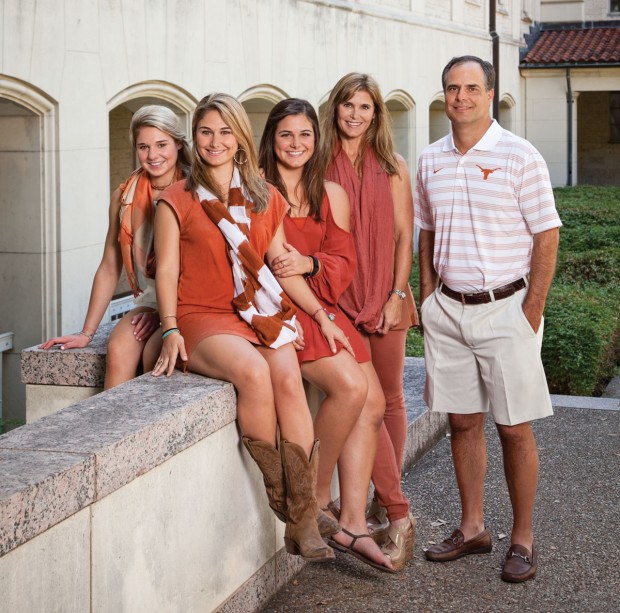 "Your distribution is incredible"
Thank you for letting my family be part of your Family Alma Mater article in the October issue [Alma Mater: Going to college, keeping tradition, by Andria Frankfort]. Although my husband and daughters put me in the doghouse for committing us to a family photo shoot, I hoped I would look back 10 years from now and be glad we did it, even if I endured a little grief right now. Even though my husband and daughters would never admit that our photo was "not that bad," I think that secretly they were flattered to participate. In addition to finally getting a photo of our whole family together (where one of our daughters is not wearing a cap and gown), being in your magazine has enabled me to re-connect with people I have not seen in years.
Your distribution is incredible. People of all ages from all parts of Houston have called, texted or emailed me that they saw our photo in your magazine. It has really made me feel special and I appreciate their kind words. It was a pleasure to work with you, and I look forward to seeing many more Houston friends, neighbors, and acquaintances in your magazine.
Dede Russo
Lovely article on program for dementia
Thank you so much for the beautiful article in this month's Buzz [Amazing Place: When memories fade, by Cheryl Ursin, November 2015]. We have heard from so many people about it! Your reach and impact is powerful.
Being featured was a tremendous gift to our organization, and we can't thank you enough for the exceptional way you captured the journey of four very special people (and their families) facing this devastating journey. Your article will help many in Houston to find hope and resources. 
Tracey Brown, executive director
Thank you from participant's wife
Oh Cheryl [writer Cheryl Ursin], I've been thinking I would write and thank you for doing such a great job. Please pass our happy response to all who made it possible. I have heard from people all over town and even had a neighbor tell me he had not known anything about AP [Amazing Place] – so yes, it is very worthwhile to bring these interesting facts to the fore. John and I thank you for your skill.
Jenni Elliott
Editor's note: Jenni's husband, John, a former geologist, spends time at this day program. If you missed the story, you can read it, as well as every other Buzz story, here at thebuzzmagazines.com.
Olympic hopeful windsurfer inspires
I loved reading Morgan Bernard's October article about our favorite Olympic hopeful, Carson Crain [Windsurfing Toward Rio: Buzz resident aims for Olympics]. What a journey this young athlete has had! I have personally known Carson for many years and have watched him develop from a U.S. nationally ranked sailor to a World Class RSX Windsurfing competitor. Carson's rapid rise to his current ranking as the top U.S. Men's RSX Windsurfer is a testament to the focus, dedication and talent of this young man. He is an inspiration to us all, and I hope this article will encourage others in our neighborhood to follow his progress and support his Olympic campaign.
Laura Thomas
Send letters to info@thebuzzmagazines.com. Please include your name, address, phone number and email address for verification purposes. Letters are subject to editing for clarity and space. Views expressed in letters do not necessarily reflect the opinions of The Buzz Magazines, and The Buzz takes no responsibility for the content and opinions expressed in them.
To leave a comment, please log in or create an account with The Buzz Magazines, Disqus, Facebook, Twitter or Google+. Or you may post as a guest.