Mommy Moments: Cleaning up the Messes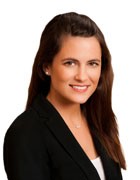 Click the Buzz Me button to receive email notifications when this writer publishes a new article or a new article in this column is published.
When 2-year-old Anna Katherine "Annie" got a hold of the Hershey syrup, her mom Ashley Hulsey couldn't believe what she would find. Ashley said the events that unfolded were a result of trying to reward her daughter for potty training.
"I made her a 'special milk' (with Hershey's) for going potty. We are potty training, so that is one of her favorite treats," said Ashley. "I was in the middle of cooking dinner, so after I had made her the chocolate milk I left it on the counter. Our kitchen opens up to our living room, so as I was making dinner I could see her little head watching TV and playing in the living room on the floor. Everything was good. At some point, she must have gotten the chocolate off the counter. I continued to cook, watching my 5 year old out my kitchen window playing in the backyard. I felt like I had everything under control (or so I thought, ha!) I could see both of them and I was wrapping up dinner. A few minutes later, I peeked over the couch to tell her dinner was ready, and that is when I saw the chocolate disaster happening. I wanted to laugh and cry at the same time. She was so darn cute doing it and smiling as she was smudging away, that it was hard for me to get upset. I grabbed my phone off the counter thinking that not one person will believe if I don't have proof. As I took her picture, she continued to saturate the chocolate even more into the white couch. I immediately took the slipcover off, but had no clue how to get this out."
Ashley said she turned to the Facebook group West U Information exchange to get some ideas on how to tackle the stain. "People were very helpful and supportive. I couldn't believe my eyes reading every one of the comments. There must have been a 100 or more. I loved reading them, because most were from people I didn't even know. They made me smile and helped me realize that at the end of the day, she's just a toddler and it's just a couch."
What's the biggest mess you've had to clean up from your kids?
To leave a comment, please log in or create an account with The Buzz Magazines, Disqus, Facebook, Twitter or Google+. Or you may post as a guest.