Difficult Decision: Camp vs. Surgery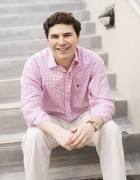 Click the Buzz Me button to receive email notifications when this writer publishes a new article or a new article in this column is published.
When he was 14 years old, Daniel Wachsberg noticed a bump on his right leg below his knee. His mom assumed it was a mole. Over the next month, Daniel noticed that the bump continued to grow, but he felt no pain associated with it. Ultimately, Daniel's parents decided to take him for an X-ray.
His doctor diagnosed it to be Osteochondroma, a benign tumor that grows in any bone where cartilage forms. Luckily for Daniel, the tumor grew out from the bone and was not harmful. Although surgery didn't need to be performed immediately, his parents Simon and Audrey said they had a "freak-out moment that was nerve wracking" because they found out that some Osteochondroma tumors can be dangerous depending on how they grow. 
Over the next two years, Daniel continued his daily routine of going to school and hanging out with friends until one day this summer while he was away at B'nai B'rith Perlman Camp in Lake Como, PA. Daniel, a rising junior at Bellaire High School, was enjoying a day on the lake when he jumped from a water trampoline onto a blob. 
Daniel knew that something was wrong because he felt "excruciating sharp pain rush through his body and was instantly sore." Later, he found out he had cracked the base of the tumor where it connects with his bone. Until that moment, his tumor had never caused any issues for him. 
He was taken to an emergency clinic where x-rays were performed and sent back to his doctor at Houston Methodist Hospital in the Texas Medical Center. Daniel's doctor informed his parents that Daniel would have to have surgery to remove the tumor. He was given the choice to either stay at camp for the entire 40 days or come home after first session was over. Daniel was unable to put pressure on his right leg, leaving him to maneuver around on crutches and a wheelchair. With full support from the entire camp staff and campers, Daniel decided to come home early to have the surgery.
"It was a very difficult decision to make because I was torn between staying at camp and coming home," said Daniel. 
While home, Daniel spent many nights staying up until around 3 a.m. talking to his friends over FaceTime and receiving lots of support from both his friends and family. As Daniel prepared for his surgery on July 21, his parents were scared, but "had full confidence in his doctor and the medical staff," said Simon. 
His recovery is expected to be least two months, but Daniel might not be able to play basketball or work out again for another 6 months to a year. Post-surgery, Daniel said that he initially regretted leaving camp early because he wasn't able to be with his friends, but he is happy to now have more time to recover before going back to school in late August. Daniel is appreciative for his parents, Audrey and Simon, his brother David, Dr. Rex Marco, and all of his friends and family who have supported him throughout his journey. 
Upon reflecting, Daniel said, "It's important to make sure to talk to people that you trust about a situation that you may be going through and don't try to hide it."  
To leave a comment, please log in or create an account with The Buzz Magazines, Disqus, Facebook, Twitter or Google+. Or you may post as a guest.