Mommy Moments: RIP, Little Ladybug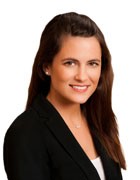 Click the Buzz Me button to receive email notifications when this writer publishes a new article or a new article in this column is published.
Sometimes, a parenting moment you're anticipating to be sweet and innocent can get squashed. Literally.
Recently, I took my 2-year-old twins Cash and Lila to Tanglewood Park on a hot day. My daughter loves exploring the perimeters of parks and picking up treasures like sticks and bugs. To add some excitement, a ladybug flew onto her little hands while I happened to be recording her. It was perfect. I was going to record her first make-a-wish moment with a ladybug. I got ready.
I instructed her on what to do when a ladybug lands on you – something everyone learns at some point in their lives.
"Now blow it off and make a wish," I said, video rolling.
She stared at it for a moment. I thought to myself, "Ok this is it. I think she'll follow my directions." After all, they are learning to talk and are understanding so much more each day. After a moment or two, she put the bug on the ground and took a step back.
Then, BAM! She squashed it with her little white sandals without warning. She even made sure the job was done with a second stomp.
I felt sadness right away for this little bug and our sweet mommy-daughter moment. I think she learned it from my husband Tyler, who's our resident roach-killer. But, I couldn't help but laugh a little as I posted the video to social media. I figured it would bring some laughter to other people's day, and it did – clearly my friends and family could relate.
I'll be sure to show her the video when she's older. Maybe it's the moments that don't go as planned that are the most memorable ones.
Have you experienced any moments like this with your little ones? 
Editor's Note: In this column, Annie Blaylock McQueen, who has twin babies, writes on timely parenting topics and share parenting stories. For more baby stories and topic, check out Annie's monthly Buzz Baby column. If you have baby stories to share, comment under this article or email us at info@thebuzzmagazines.com. Read more Mommy Moments posts.
To leave a comment, please log in or create an account with The Buzz Magazines, Disqus, Facebook, Twitter or Google+. Or you may post as a guest.