Sunday Mornings with Rania: River Oaks, de Boulle and the Smash-and-Grab Craze
Click the Buzz Me button to receive email notifications when this writer publishes a new article or a new article in this column is published.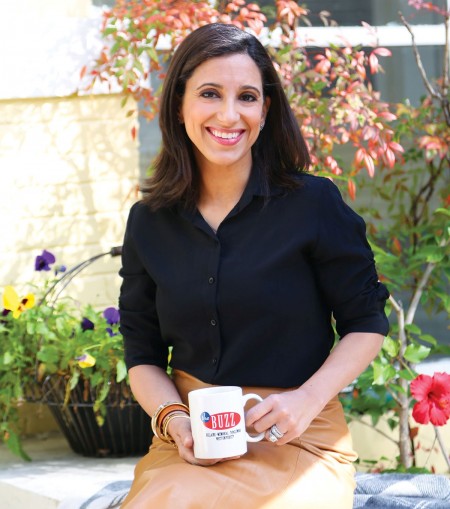 Can you imagine what it was like for those in de Boulle this past Tuesday evening? Four suspects raided the boutique, literally smashing glass and grabbing everything and anything they could. An estimated 1 million dollars in high-end jewelry was stolen in moments from the new River Oaks District jeweler.
It's unreal when you think of it.
The problem is, it was real. And it's happening in Houston more and more.
According to the FBI, Houston leads the nation in commercial burglaries and robberies. They are also on the rise in San Francisco, Dallas and Chicago. Not only do we lead the nation, but these types of robberies are on the rise.
A 2015 look at the data by the Houston Police Department showed that these movie-like attacks increased by more than 60 percent in 2014. There were 73 incidents in Houston in 2014 when compared to 45 in 2013. Interestingly enough, 90 percent of these attacks took place in the second half of 2014. 
What are they and who do they target?
Smash-and-grabs occur when groups of thieves literally run into a store and smash displays to grab items OR drive their cars into storefronts (yes, that's a thing) and break down entryways to steal larger fixed items, such as ATMs or safes. Generally, these heists take place any time of the day and in places where they will get in and out quickly. The trend is to take jewelry, guns, prescription drugs, clothing, hair extensions (the underground market and resale of these items is hot) and, once again, ATMs and safes.
You're at the scene of a smash-and-grab. Now what?
Run, immediately, if you can. If you live your life in the most vigilant manner, you may even recognizes them making entry. These types of crimes are similar in manner. There is usually a group of three or more perpetrators, they are usually fully covered and have sledgehammers or hammers in hand. They will be moving quickly.  
Know what they want – these crimes are not about you but about the items in the store. These people have three things in mind: get in fast, grab quickly and exit even faster. Those in their way will get hurt. Glass will be smashed quickly. Remove children and pets as fast as possible.
Remember their exit is critical. To be successful, they must leave the scene as quickly as possible. Get out of the way. There is an elaborate plan to exit, which involves usually one or two vehicles ready to pick up and exchange items and suspects.
Now that we know what these crimes look like, someone out there might have the calmness of mind to step away quickly, call 911 and look out for the getaway vehicle. To those heroes I say, take pictures of as much as you can but remember, only if you are safely far away from the scene.
These crimes are difficult to solve
Smash-and-grabs in Houston do not follow seasonal or geographic patters. While most establishments have surveillance footage, the suspects are disguised and are using stolen vehicles. Furthermore, while video evidence suggests the suspects know exactly where to go, there is no evidence that these are "inside jobs."
The evidence suggests that the suspects study the establishment learning ins and outs before hitting it. Most interestingly, law enforcement doesn't keep separate statistics on smash-and-grabs – they are usually lumped in with other burglaries. The original thought was that these perpetrators would choose to stay away from densely populated stores and areas and focus instead on free-standing establishments near major roads. They are showing us that their focus on the items they want to steal trump ease of the job.
Life goes on
The smash-and-grab model, if I can call it that, bothers me on so many levels. It's such a huge violation of, well, life. To think that these criminals can come in in such a larger-than-life, brazen way, interrupting families and people going about their everyday life, angers me. Their lack of care for others is something I just cannot overlook. And those who toss their crimes off to the "realities of living life in the big city" get me even more riled up.
My personal challenge is two-fold – (1) continue living my life doing everything and anything my family and I seek to do, but do so vigilantly and (2) lend my time to stopping this type of activity from continuing in our great city. For me, the latter is about education. Join me in sharing this information with others, today.
If you're a business owner, check out this recap on a Buzz Lunch & Learn, which includes tips from Rania Mankarious and Bellaire Police Chief Byron Holloway. For more information, call Crime Stoppers' administrative office at 713-521-4600.
For more information on Crime Stoppers of Houston, go to crime-stoppers.org and follow Crime Stoppers on Facebook. Have topics in mind that you'd like Rania to write about? Email her directly at rmankarious@crime-stoppers.org. Connect with Rania on Instagram and Twitter. Read past Sundays with Rania posts here.
Editor's Note: Views expressed here are those of the author and do not necessarily represent the views of The Buzz Magazines.
To leave a comment, please log in or create an account with The Buzz Magazines, Disqus, Facebook, Twitter or Google+. Or you may post as a guest.