Sunday Mornings with Rania: 'Drunkorexia'
Click the Buzz Me button to receive email notifications when this writer publishes a new article or a new article in this column is published.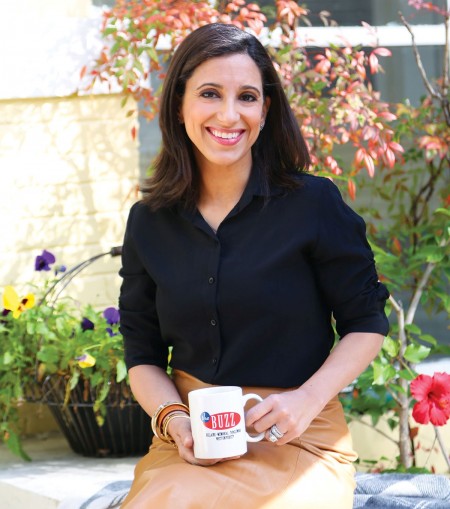 I was in the middle on putting on makeup and focused on the day ahead. But before I knew it, the muffled words playing from The Today Show were starting to stand out… 
Despite the known risks of these behaviors, studies have shown that 30 percent of women between 18 and 23 suffer from drunkorexia. 
Drunkorexia? Yes. It's a non-medical term to describe a very real thing. According to research shared by the University of Texas, it refers to "someone who restricts food calories or purges their food to make room for alcoholic drink calories." 
In addition to everything else, let's now understand this growing trend that is affecting mainly young women - but also young men - across the country. The behavior stems from a fear of weight gain coupled with a desire to drink and feel the effects of alcohol. Here's what the behavior looks like: 
students may starve themselves of food trading calories from food for calories from alcohol 
students may starve themselves of food in hopes that they will experience a higher and quicker state of drunkenness; this in turn reduces self-control and increases propensity to make impulsive/risky decisions 
students may use alcohol to make vomiting easier or to help manage anxieties around social eating 
Shockingly, a University of Houston study of 1,200 students performed by Professor Dipali Rinker found up to 80 percent of those asked were restricting calories, over-exercising, purging or using laxatives in combination with binge drinking to avoid weight gain.  
There are so many reasons this is of great concern: 
These behaviors are on the rise. 
Combining eating disorders and binge drinking is a deadly combination posing great risks to one's physical, mental and emotional health.
Once drunk, these students (who are also hungry) are more likely to engage in binge eating, which sets them on a cycle of purging and hitting emotional lows once the alcohol wears off. 
Let's take a moment to discuss this scary new trend and offer solutions: 
College students will drink; encourage drinks in moderation. 
Look at the caloric intake of a variety of drinks and discuss which ones are best to stay away from (based on calories and level of alcohol) and which ones are best to sip on (in moderation). Example: encourage ordering one drink and sipping on it slowly.
Explain why you must eat prior to drinking. A quick shot of alcohol to a young woman who is otherwise starving is a recipe for disaster. Aside from losing control and setting yourself up for terrible danger, you will more than likely overeat while you are intoxicated. Instead, let's create a caloric plan for the day. Plan to eat a low-calorie, healthy meal every evening. Period. 
Encourage exercise!
For young adults with eating disorders, please seek professional help. Many of these disorders have deep connections to anxiety, depression or other mental health issues and cannot be ignored. 
Young men and women have enough to think about . . . sadly, add to that the fact that in these changing times, they are creating more problems for themselves when they go out. Add to that the reality that these problems spread like fire thanks to social media. And finally, add to that these actions have physical, psychological and mental consequences. It's hard to stay on top of it all, I know. But we have to. Start today with a simple conversation and warning about drunkorexia. 
One step at a time, working together, let's do whatever we can to keep each other safe. 
For more information on Crime Stoppers of Houston, go to crime-stoppers.org and follow Crime Stoppers on Facebook. Have topics in mind that you'd like Rania to write about? Email her directly at rmankarious@crime-stoppers.org. Connect with Rania on Instagram and Twitter. Read past Sundays with Rania posts here.
Editor's Note: Views expressed here are those of the author and do not necessarily represent the views of The Buzz Magazines.
To leave a comment, please log in or create an account with The Buzz Magazines, Disqus, Facebook, Twitter or Google+. Or you may post as a guest.