Sunday Mornings with Rania: I'm with Karl Lagerfeld - Kim Kardashian's Lesson
Click the Buzz Me button to receive email notifications when this writer publishes a new article or a new article in this column is published.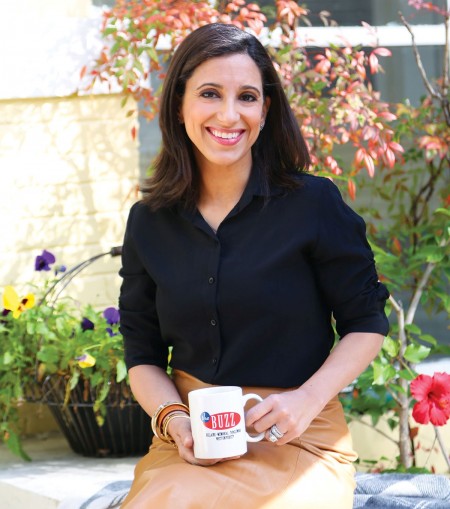 In a manner similar to our current presidential contenders, you either instinctually love her or hate her. Regardless, it's hard to argue against the fact that Kim Kardashian has mastered the art of getting people's attention.
This past week was no different as camera crews trailed her and droves of people (including her own 84.5+ million Instagram followers) "hearted" her every look as she whisked through the Spring/Summer 2017 shows at Paris Fashion Week. And while these shows were considered by some in the fashion world to be the showcase for the redefining work of major fashion heads and houses like Anthony Vaccarello for Saint Laurent and Bouchra Jarrar at Lanvin or about the anticipated first solo show of Pierpaolo Piccioli for Valentino or his former design partner Maria Grazia Chiuri for Dior – the headlines that trickled down to mainstream America were focused on Kim Kardashian.
There is no question, Kim understands her brand and utilizes her media and social media power, daily.
It was all wonderful until the very tool her fame depends on became the very tool five alleged armed robbers used to find her at the exclusive l'Hotel de Pourtales on Oct. 3, 2016. According to reports, Kim had just returned from the Chanel show and was in her room without security. After gaining entry, the men allegedly bound her wrists and ankles with zip ties and left her in a bathtub before stealing more than $11 million in cash and jewelry. Reports following the incident say that Kim blames herself for being so open on social media and for flaunting her wealth.
And so I ask, what say you? Many of us flaunt our stuff on social media. We share images of our homes, our trips, our cars, our latest purchases . . . and we do it often. Last I checked, most of us don't have around-the-clock security and yet, we're okay. My hope is that is how it remains. That said, Kim's horrific incident reminds us that social media is a gateway into your life that can easily be used against you at any moment. While there are many lessons we can all learn, here are the top 5, starting with designer Karl Lagerfeld's words of wisdom for all:
Don't post the flashy stuff. Lagerfeld, the head designer and creative director of the fashion house Chanel, the Italian house Fendi as well as his own fashion label, said: "I don't understand why she was in a hotel with no security and things like this. If you are that famous and you put all your jewelry on the net, you go to hotels where nobody can come near to the room. You cannot display your wealth and then be surprised that some people want to share it with you." 
Be careful of posting in real time as it shares what you are doing and where you are. According to NY Magazine, Kim's next mistake was Snapchatting in real time from her location. 
Disable the location services (under Privacy settings on your iPhone) for photos and pictures.  This is especially important for kids. Kids still think it's nearly impossible to find out where a photo or video was taken and/or that no one cares enough to invest this time to unlock your location. Wrong. Let's remind them that it takes less than 5 minutes and a few savvy clicks to pull the IP address off your photo or video. Beyond the ease in which it can be done, so many of us are "friends with" or "followed by" people we don't know at all and who thoroughly enjoy unmasking everything they can about people they find desirable. A 2014 study showed that more than 70 percent of teens have no problem connecting with strangers online.  
Parents, it's time to talk to your kids about Kim Kardashian. I know. I actually typed those words. But the reality is, she has given us a terrific learning tool. She is extremely open on social media, believes she is invincible, has top security teams at her beck and call and still she was found, targeted and victimized. If it can happen to her, it can happen to anyone. Furthermore, there are many men and women who are not out for $11 million in jewelry but rather are happy to grab whatever it is we are displaying.
Be prepared. Whatever you decide to do with your own social media empire, spend just one hour today self-reflecting. Are you okay with everything you have posted? Is there anything you should delete (remember, people may have saved your images or videos)? Is there a better way to be doing what you are doing? Do you have a safety plan in place in case you are contacted by a stranger online?
Social media is an integral part of all our lives. It's here to stay and I, for one, am thankful for it. That said, it can be a dangerous tool if we don't take small, but important, steps to use it safely. Let's have one more or 10 more conversations about this important issue that each and every single one of us can relate to. While Karl Lagerfeld's comments have adults across the nation nodding in agreement, Kim's awful experience has the potential to make a lot of young people think and that's a lesson I think is worth grabbing onto. 
For more information on Crime Stoppers of Houston, go to crime-stoppers.org and follow Crime Stoppers on Facebook. Have topics in mind that you'd like Rania to write about? Email her directly at rmankarious@crime-stoppers.org. Connect with Rania on Instagram and Twitter. Read past Sundays with Rania posts here.
Editor's Note: Views expressed here are those of the author and do not necessarily represent the views of The Buzz Magazines.
To leave a comment, please log in or create an account with The Buzz Magazines, Disqus, Facebook, Twitter or Google+. Or you may post as a guest.