Food Delivery Apps: Looking at UberEats, Postmates and GrubHub
Click the Buzz Me button to receive email notifications when this writer publishes a new article or a new article in this column is published.
Food delivery apps are all the rage right now, as busy college students and working adults alike take advantage of the culture of "immediacy" that Americans have in regards to food. Food delivery apps are easy: most of them are free, and they involve putting in your credit card information ahead of time. So each time you order food, you don't have to worry about payment - it's automatic to your card.
This month, I looked at three different, free food delivery apps, all of which can be found on the iTunes App Store: UberEats, Postmates and GrubHub. When I asked friends, these seemed to be the most popular. 
UberEats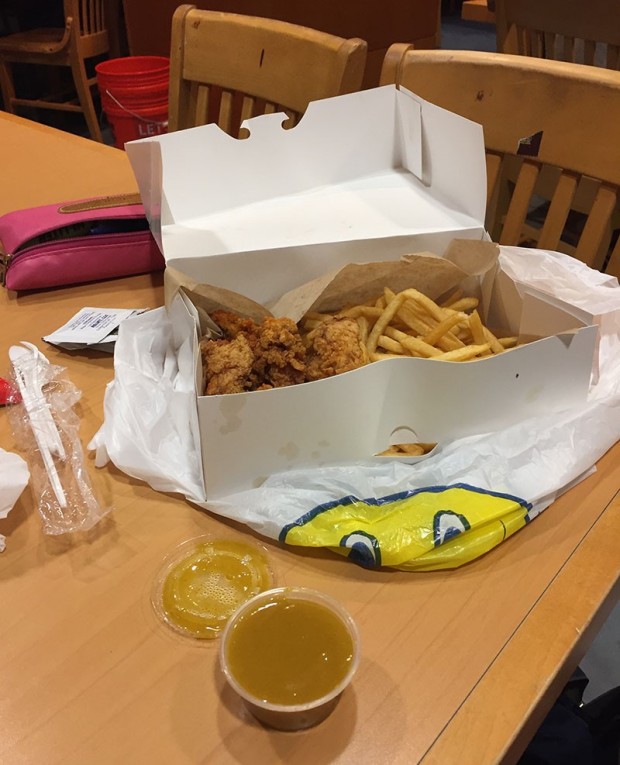 UberEats is a branch of the popular ride service app Uber. UberEats employs Uber drivers who order your food and deliver it right to you. I tried out UberEats because a lot of people have told me that they have good promotions for food, especially if it's your first time using the app. I looked through the restaurants available and ended up ordering chicken strips from restaurant Luv Me Tenders. 
The app is easy to use - when perusing restaurants and possible food options, delivery time to your specific area is listed, and there are descriptions for all the food items. The booking/delivery fee was $3.99, which was a low rate compared to most delivery apps. Upon ordering, the app gave me an exact time for when my food would be delivered to me, and it gave me updates through the cooking and delivery process of my food. I got an e-mail confirmation and receipt immediately. My food ended up being delivered a few minutes earlier than expected (it took about 30 minutes total), and the app adjusted the delivery time accordingly. 
I was in the proper pickup spot when my driver arrived, and she rolled down the window and confirmed that I was expecting food for Haley. I was able to see what kind of car my driver would be in on the app. She didn't get out of the car, but I was still impressed with the exactness of the pickup location. My food was still very warm when it arrived, and was packaged in a to-go box with a plastic grocery bag. Silverware and hand towelettes were included in the bag. On the app, there was an extra section that asked me particulars about what I ordered: did I want honey mustard sauce? Extra sauce? Extra fries? Etc. All of my special requests were taken care of through the app. Also, there was no option for a tip after the delivery. After the delivery, you rate the process out of 5 stars, similar to the Uber app. 
Overall, the service was great and the app was the easiest to use, in my opinion. The cost was cheap, although it would've been nice if the driver had gotten out of the car. From what I've been told, it is standard for the driver to get out of the car and meet you, so this was the only disappointing factor. 
Rating out of 10: 9
Postmates
The Postmates app was similar to the UberEats app, with lists of available restaurants and pictures of food options. Although there were bigger and better pictures of the food on this app, there were few descriptions for what was in each meal; there were only names of products. This was a little disappointing because it was hard to tell if meals had certain things that I don't like in them.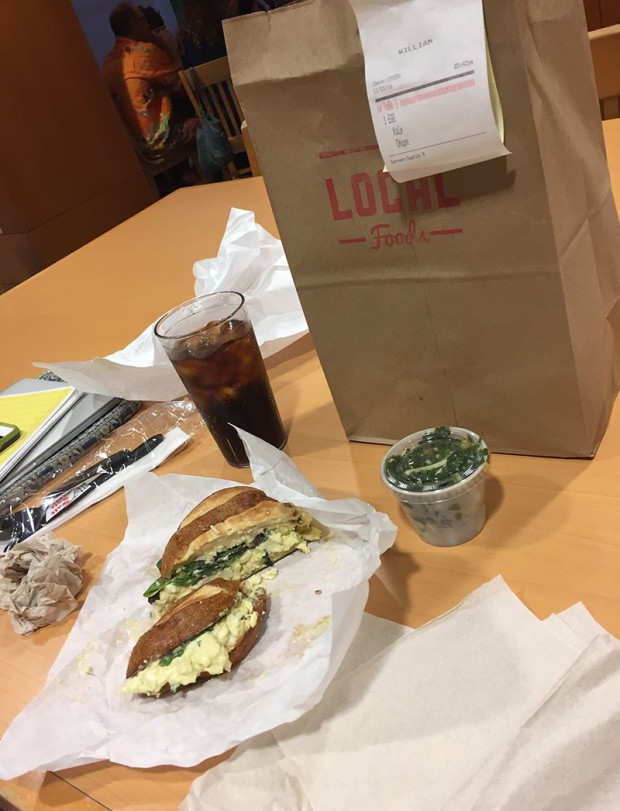 I ordered a sandwich from Local Foods. Similar to UberEats, Postmates told me the probable delivery time of my meal, and ended up arriving earlier than expected, adjusting along the way. Like UberEats, I received a confirmation and a receipt through e-mail immediately upon ordering. It took about 30 minutes for my food to arrive. The delivery cost for Postmates was much higher than UberEats- it was $6.25. This was a lot, considering my sandwich wasn't that expensive, and the delivery cost was almost as expensive as the meal itself. The upside to Postmates is that my driver was very early, and called me as soon as he had arrived. 
I wasn't at the pickup location yet, so he stayed on the phone with me and waited until I got to his location. For most food delivery apps, they will deliver to right outside of whatever building you're in. Since there are few roads within Rice's campus, I usually met my driver halfway between the closest road to my spot and where I was actually working. All of the apps track your location so the driver can see where you are. I was able to see what kind of car he would be driving on the app, and he got out of the car and met me in the middle between the building I had come out of and his car. The packaging was really nice, although this was probably done by Local Foods (the sandwich was wrapped up and placed in a sturdy brown bag with silverware and extras). Postmates has a tipping service, and after I got my food, I was able to pick if I wanted to tip a certain amount to my driver. 
Overall, the service was great, but I wish the price were cheaper for delivery, especially since I wasn't ordering a very expensive meal. 
Rating out of 10: 8
GrubHub
Of the three apps, GrubHub was my least favorite. There were no pictures of the food, few descriptions, and a smaller selection of restaurants as compared to the other apps. There was also a minimum description for a lot of the restaurants. Some of them were even $20. As a college student who just wanted to order a boba tea, this was ridiculous. I'm looking for cheap food that is convenient to me. I'm not looking to order a pricey meal to be delivered to my dorm. Although the delivery fee was fairly low ($3), there are no referral discounts for the app, and few promo codes. In addition, you must pay a minimum amount of tip money to your driver.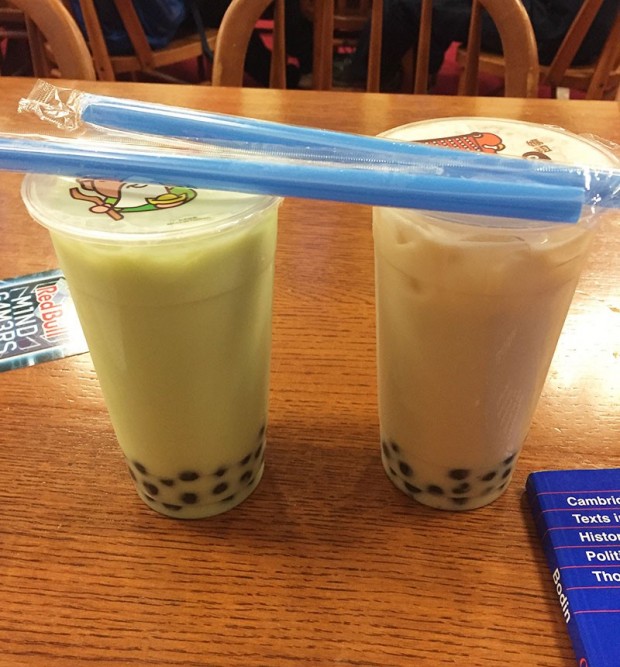 I ordered two boba teas from a nearby teahouse to fulfill my $10 minimum requirement. The app gave me an estimated time as to when my teas would deliver, and then I never got any more updates. After the time window had passed for when the app said my teas would be delivered, I called the teahouse from where I had ordered my tea. They said that they had made the tea and had my order waiting for about 15 minutes. I waited another 20 minutes before putting in a complaint with the app saying that my food hadn't arrived. Five minutes later, I received a text saying that my food was on its way. I could track where the driver was on the app, and when he got to Rice, he got out of the car. He did not call to say he was at the pickup location, though. I had to check my app to see where his car was to be notified that he was at the spot. 
After all of this, the total time it took to get my two teas was over an hour and a half. The teahouse I ordered from was so close that I could've walked there and back and still had my tea before it was delivered to me through GrubHub. The only redeeming quality is that the app recognized my complaint and sent me a $10 coupon via email that I can use in the future to get a meal with. I appreciated this, and would've expected it at the least. Although I'm sure this doesn't happen with every GrubHub order, I was extremely disappointed in the app, which was already confusing and didn't have a good selection of restaurants. My tea tasted fine, and came with the necessary boba straws wrapped up in a plastic bag, but by the time I got it, the ice had already melted. 
Rating out of 10: 3
Conclusions
Overall, I would highly recommend ordering food from these apps. It was easy, quick, and I had so many good food choices right at my fingertips. As a college student, sometimes I'm way too busy to go off campus and get food, but I also don't want another grilled cheese from the dining hall. As a foodie and a student, these apps give me the best of both worlds: good food, and not having to get up from my homework! 
What are your favorite delivery apps, and why?
To leave a comment, please log in or create an account with The Buzz Magazines, Disqus, Facebook, Twitter or Google+. Or you may post as a guest.