The Picture of Dorian Gray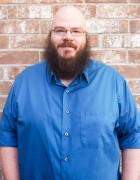 Click the Buzz Me button to receive email notifications when this writer publishes a new article or a new article in this column is published.
Book Buzz is a blog produced in collaboration with neighborhood librarians from Houston Public Library, Harris County Public Library and the Bellaire Library.
When Mark Twain defined a classic as something no one reads, he may have been talking about John Milton's Paradise Lost, but I suspect he may have at least been thinking about Oscar Wilde's The Picture of Dorian Gray. Nearly all of us have heard of the titular Gray - he's well know enough to stand alongside Captain Nemo and Dr. Jekyll in the film adaptation of The League of Extraordinary Gentlemen - and know his story somehow involves a seemingly magic portrait and promises of immortality, but who was Gray?
As Wilde tells it, Gray is a young man and vain - like so many of us in youth - who makes a terrible Faustian wish: his soul if only his picture would age and decay instead of him. When his wish comes true, he pursues a life of beauty and pleasure, free from the threat of corruption, but corruption is a funny thing, perhaps more keen experienced without than within. 
As the picture becomes less and less the comforting lie of the once pristine self- preserved and evermore a tell-tale mirror reflecting the soul, Wilde offers us an opportunity to examine ourselves, to decide which types of beauty are worthy of pursuit, if we dare to read, to look into that place from which our own sin may be staring back, waiting to find us out.
Other recommended classics:
Fahrenheit 451 by Ray Bradbury
Wuthering Heights by Emile Brontë
The Turn of the Screw by Henry James
The Shrinking Man by Richard Matheson
Slaughterhouse-Five by Kurt Vonnegut
All the selections, like The Picture of Dorian Gray, contain controversial philosophical elements mixed with varying amounts of things dark and strange. 
To leave a comment, please log in or create an account with The Buzz Magazines, Disqus, Facebook, Twitter or Google+. Or you may post as a guest.