17 Way to Bring in 2017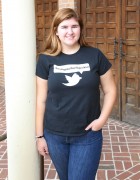 Click the Buzz Me button to receive email notifications when this writer publishes a new article or a new article in this column is published.
The New Year is here and that means the saying "New Year, New Me" is making its rounds again. While the saying may be overused and cliché, that doesn't mean you can't make 2017 a fresh start. Here are 17 ways students can survive the rest of this school year and the beginning of the next.
No Stress: As this semester begins, try not to get too stressed. Make some time to study, but also time to relax. A brain cannot function 24 hours a day, every day, thinking about solving problems and the usage of tone in an essay.
Make Your New Year's Resolution Stick: Keeping a New Year's resolution is hard. To help make it last and achievable, try to plan for it or around it. For example, if your resolution is to eat healthier, try and pack a lunch from home to avoid buying something that might be less healthy.
Don't Binge: Try not to watch too much Netflix, but if the second season of Stranger Things happens to come out the night before your big algebra exam, you know what you need to do.
No "Spring Breakers": Don't go too, too crazy during Spring Break. Yes, it is a break from school, but it's not wise to mess up your circadian rhythm just because you are trying to get to the next level in your video game.
Time Management: Make a schedule. Yes, everyone tells you to do this but it helps. Make notes of what you need to do on each day of the week.
Study in New Places: Don't always study in your room or at the kitchen table. Try studying in a new venue like your closest Starbucks or café. By doing this, you create deeper memories of what you are experiencing in the new environment, and interpreting that English poem will come more easily.
Strategic Break Times: Take a break every 20-30 minutes. According to Barry Corbin, author of Unleashing the Potential of the Teenage Brain, the teenage brain can only focus completely on a topic for 20-25 minutes. Every 30 minutes, take a 5-minute break by stretching, taking a walk, getting something to eat/drink, etc. This way, you will be able to study more efficiently.
Time for Friends: Make time for friends. Yes, we are students and we need to study but that shouldn't prevent us from having human peer interactions. This is a vital part of our development, so relax and hang out with your friends from time to time.
Memorization Rules: When you are trying to memorize something, follow the 30 percent read, 70 percent recite rule. Say you need to memorize a poem in an hour; spend 20 minutes reading and 40 minutes reciting.
Rest Time: Sleep! Yes, once again another cliché but who wants to sit next to a grumpy teenager on the day of their final exam? No one. Don't be that person.
Feed Your Stomach: Remember to eat. Sometimes when I'm studying for a long time for something I'm stressing about, I forget to eat. Set timers every 3-4 hours to remind yourself to grab an apple or a handful of trail mix. Try to keep it healthy when studying but once you pass that exam, go get some ice cream, you deserve it!
Don't Be Annoying in Class: Get on your teacher's good side. Your teacher will be more willing to help you and give you some hints when you ask for it if you are nice to them and pay attention in class.
Be Productive: Over the summer, don't lazy around in your pajamas. Try to get out of the house, get a job, try a new activity. Yes, rest days are essential, but not every day needs to be a rest day.
Be Active: Try to get into a sport, team, or club of some sort. This way you can have something to do that is outside of school and will hopefully take away some stress and/or pressures.
Read (or try to): Do your summer reading (or read the SparkNotes over the book, it may work). Yes, it is boring but it'll save you from stressing and cramming at the start of the school year.
Get Your Stuff Together: As the new school year approaches, start trying to come up with organization ideas so the new school year won't be as messy as it could be. To start, make a list of school supplies you need, organize your backpack and set up a workspace at home.
Make School Enjoyable: Lastly, try to enjoy school as much as possible. You are only in high school once so try not to focus and worry too much about school. Enjoy and take these moments as they come to you.
Do you have anything you look forward to doing this year? Comment below! 
To leave a comment, please log in or create an account with The Buzz Magazines, Disqus, Facebook, Twitter or Google+. Or you may post as a guest.