Exercise Playlists
Music that keeps you motivated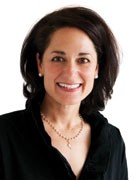 Click the Buzz Me button to receive email notifications when this writer publishes a new article or a new article in this column is published.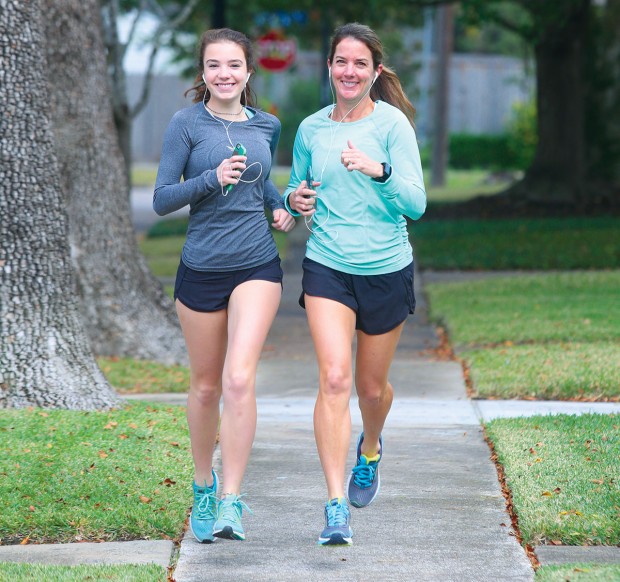 It's January, and our New Year's resolve will never be stronger. If you're looking at the new year as impetus to get your workouts in gear, you're not alone. According to a Nielsen survey, the No. 1 new year's vow last year was to "stay fit and healthy" or to "lose weight," a promise that 69 percent of us made to ourselves.
But resolving to do something and actually doing it are two different things. How can we keep the first-week momentum going?
One way: with music.
Ann Hill has been running two miles a day, five days a week through the neighborhood for years. But only recently has she discovered some apps that make her workouts a little easier.
"One summer, I found what Nike [the Nike+ Running app] called a 'Tempo' playlist," Ann says. "I really liked it because it would say, 'Start running,' and then start playing music at my tempo. It was all what I call 'spa music.' I could zone out and get into the groove. The summer I stuck with it, I did get faster because it told me my pace."
Ann, who has three daughters, says she's not much on listening to the radio. "Once the girls get out of the car, and there's no noise, I'm like, 'Oh, there's no noise!'" So she depends on apps to choose the music she runs to. There are many.
"You can play music through Map My Run, but I need to play with that to figure it out, and fiddling with that app is not what I'm going to do tonight. Run Faster is one that might make me run faster, but it kind of yells at you. I need someone to tell me, 'You're doing a great job,' not, 'You're going too slow.' There's another app called Spring, which will time your pace. But I get tired of all these apps that are $5, $5, $5, until you've spent $50 a month."
Ultimately, Ann joined Spotify for $10 a month. "You can listen to songs and say, 'Yes, I like that,' and put it in your playlist, so you've got songs that motivate you to run." Or you can choose already-set playlists. "I listen to a playlist called Confidence Boost," she says. "It plays mostly Top 40."
Another option she likes is audio books. "When I've done that, I sometimes find myself extending my run to finish a chapter. And there's definitely no repeating [songs] when you're listening to a book."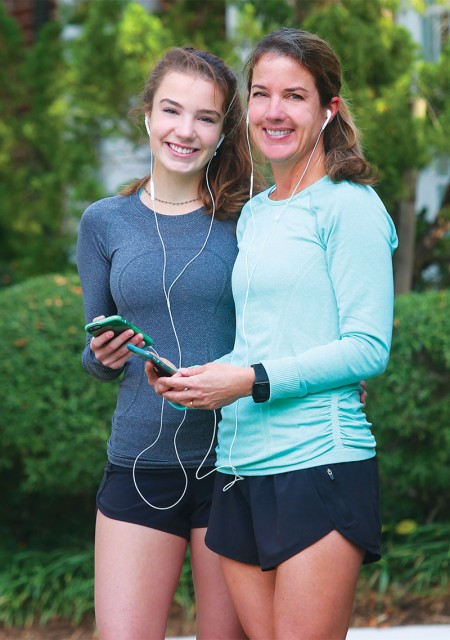 Melissa Granberry also runs three to four times a week and has run marathons with her husband Zach. "When I'm running, I need a beat," the mother of three says. "I think it just kind of keeps me going, gives me something to sing along to in my head and keeps me distracted."
Unlike Ann, Melissa chooses each song on her playlist. "It's embarrassing what's on my running playlist," she says. "It's dance and rap and stuff with a beat, songs from the '90s and 2000s. A lot of old Justin Timberlake. Although when I walk Rocky [the dog], it's more like Ed Sheeran, songs I like, and I don't need a beat.
"I'm constantly adding to it and taking things off. If I keep skipping a song, I'll take it off. And if they play a good song at Row or Orangetheory [gyms Melissa frequents],  I'll add it to my list. The other day at Orangetheory I added a song to my playlist as soon as I got in the car."
Melissa's daughter McKenna, a junior at Lamar High School, follows her mom's footsteps and runs three miles every weekday for Lamar's cross-country team. While she doesn't like listening to music for sprints, she does when running distance. "I think listening to music helps my workout, because it gives me a rhythm to breathe to," she says. "It helps me set a pace. I can tell how long I've been running by how many songs I've played, and sometimes the songs will give me more energy to run faster."
Like her mom, McKenna uses Apple Music to add songs to a customized list. "Whenever I hear a song with a good beat, whether it's on the radio or on one of my friends' playlists, I will add it to my own," she says. Unlike her mom, McKenna says she'd rather not share all of the songs on her playlist, because some aren't entirely appropriate. But favorites include Drake, Kendrick Lamar and Beyoncé.
Running Playlists
Melissa's list
Lose Yourself, Eminem
Kiss This, The Struts
Locked Out of Heaven, Bruno Mars
Don't Let Me Down, The Chainsmokers
Don't, Ed Sheeran
King Kunta, Kendrick Lamar
This is How we Do, Katy Perry
Like I Love You, Justin Timberlake
Carry Out, Timbaland and Justin Timberlake
Magic, B.o.B
All About It, Hoodie Allen
She Sells Sanctuary, The Cult
Not Afraid, Eminem
Boom Boom Pow, Black Eyed Peas
Suedehead, Morrissey
The Way I Are, Timbaland
Kiss Kiss, Chris Brown
NO, Meghan Trainor
Truffle Butter, Nicki Minaj
Yeah!, Usher
Starboy, The Weeknd
Hello Good Morning, Diddy/Dirty Money
24K Magic, Bruno Mars
McKenna's list
Swimming Pools, Kendrick Lamar
m.A.A.d. City, Kendrick Lamar
Backseat Freestyle, Kendrick Lamar
Know Yourself, Drake
9, Drake
Energy, Drake
Partition, Beyoncé
7/11, Beyoncé
I Mean It, G-Eazy, featuring Remo
Pursuit of Happiness, Kid Cudi
To leave a comment, please log in or create an account with The Buzz Magazines, Disqus, Facebook, Twitter or Google+. Or you may post as a guest.