Women Who Tri
Swim, bike, run: Why pick one?
Click the Buzz Me button to receive email notifications when this writer publishes a new article or a new article in this column is published.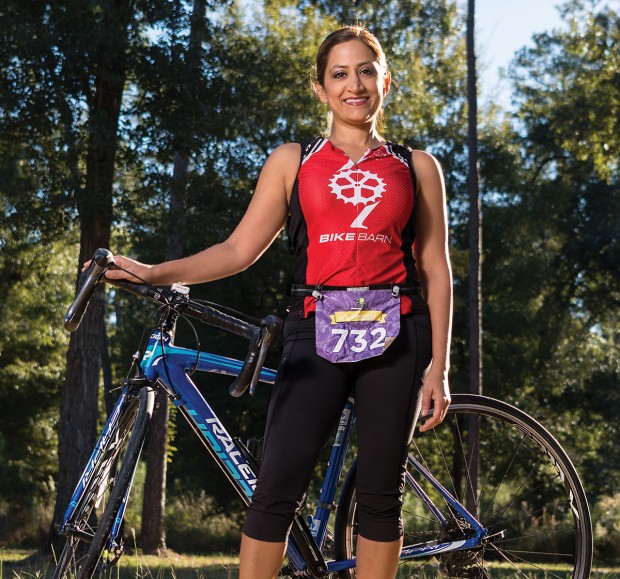 After surviving breast cancer, private-school consultant Shakti Dalal was eager to get back to her life. Four years earlier, and just two months after her youngest child was born, she had been diagnosed and begun treatment. "The whole process makes you feel old and sick," Shakti said.
At the advice of another survivor, she looked into triathlon as a way to regain her strength and feel young again.
Shakti was used to taking group fitness classes, but she hated running and described herself as "not exactly athletic." But she was determined to succeed, so she and her sister, Kavita Murthy, signed up for the Spa Girl Tri at the Hyatt Regency Lost Pines Resort near Austin. About three months before the event, Shakti began training, starting with running. After her first 1-mile run, she was convinced she couldn't do any more. "Training was very, very tough because my body has been through a lot, but I stuck with it," she said.
Her race goal was to complete the sprint-distance 300-meter swim, 10-mile bike ride and 2-mile run without stopping and without coming in last place. She accomplished both of those goals and crossed the finish line exhausted, but knowing she wanted to do it again. Sprint triathlons are now a big part of her life, and once she feels strong enough, she hopes to complete an Olympic-distance race. "It's amazing what your body can do," Shakti said.
Triathlon is one of the fastest-growing sports in the country, especially among women in the over-40 crowd, according to USA Triathlon, the national governing body for the sport. It became an Olympic sport in 2000 at the games in Sydney, Australia. A combination of swimming, biking and running requires varied training, but, says participants, also keeps boredom to a minimum.
Beginner adults usually start with shorter-distance sprint races and progress to the Olympic distance, and even half and full Ironman events. Although distances vary from race to race, a sprint is generally a 300-400 meter swim/10-mile bike/3.1-mile run; Olympic triathlon is a 750-1500-meter swim/22-25-mile bike/6.2-mile run; half Ironman is 1.2-mile swim/56-mile bike/13.1-mile run, and full Ironman is 2.4-mile swim/112-mile bike/26.2-mile run.
People of all ages participate in triathlon, but the surge in new 40-something athletes may be an issue of practicality. Triathlon training can be expensive; the bikes alone can cost thousands of dollars. There are also entry fees and travel costs, and younger adults may not be able to afford to take it on.
It also requires lots of time. Training is different for everyone, but most sprint beginners commit to working out nearly every day of the week for about three months. Athletes swim, bike and run on different days, and much like marathon training, the workout distances increase as you get closer to the race.
Many parents in their 30s are consumed with infants and toddlers, and a triathlon training schedule is impossible. In their 40s, they may find schedules and budgets are a bit more forgiving, and it's a perfect time to start something new.
Licensed acupuncturist and Chinese medicine practitioner Sheri Davidson has been a runner for years, but recently began competing in triathlon. She joined a running club where she met triathletes, and was inspired by their accomplishments. Although she had no idea what she was getting into, Sheri registered for a sprint triathlon. The cycle and run portions went well, but open-water swim did not. "The swim was horrible," she said. "I swam with my head above water the whole time."
After that first experience, Sheri took a break.  A couple of years later, she decided to not only give it another try, but to compete in the half Ironman in Austin. "I just decided I was going for the big one," Sheri said. She went to a swim clinic and joined a triathlon training group, and was consumed. "It was intense because I was going from nothing to a half Ironman. I just dove in and committed."
In 2015, Sheri completed her first full Ironman. She followed other triathletes' advice to take it easy and just get it done. "The over-eager people often peter out. My goal was just to finish, and I was smiling when I did," she said. When people express amazement at what she accomplished and tell her they are intimidated, Sheri reminds them that the training is a gradual build. "Once you get into it and start training, if you stay consistent, you can do it."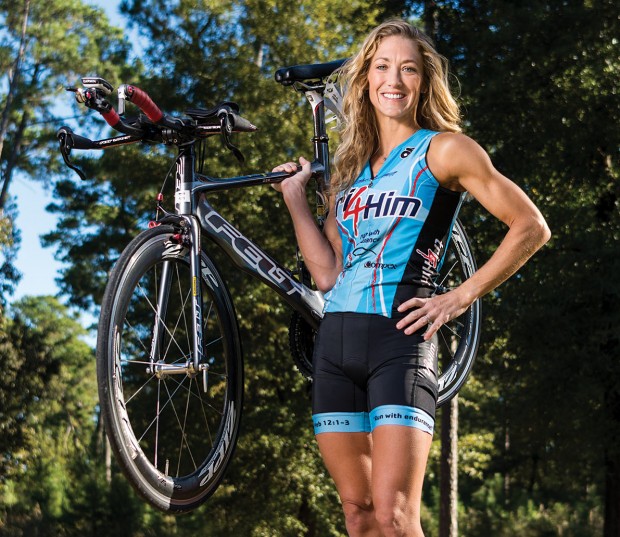 Stay-at-home mom of three Elaine Griffin has completed four Ironman races, in addition to many more half Ironman, Olympic and sprint triathlons. She trains Mondays through Fridays, while her kids are in school, so she can reserve weekends for family time.
She goes to Lakeside Country Club to swim laps. She loves to run through Piney Point Village and along the Terry Hershey trail, but when bad weather hits, she runs on her treadmill. Bike training takes her farther from home. On Fridays, she drives to Hockley or Fulshear for her long rides, which are more than four hours, and sometimes her fellow triathletes join her. When training is at its peak before a race, she relies on her husband, Justin, to get the kids to school. "His support is a big dynamic," she said.
The longest training day begins at 5 a.m. when she drives to Hockley for a seven-hour bike ride, followed by a run. By starting early, she is finished and back home to pick up the kids from school at 3 p.m.
Elaine has always been active and ran marathons before her children were born. In 2001, she underwent major pelvic surgery and was told she would never run again. With the help of physical therapists, orthopedists and other sports-medicine professionals, Elaine began running again, but was in continuous pain. A friend suggested she look into triathlon, as a way to take a break from a running-only regimen. "I didn't know anything about it, so I went to Barnes and Noble and bought the Idiot's Guide to Triathlon Training and read it cover to cover," she said.
In her first sprint triathlon, Elaine didn't have a tri bike and showed up with her mommy, three-speed, cruise-the-neighborhood bike. Despite having the wrong equipment and never having swum in a lake before, she loved it and bought a tri bike later that afternoon. Having the right kind of bike makes a huge difference. Tri bikes are designed, aerodynamically, to reduce drag so you can ride faster. They also take stress off of the quadriceps so you can save your leg strength for the run to the finish line.
"Commitment and hard work are very important to me," Elaine said. "Competing at the Ironman World Championship in Kona, Hawaii, is a definite bucket-list item."
For home builder and mom of four Erin Stetzer, the best part of triathlon is passing along the tradition to her children. She and her husband, Alec, began triathlon within the last couple of years and didn't realize the kids were paying attention. "They saw us committing to training and the daily preparation leading up to the race, and the kids got interested," Erin said.
The Stetzer children are still involved with seasonal school sports, but the oldest three now do four or five triathlons in the summer. The oldest daughter, Morgan, 13, loves running and wants to concentrate on triathlon, but not all of the Stetzer kids are motivated by the sport itself. Patrick, 11, just wants the popsicles at the end of the race.
"I am amazed at the changes in my kids," Erin said. What she loves about triathlon is that kids have to be self-sufficient. In other sports the parents are right there, micromanaging every step, but during triathlon the kids are on their own during the race and at the transition stations between the three race sections. "Parents are there at the beginning and the end, but in the middle it's all kids."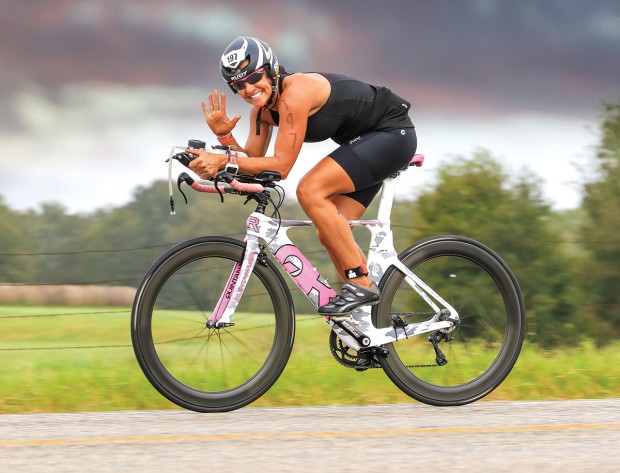 Karen Klucznik started triathlon in her 40s and loved it so much she became a trainer. She wanted to use her racing knowledge to inspire women and children, and she is now a USA Triathlon-certified coach at The Houstonian. "We have our own team, and it's growing by leaps and bounds," she said.
Many women in their 40s come to Karen looking for a new workout regimen. Their kids are getting older and they are looking to start something new. "We redefine ourselves in our 40s and ask questions like 'Where are we going? What's next?'" She wants to teach women that it's not too late to get started.
Karen's advice to beginners is to find a training group. "There are so many groups out there, and triathlon is such a welcoming community," she said. Triathlon relays are a great place to start, because with a team of three, each person does only one part of the race. "It's scary in the beginning, but you build up gradually. It has changed my life," said Karen.
Countless women tell the same story about their experience with triathlon: Before they started training, they never thought they could do it. Although she is a professional trainer, Karen is still in shock each time she finishes a race. "I always think, 'Seriously? Me?'" she said. "If there is a whisper in your soul, then do it. Go to a race and watch the finish, because it's incredibly inspiring. And don't ever be afraid."
For more information, visit:
USA Triathlon at www.teamusa.org/USA-Triathlon
Houston Racing Triathlon Club at www.houstonracing.com
Tri Find: The World's Largest Triathlon Calendar at www.trifind.com
Active at www.active.com
Spa Girl Triathlon at www.spagirltri.com
To leave a comment, please log in or create an account with The Buzz Magazines, Disqus, Facebook, Twitter or Google+. Or you may post as a guest.