Abby Cohan
Click the Buzz Me button to receive email notifications when Abby Cohan appears in an article.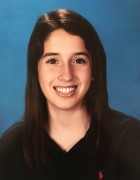 School Buzz Reporter
I first discovered my passion for writing in my 10th grade English Class when we started to include personal reflections in the conclusion of our essays. I learned more about myself than I expected in these reflections. Aside from my interest in writing, something I have loved to do since I was five years old is playing sports. One time after softball tryouts, I was even put on a boys' baseball team because I was so competitive. Now, as a junior at The Emery/Weiner School, I have realized that the student experience differentiates from other schools in Houston. The grade level trips at Emery help define the Emery difference because each trip helps classmates bond with each other. Students and faculty are so intimate, which ultimately makes the community one of a kind.