Catherine Gassiot
Click the Buzz Me button to receive email notifications when Catherine Gassiot appears in an article.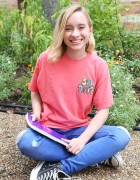 School Buzz Reporter
I'm in my final year at "the Academy" and everything is bittersweet. Amidst fervently filling out college applications and writing my essays, I am also treasuring my last year with my friends and the activities like the School Buzz, which I've been participating in for the last couple of years. For me, writing gives a person the opportunity to express themselves in a way that no other outlet does. My love of writing - supplemented by classes and The Buzz - has fostered the desire to tell a story that the reader would normally never know in a way that they haven't heard it before. I am delighted to share with readers the unique experiences and traditions held by St. Agnes Academy, and am holding my last year with the School Buzz close as it is undeniably an experience that has shaped me into who I want to be.