Deborah Brown
Click the Buzz Me button to receive email notifications when Deborah Brown appears in an article.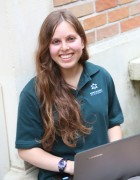 School Buzz Reporter
I have always loved reading, and as a kid I was never seen without a book. My passion for writing came not far behind, and by the time I was in middle school my class notes were already infamous for their detail and complexity. Kids I had never even spoken to would come up to me and ask to see my notes! However, Beren Academy gives me opportunities beyond taking notes: I am a member of National Honor Society; on the Teen Board of Yachad, an organization that promotes inclusion of individuals with disabilities; a member of the Model United Nations team; and this year I am assistant director of our drama society. I also take TaeKwonDo and I'm working to earn my Girl Scout Gold Award.