Leora Geralnik
Click the Buzz Me button to receive email notifications when Leora Geralnik appears in an article.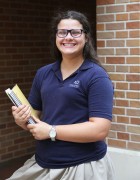 School Buzz Reporter
I have always loved reading and at some point that love extended to writing. Telling the news and people's stories is amazing, but I have always loved writing fiction. This year I hope to take part in the basketball team as well as volunteer at Texas Children's Hospital. My favorite part about writing for School Buzz is that I get to talk to so many different people at my school and get to learn about them.