Ryan Lee
Click the Buzz Me button to receive email notifications when Ryan Lee appears in an article.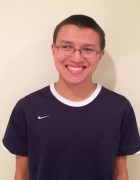 School Buzz Reporter
I honestly don't remember when I fell in love with writing, but the first clear memory of it is when I was 6 years old, creating weird Top 10 lists in a spiral notebook (because why not?). This has carried on, and I'm eager to join School Buzz because I'll not only get to, well, write, but I'll also get to report about various goings-on at and around Bellaire, for better or worse. Besides School Buzz, I'm in the National Beta Club (a love of writing and a love of English fit like a glove . . . right?), and I also enjoy both reading and film. I'm glad to be attending Bellaire this year: it's a 6A school with over 3,000 students, so there's always something going on. Living in Houston's also been good: it's a big city, with a variety of things to do and see. I'm looking forward to this year! Oh, and I'm a quadruplet, if that's interesting enough.