Simal Mian
Click the Buzz Me button to receive email notifications when Simal Mian appears in an article.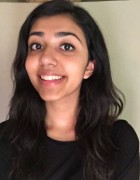 School Buzz Reporter
Since as far back as I can remember, I have possessed a passion for writing. Living in Houston has provided me with endless opportunities to explore and get inspired. This year I'll be participating in Student Council and various service clubs, but I'm excited to continue nurturing my love of writing through School Buzz.