Shopping with kids in tow
Click the Buzz Me button to receive email notifications when this writer publishes a new article or a new article in this column is published.
Buzz Baby is a column about life with babies from the perspective of a first-time mother.
Christmas Day 2015 was approaching, and Rice Village stores were bustling with holiday shoppers, including mom-of-two Patrice Heins. Along for the ride were her two tiny helpers, son Henry (then 2) and daughter Evelyn (then 5 months).
The multi-tasking mom tried to make the logistics of bringing two kids shopping as streamlined as possible. She skipped a bulky stroller and large diaper bag. "I had Henry in an umbrella stroller and Evelyn strapped to my chest," she said. She felt ready to conquer the task at hand.
"We went to a few stores," said Patrice. "I was trying to get my shopping done on the last day of The Holiday Card." (The discount-shopping card benefits The American Cancer Society.) After visiting multiple stores, Patrice decided to end the outing on a sweet note. She wanted to be a "fun" mom that day and treat Henry to some crepes for being such a good boy. The plan was perfect. Then, it would be time to head home for naps so she could wrap the gifts.
"I could tell that we were just hanging on by a thread before the kids needed their naps," said Patrice. "But Henry started falling apart."
The trio walked into Sweet Paris Crepêrie anyway. Patrice felt the eyes of patrons – most quietly sipping coffee and catching a second shopping wind – watching her as she quickly made her way to the register to order. "It was just after lunch time, and all of these couples were sitting together, and in we march with literally a dozen bags hanging from the stroller handles," she said.
As she walked through the café, her shopping bags bumped into tables. "We ordered, and they both started really losing it, just hysterics," recalled Patrice. "I couldn't figure out if we should wait for our crepes or not. I started to leave, and two of the employees ran after me with my crepes."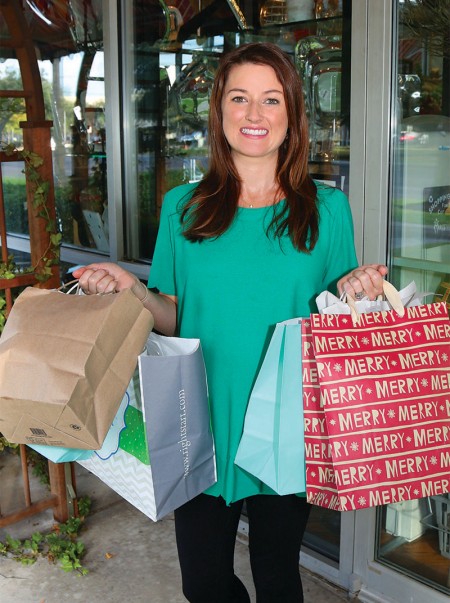 As Henry entered full-tantrum mode, baby Evelyn started crying in her BabyBjorn carrier. Suddenly, the empty stroller crashed over from the weight of the shopping bags.
"Things were rolling away, and I was just trying to pretend that it was all fine and cool," said Patrice. "These sweet ladies helped me collect everything, and I finally made it to the car and loaded up the kids and bags.
"This year, I'll hire a babysitter," she said, laughing.
Toddlers can be known for their curiosity and brutal honesty. A shopping trip with one of them can bring these character traits to the forefront. Claire Noel, chief of staff at AIG, took her daughter Sage for some holiday shopping last year at Nordstrom. She was almost 2. "She's my errand and shopping buddy," said Claire. "She's particularly interested in women's shoe sections and likes to try on the heels and walk in them."
While walking around the busy department store that day, Sage started playing a word game. "She was pointing out things she saw that were words she knew, or asking, 'What's that?'" said Claire.
Claire continued to shop while Sage observed everything around her. "She is extremely outgoing and noticed some people around her who were laughing at her excitement. She was encouraged to continue finding more things to show them," said Claire.
The mommy-daughter duo made their way to a quieter area of the store. Sage continued to loudly report her findings to any audience she found. "She was pointing out things very loudly [like] "a cow, a cow!" or "flowers! flowers!" said Claire.
"A very elderly woman walked by with big, Southern white hair and a bright red dress and lipstick on," said Claire. "Sage, in pure silence, pointed to her and said, "Santa! It's Santa!"
Claire quickly turned around to see her daughter pointing at the elderly woman. She was mortified. "Sage's audience was laughing, but fortunately [the woman] did not hear her. I'm not sure how amused she would have been by the association."
Shopping with babies and toddlers is not an easy task. But just remember, parents, that you're not alone this season. I'll see you out there, with my 2-year-old twins in tow.
Want more buzz like this? Sign up for our Morning Buzz emails.
To leave a comment, please log in or create an account with The Buzz Magazines, Disqus, Facebook, Twitter or Google+. Or you may post as a guest.