Thanksgiving in Stitches
Creating heirloom decorations
Click the Buzz Me button to receive email notifications when this writer publishes a new article or a new article in this column is published.
When talk turns to Thanksgiving, some of us turn to family-recipe books. But Elyse Kalmans unpacks the needlepoint turkeys, pilgrims, and pumpkins she's stitched and used as heirloom decorations through the years.
Her collection includes stand-up pilgrims and Native Americans, a turkey pillow that showcases complex, careful stitches, and another depicting doors decorated for fall – on that one there's even a three-dimensional bushel of Indian corn with raffia "husks" sprouting from the cobs.
"They sort of tell a story," the community volunteer and mother of two girls in college and one in high school says, adding that each finished piece reminds her of a person or time. "I like the sentimentality of it. I remember I was needlepointing a Thanksgiving piece when my grandmother passed away.
"I started needlepointing in 1993 when I was in grad school at Kellogg [School of Management at Northwestern University]," she says. "There were very few women there, and fewer single women. A friend had learned to needlepoint from her mother or grandmother, and she taught me. It was a good balance for the craziness of business school. It relaxed me."
Since then, Elyse has finished sets of Halloween, Thanksgiving, Hanukkah, and Valentine's decorations, among other projects. 
"No one makes anything these days," Elyse says. "It's sort of a lost thing. But with needlepoint, at the end of the day you have something to show for your time." 
A big sports fan, especially of the Astros, Elyse enjoys being able to stitch and watch. "I'm not creative or crafty," she says, "but I can follow instructions. And I figure it's got to be good for my brain. Well, I don't know that, but it makes me feel good."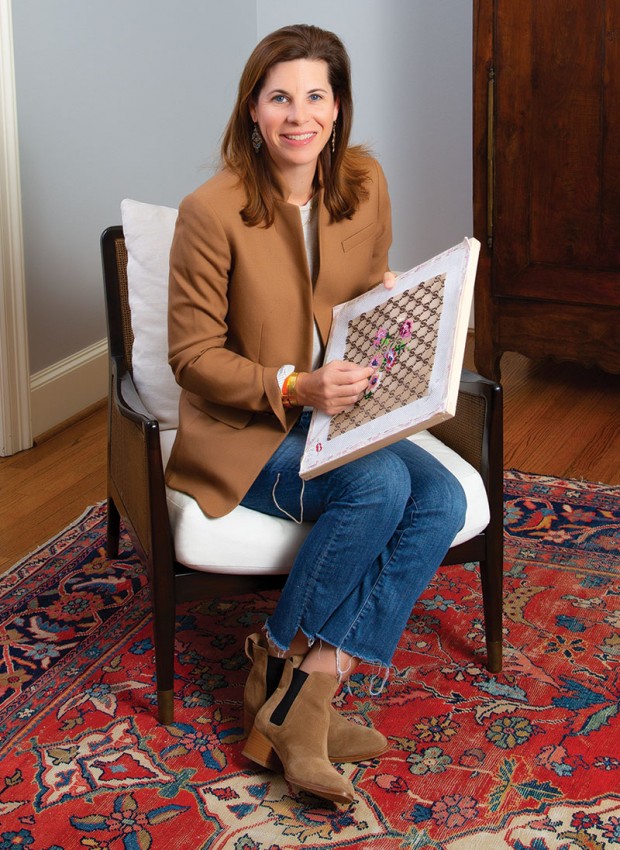 Kara Hilliard, who retired from nonprofit fundraising and is raising four children aged 14 and under, is an avid needlepointer. "I started before I had kids," she says, "when my husband gave me a canvas for a bluebonnet pillow."
Kara never finished the bluebonnet pillow, but she has since started and finished many projects. "Over the years, I've gone to classes," she says. "Really, I taught myself through a stitch book.
"It's something I can do while I'm on an airplane or in carpool line. I'm pretty busy with four kids, but there are a lot of times I'm just waiting around. I keep my projects in clear plastic zip bags, with the canvas and the thread, and I can just pick them up and put them in whatever bag I'm using."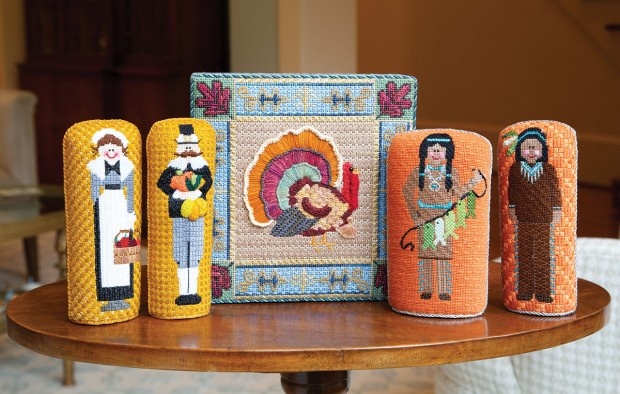 A few years ago, Kara was the Needlepoint Chair for the River Oaks Baptist School gala, where they auction off a set of finished needlepoint pieces stitched by parents, raising thousands of dollars for the school. "Everyone had always done Christmas decorations, so I wondered what we could do that would be different but would still be a holiday people would want to bid on. We decided to do Thanksgiving."
Kara stitched three of the pieces herself and was the winning bidder for the entire set, which includes 13 finished pieces. Other participating stitchers were Erin Hall, Dawn Krieg, Cheyanne Leibe, Carmen Mach, Melanie Rothwell, and Becca Wiegand. There were pilgrims, Native Americans, a teepee, a table full of pies, and a canoe, she says, "everything you would have expected to see at the first Thanksgiving.
"The whole thing was a labor of love. I started passing out canvasses to stitchers that summer, we turned them in in January, had them finished with beading on the edges, and the event was in April. We prepped for almost a year."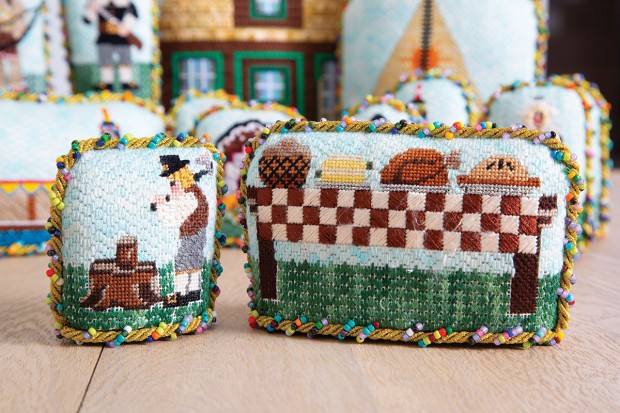 Kara now uses the intricately stitched, stand-up pieces, which Needle House finished with colorful, beaded trim, every Thanksgiving to decorate her dining room for the holiday.
She says stitching for the auctions helped her learn to needlepoint more efficiently. "These school projects gave me an actual deadline. I knew someone would be calling me!"
Now, Kara is working on a square piece for the back of a jean jacket and another one she'll have sewn into a tennis bag. "These are the first things I've done for me," she says, having given pillows and ornaments to nieces, nephews, and godchildren.
For her own children, she's completed her first Christmas ornaments. "I finished them with little pockets, like smaller stockings, and we put teeny tiny notes into them about the year they were born, saying how excited we were they joined our family. We can pull them out every year.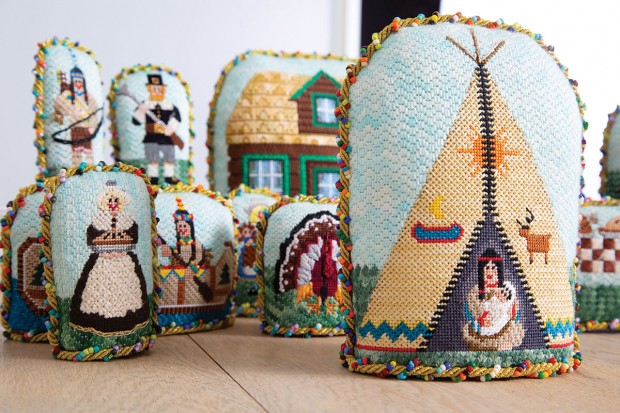 "When I started, I was like, 'This is something my grandmother does,'" Kara says. But now she's seeing younger people meeting to needlepoint at night "instead of a happy hour. I feel like there's a needlepoint resurgence that came out of 2020.
"People think they need formal training, but I just started with the book. Asking a needlepoint store for a stitch guide is really helpful. Once you start, you'll want to challenge yourself" with different stitches and pieces.
Elyse says, "Houston is amazing that we have five needlepoint stores. You can show up at a store, pick something you love, and sign up for a class or find a friend who can teach you." 
Just be careful with the needles. "I know my family likes the finished product, and they like that I get a lot of happiness out of it," Elyse says. "But every once in a while, they'll sit on a needle…"
Want more buzz like this? Sign up for our Morning Buzz emails.
To leave a comment, please log in or create an account with The Buzz Magazines, Disqus, Facebook, Twitter or Google+. Or you may post as a guest.