Cooking with Karina: How to Navigate Grocery Store Like a Pro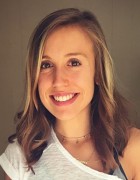 Click the Buzz Me button to receive email notifications when this writer publishes a new article or a new article in this column is published.
Karina Arnold is a rising sophomore at the University of Oklahoma who's passionate about healthy cooking. Every Monday, she provides creative, healthy recipes and tips on clean eating.
"Karina, do you want anything from the grocery store?" yells my mom from the kitchen. At this point, the question is simply a formality, because of course, I want something. Especially since starting this blog series, my extensive grocery list continues to grow. I go through Post-It Note sticky pads faster than Taylor Swift goes through boyfriends.
Although I love cooking anything from Black Bean Quesadillas to Angel Food Cupcakes, I hate grocery shopping: the maze of aisles, slow cart pushers and pressure to pick the freshest fruit. Grocery shopping can be daunting, but it is a necessary chore. Online, there is a multitude of list ideas, tips and budgeting tricks for grocery shoppers. These terrific tips can get overwhelming, so here are my top 5 grocery shopping tips:
Know when fruit is ripe or in season. For example, you can identify when an avocado is ripe when you pick the stem off and if you see green, it is ripe. Furthermore, know what foods are in season. Seasonal fruits and veggies are fresher and contain higher nutritional value. Farmers also expose the season's foods to less contaminants. Fruits and vegetables that naturally grow in the current environment do not need genetic mortification, herbicides or fungicides to grow past their season. Bonus: fruits in season are also generally cheaper because they require less chemicals and work to grow!
After interviewing with Magnolia, Texas- based nutritionist, Dr. Fred Emmite, I learned about the "Dirty Dozen," or produce you should always buy organic. These fruits and veggies have thin outer-skins, thus easily absorb chemicals and pesticides, which we then consume. Check out the "Dirty Dozen" list here.
My mom, Karen Arnold, shops to the mantra, "stick to the perimeter," specifically, don't go down aisles unless you know exactly what item(s) you need. Grocery stores generally have their produce, meats, fruits, vegetables and grains along the walls/perimeter of the store. When wandering the aisles, it is tempting to grab pre-packaged foods that look appetizing and sound delicious (I'm looking at you, Flavor Blasted Goldfish). Stick to the perimeter and your list to avoid temptations and buying more than planned.
Prep your meals for the week before you go. Have a general idea of what you are going to eat for the week when making a list, so you won't have to keep making mini trips throughout the week (I'm guilty of this). Don't have time to meal plan? Read my previous article about Lunches that Work, For Work to get ideas on how you can stretch foods/recipes for different meals.
Lastly, when making your list, fulfill these basic food groups: proteins, vegetables, fruits, grain, probiotic and a healthy snack for on the go (Try granola bars, trail mixes or dried fruits with low sugar contents and avoid bars with "syrup," "sugar" or "nectar" in the top three ingredients). Mix and match your foods to make different meals or experiment with cooking your food differently. For example, toast a sweet potato and bake one. (Try this Sweet Potato PB and Banana Toast or Sweet Potato and Avocado Toast.) 
Bonus tip: Don't shop hungry because it is tempting to buy the nearest frozen meal for dinner. 
These tips help me stay in budget and stretch foods to last all week all while maintaining a healthy lifestyle. So, grab a cart and confidently go forth and shop like a boss. Got more grocery shopping tips and tricks you swear by? Comment below!
See more posts on healthy cooking from Karina and more Buzz recipes here.
To leave a comment, please log in or create an account with The Buzz Magazines, Disqus, Facebook, Twitter or Google+. Or you may post as a guest.