Dear Cancer, Love Stacy
Facing down cancer on Facebook
Click the Buzz Me button to receive email notifications when this writer publishes a new article or a new article in this column is published.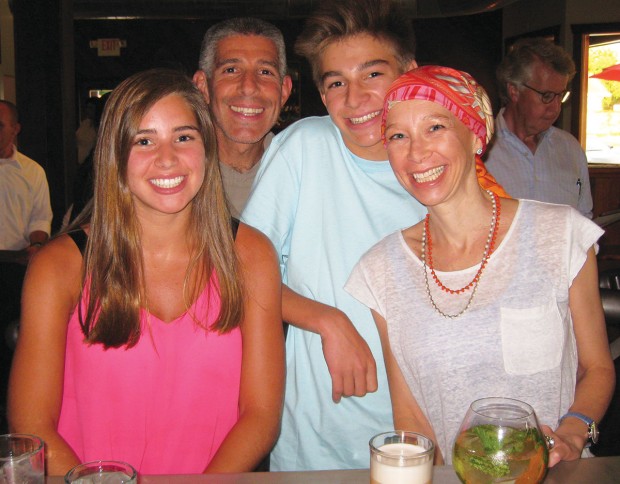 Dear Cancer … Since this all began, in August of 2005, I have had five surgeries and nineteen incisions. Yes: I have been cut NINETEEN times. And I'm not done. Oh, and I neglected the needle biopsy where it all began, which seems so benign – buried so deeply below the enormous pile of [sh-t] I've been through that I almost forgot. It wasn't benign. At all. It was [f---ing] cancer. And it hurt … Love Stacy" (April 7, 2014)
Written with uncommon frankness, "Dear Cancer, Love Stacy" is a community Facebook page authored by Stacy Middleman. If you are not on Facebook, get online and grab a box of tissues. If you are, open it up and grab a box of tissues. Either way, be ready to read brave and gut-wrenching words that flow like fiction.
But it's not fiction. It's the real-life story of Middleman, a 45-year-old Bellaire resident who has battled breast cancer – twice in the past decade.
With a clear and defiant voice, Middleman faces her nemesis as she tackles the day-to-day reality of being treated for cancer. Starting in March 2014, her Facebook posts document the raw emotions of going through surgery, chemotherapy and radiation.
"Dear Cancer, … Sunday I was so sick. Chemo sucks. It feels like an animal crawled in my mouth and died … Honestly I would have preferred throwing up to sitting around not throwing up, that is how awful chemo is … Then today, I woke up feeling great…. I am not going down. I am not going down without a fight. Love Stacy" (May 20, 2014)
Not one to mince words or feelings, Middleman's rip like a dagger. Her page is a love letter of sorts, written to "the bad boyfriend you can't seem to break up with," she says. The petite and stylish Middleman is the hero of this story – and like all heroes – she faces challenges, gets knocked down and then gets back up and survives.
Because her mother and maternal aunt had breast cancer, Middleman got her first mammogram at age 30. It was clear. Another at age 32. Also clear. Then, three years later, "there were some spots on my film which looked suspicious," she recalls. Her biopsy revealed she had ductal carcinoma in situ, an early stage of breast cancer. Additionally, Middleman tested positive for BRCA2.
"The BRCA gene is a hereditary mutation that can be passed to and from both male and female parents to offspring. BRCA carriers are at increased risk for breast and ovarian cancer," says Middleman. "My kids know they have a 50 percent chance of carrying the BRCA gene. That is the most upsetting part of this – that my kids may one day face the same demons."
At the time of her first diagnosis, son Ethan was 9, and daughter Ryan was 7. Middleman and her husband David met with doctors. "My treatment involved a bilateral mastectomy in October 2005 and breast reconstruction, which took about a year to complete," she recalls.
To streamline communications about her health, Middleman created an email list and sent updates to family and friends. "But it turned into something else as I began to write letters and poems and essays about my experience," she recalls. "My writing became something more, and I found that sharing my truth helped me get through. My emails continued until I completed reconstruction, at which point I stopped writing and moved on with my life."
Putting all that in the rearview mirror, Middleman did indeed move on for the next eight and a half years, living her life, loving her husband and finding joy in her children. She volunteered at her children's school and chaired the Bellaire Little League Gala. "I really never looked back, especially after surpassing my five-year survival mark," she says.
And then her cancer came back. "In March 2014 I was re-diagnosed with invasive ductal carcinoma of the breast, even though both of my breasts had been completely removed. I had seen a lump at the bottom of one of my implants, but it never occurred to me that it could be breast cancer. It's not that it was impossible to have breast cancer following mastectomy, but it is rare."
"Dear Cancer, … never did I believe this would happen. Ever. Again. My doctors were equally puzzled, shocked to be fair, and when we first met with my oncologist, she was patently frustrated … remember there are no guarantees in life, ever. Accept that life isn't fair but worth the taking, and take absolutely nothing for granted. Love Stacy" (April 4, 2014)
Reeling from the fact that her breast cancer found its way back into her chest, Middleman dealt with it again by trying to write it out. The avenue she chose was a public Facebook community page. Post by post, in real time, Middleman has chronicled her second bout with cancer, addressing it directly to the disease.
"Dear Cancer, the afternoon I received my diagnosis, I was sitting on my daughter's bed, four days before her sixteenth birthday … When she came home from school the next day and told me she was going to donate her hair, I thought her valiant but didn't realize what she meant: she wanted to give it to me … Love Stacy" (May 22, 2014)
A self-described lover of writing letters, Middleman put a lot of thought into the creation of Dear Cancer, Love Stacy, her public Facebook page. "I wanted to tell cancer to [f---] off," she recalls. "I needed to rage against this disease. I always sign my letters, 'Love, Stacy' but I realized I couldn't put an additional comma between 'Love' and 'Stacy' – it would look weird. So I thought, Love Stacy. Love as an adjective. I am Stacy. I am love. I am a whole lot of other things, too, but mostly I wanted to be about love."
"Dear Cancer, The other day I received a disturbing message from a distant relative, already presuming my death … For one, and let me be clear: I am not dying, but living with hope … make no mistake. I am going to survive. In life and in love, for now and eternity … Love Stacy" (June 12, 2014)
Her Facebook page started with a handful of followers. Today, Middleman has more than a thousand and growing. She has a fanbase of people from around the world, many of them breast-cancer patients. Middleman says the comments people leave on her posts have helped her survive. "This is the message that touched me the most: 'Thank you for the opportunity to get to know you on a much deeper level than most of us ever get to know even our closest friends,'" says Middleman. "How could I not heal from that?"
And heal she has, although she admits some days were tougher than others.
"Dear Cancer, Day eighty-one of chemo and I should be feeling better. But I'm not … in a week I start thirty-three rounds of radiation … When am I going to get used to this? I feel like my body is being destroyed … Love Stacy" (June 22, 2014)
From March 2014 to now, Middleman has used the writing and the comments to propel her along to where she is today, cancer-free and with hair that almost reaches her shoulders.
"Dear Cancer, This week I completed the first three months of my maintenance drug. One-fortieth of my treatment… Someone asked me today what I do for a living and I wanted to say: I live. I LIVE. That is what I do. Every day I live for a living. That has become my work … Love Stacy" (November 28, 2014)
"I believe her story is inspiring, and her desire to educate people about the BRCA gene will benefit others," says husband David Middleman, a retired lawyer. "She sets a beautiful example for our children with her strength and courage."
"Dear Cancer, Love Stacy" has caught the eye of filmmaker Stacey Summers, who is currently making a documentary about Middleman's journey. "She began filming me while I was in treatment, and she is hoping to have a first screening in October. She is telling my story through the perspective of my letters."
"Dear Cancer, It's been a year since my last scan, since the end of it all, and I am doing well. I have not forgotten you. I think about you all the time. And also not so much. Just wanted to check in and say hi. Remind you that I'm still here. Love Stacy" (December 16, 2015)
Editor's note: Check out  three more stories of life after cancer diagnosis, about Buzz residents Claire Frazier, Bill Gage and Ashley Pratka.  Plus, see a list of all of their personal resources for surviving cancer. The first Sunday in June marks National Cancer Survivors Day.
Want more buzz like this? Sign up for our Morning Buzz emails.
To leave a comment, please log in or create an account with The Buzz Magazines, Disqus, Facebook, Twitter or Google+. Or you may post as a guest.