Old-School Halloween
Click the Buzz Me button to receive email notifications when this writer publishes a new article or a new article in this column is published.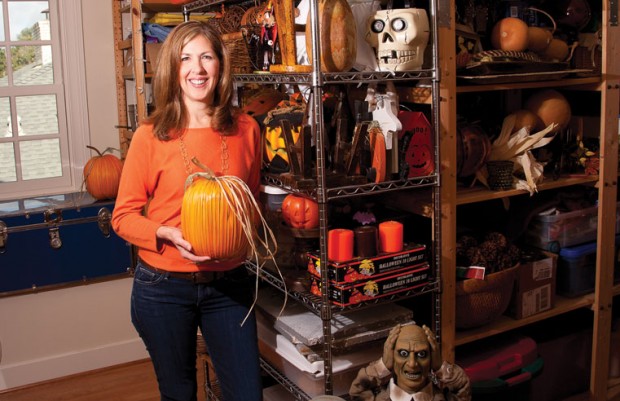 When did giant blow-up Halloween spiders become ubiquitous and grocery stores start filling aisles with orange and black plastic – in August? And since when did buying a mass-produced Halloween costume (that's bound to be worn by someone else on your block) require a two-hour wait in line?
Has Halloween has lost its charm?
Happily, there are still a few revelers out there who insist on an old-school way of celebrating All Hallows' Eve.
Like Tiffany Smith, whose decorations literally are old. Her collection of vintage Halloween postcards from the late 1800s and early 1900s is remarkable. Mostly picked up from her favorite vendors at the Round Top Antiques Fair, the postcards are windows to Halloweens past, complete with handwritten messages about bobbing for apples or taking carriage rides, and postmarked with dates like October 30, 1913. Add those to Tiffany's collection of vintage, antique and homemade Halloween decorations, and you're left with a storage room full of props and memories.
"Even before I had kids, I was carving pumpkins and decorating for Halloween," Tiffany says. "Then once I had children, it was Halloween-palooza."
Now that her oldest is a sophomore at Northwestern University, Tiffany has amassed an impressive stash of decorations of all kinds, along with binders filled with ideas for costumes, recipes and parties. An entertainer at heart, she's used the holiday as an excuse to host all kinds of parties through the years – kids' carnivals, Halloween-themed bunko nights, adult cocktail parties.
For one cocktail party, Tiffany hand-delivered pumpkins with inexpensive carving sets tied to their stems along with handmade, leaf-shaped, card-stock invitations that read, "Let's carve out time for some fall fun! Ghoulishly Grown-Up Halloween Party…"
Along with butternut squash soup and pumpkin cheesecake, she served Transylvania Twist-Tinis – Cosmopolitans in glasses rimmed with red sugar and drops of red-tinted corn syrup. Another year she served El Diablo wine in her Halloween stemware. Halloween stemware? "I'm not joking," she says.
"I love Halloween because it's just about fun with your family and neighborhood at a lovely time of year," she says, adding, "without any pressure."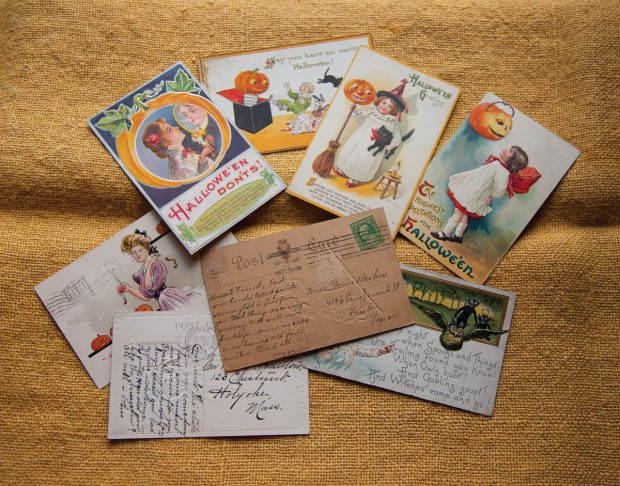 Jan and Chris Carroll also go all-out for Halloween without using any of the pre-fab supplies. But their Halloween obsession started a little differently.
"I never actually liked Halloween," Jan says. "When I married Chris, I really didn't get it and thought it was kind of weird."
Chris started Jan out slowly, first decorating their small porch, then carving a few pumpkins each year. Then their son Bennett, now 14, was born, and Halloween fever set in. Jan says having Bennett "gave Chris an excuse to get crazy."
"I kind of pushed the two of us to do this," Chris admits. "Jan had to temper me a little bit."
But not much. When Bennett was a baby, Chris started building pumpkin patches for him. He'd bring bales of hay and pumpkins home, and he made a "Bennett's Pumpkin Patch" sign. It wasn't long before the patch encompassed the Carrolls' whole front yard and the interior of their home. A cemetery made its way into the mix. Eventually, they ran out of room at their Tanglewood home, so they expanded to their ranch house in Fayetteville, where, Jan says, there's more room to be elaborate.
Even though Jan's role at Halloween began merely as a way to humor her husband, the couple's holiday decorations wound up being the catalyst for one of her dearest friendships.
"Seven or eight years ago I commissioned a ceramic Halloween village to be made for Chris," she says. "I picked out everything – each building, the witches, all the details. It even has its own table that comes out only at Halloween."
Heather Simpson, with whom Jan volunteered at the Junior League but didn't know well, heard about the village and decided she needed to see it for herself. So Jan and Chris had a few friends for breakfast and viewing, Heather included.
Heather harbored her own Halloween obsession. A few years ago she crowned her large decorations collection with a black Christmas tree, bought on a specially taken trip to Tomball. All this without her Halloween-hating husband's knowledge – she and a neighbor set the tree up before he came home from work. "Then what could he say?" Heather jokes.
A shared appreciation for the Halloween village and their respective collections of decorations began a close friendship. Heather and Jan still meet regularly for breakfast, even when it's not Halloween.
And when it comes to costumes, jewelry designer Tracy Pesikoff is a pro. She's never bought one in a store, choosing instead to think about what costumes exemplify her family – and then piecing them together herself.
"One year I asked Jonah, who's now 11, 'What do you like?'" Tracy says. "Well, he liked whipped cream." So Tracy transformed Jonah into a can of whipped cream, fashioning a can out of red felt and making a cap that could be pushed down to spray white foam.
Another year, Tracy's daughter Lily, now 8, was a lily pad. "I made that one out of green poster board with green ribbon straps," Tracy says. "Lily wore all green, and then we put bathtub frogs all over her." To complement Lily, Jonah dressed up as a frog, and dad Josh was the prince.
Tracy says she uses whatever she can find to put the costumes together. Hats saved from tours of the Blue Bell Ice Cream factory, craft supplies from Michael's. Last year she found a funky homemade dress in an Aspen thrift store and turned it into a "Cinderella Before and After" costume for herself. Think of a line drawn down the center of Tracy – one side was sparkly and pretty, the other scraggly and tired.
"It's kind of quirky," she says, "but I love it."
For the big night, Wendy Gold hosts a truly old-fashioned party. It started when her kids were little in their backyard. "Kids would come in costume and play in the backyard," she says. "As they got older, we rented out a clubhouse and probably had 60 kids. We'd have food, a bouncy house, a magician and a piñata."
Now that the youngest Gold child has started middle school, the party has scaled down and is back at their home. But Wendy still pulls out all the stops and is happy to share her party tips.
"Forked eyeballs are easy and such a great hit," she says. Start with a glazed donut hole, stab it with a plastic fork and dip it in melted white chocolate. Then poke in a lone chocolate chip (for a pupil), and create veins with a tube of red gel icing.
Eyeballs are a favorite theme. "I have two plastic eyeballs," Wendy says. "I divide everyone into two teams and give each an eyeball on a spoon. Team members relay, walking across the yard holding just the handle of the spoon. When they get to a set spot, they grab the spoon and eyeball and run back to their team to hand off to the next person."
In place of bobbing for apples ("not sanitary," Wendy says), the Golds have a "Donut Dangle." When guests arrive, she says, measure them to know how long to make their string. Then hang strings on a broomstick propped lengthwise between two same-sized ladders. One glazed donut gets attached to each string – you can usually fit five donuts on a broomstick. Donuts should hang just below players' chins. Have players put their hands behind their backs, start swinging the donuts and say, "Go!" Dual goals are to see who gets the first bite of donut and who eats their donut first without it falling.
Wendy says the Mummy Wrap is another winner. Give each team a roll of toilet paper. "The cheaper the better," Wendy says. "The expensive kind is too soft and tears too easily." One person on each team agrees to be the mummy, while the others wrap him. The team that wraps the mummy first wins.
Tiffany Smith agrees with Wendy that the simplest things are still the most popular. They both suggest putting out bowls (Wendy uses plastic sandwich bags, zipped and placed in brown paper bags) filled with peeled grape "eyeballs," boiled spaghetti "brains," Jell-O "guts," canned peach half "hearts," dried peach "ears" and corn husk "hair." Have everyone feel the bowls' (or bags') contents – in the dark, of course – and guess what's inside.
After all the fun, Tiffany says, "Kids loved a simple punch we called Creepy Cauldron Punch or Witch's Brew." Mix Sprite, lemonade and green food coloring in a "cauldron" set atop or beside a bowl of dry ice mixed with water. If you're not afraid of the extra sugar, add a few scoops of lime sherbet to the drinks – they will froth green.
In the end, homemade or not, the memories will last. Especially if you're as organized as Tiffany. "I made my kids' costumes for years," she says. "Now that my youngest is 17, I put hers in a trunk – for her own daughter to use someday."
Want more buzz like this? Sign up for our Morning Buzz emails.
To leave a comment, please log in or create an account with The Buzz Magazines, Disqus, Facebook, Twitter or Google+. Or you may post as a guest.