Advertise in The Buzz Magazines

Our mission is to share residents' stories one neighborhood at a time. Each month, we publish four community lifestyle magazines filled with human-interest stories – all-original, first-time content – about residents in Houston's most affluent communities – Bellaire, Memorial, River Oaks, Tanglewood, and West University.
No other publication has more trust, loyalty, and relationships in these communities.
And our reach expands well beyond our print magazines. Every day, we cover what's happening in our neighborhoods at thebuzzmagazines.com. On our website, you'll find exclusive online-only content, guides and directories, contests and thousands of interesting stories. You can also connect with us on Facebook, Twitter and Instagram and sign up for our daily newsletter, Morning Buzz.
Circulation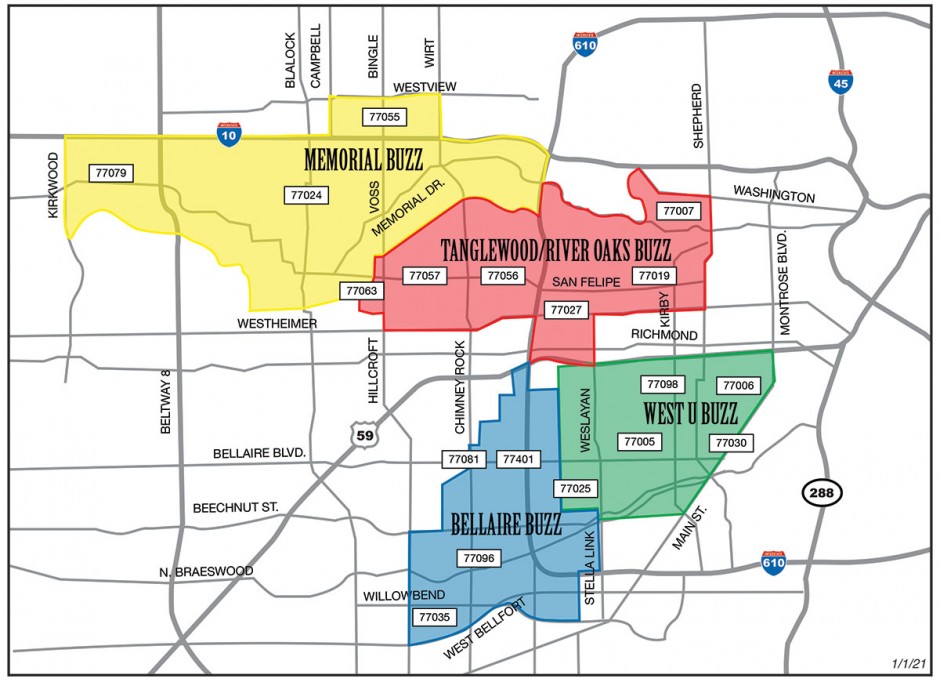 The Buzz Magazines are mailed to 58,000 homes each month.
Demographics
Buzz readers are well-educated consumers with high levels of discretionary income. Our residents are homeowners with an average household income of more than $200,000 and a median home value of more than $1 million, with an average of 2.75 children living at home.
Given their proximity to downtown Houston, Texas Medical Center, Houston Galleria, and Greenway Plaza, the Buzz communities are home to many of Houston's CEOs, CFOs, business owners, doctors, attorneys, financial managers, and other professionals.
Advertiser Testimonials
Click here to read what our advertisers have to say about us. Or talk to any of our advertisers.
Create a Buzz for Your Biz
The Buzz Magazines is the most targeted and cost-effective way to reach homeowners in these communities. Allow us to customize an advertising schedule to fit your specific needs and budget.
To get started, or for more information, please contact Michael Hoffman at 713-668-4157, ext. 11 or [email protected]. Please include the business name and, if applicable, its website.