Advertise in The Buzz Magazines
Bellaire. Memorial. River Oaks. Tanglewood. West University. Houston's most affluent neighborhoods.
Since 2002, The Buzz Magazines has built more trust, loyalty and relationships in these communities than any other local publication. Each month, we publish four community lifestyle magazines filled with human-interest stories – all-original, first-time content – about local people and happenings.
And our reach doesn't stop with print. Our website features additional online-only content, community blogs, guides and directories, contests and includes thousands of searchable stories. You can also connect with us on social media.
Telling authentic, humanizing stories in neighborhood media -- that's what we do.
If it's buzzworthy, it's in The Buzz.
Circulation
The Buzz Magazines are mailed to 58,000 homes each month in Houston's most affluent and desirable communities. Our circulation doesn't rely upon newsstands, racks, retail stores, restaurants, hotels, and other less costly and less effective distribution methods. Instead, we offer guaranteed delivery directly into residents' homes each month by U.S. Mail.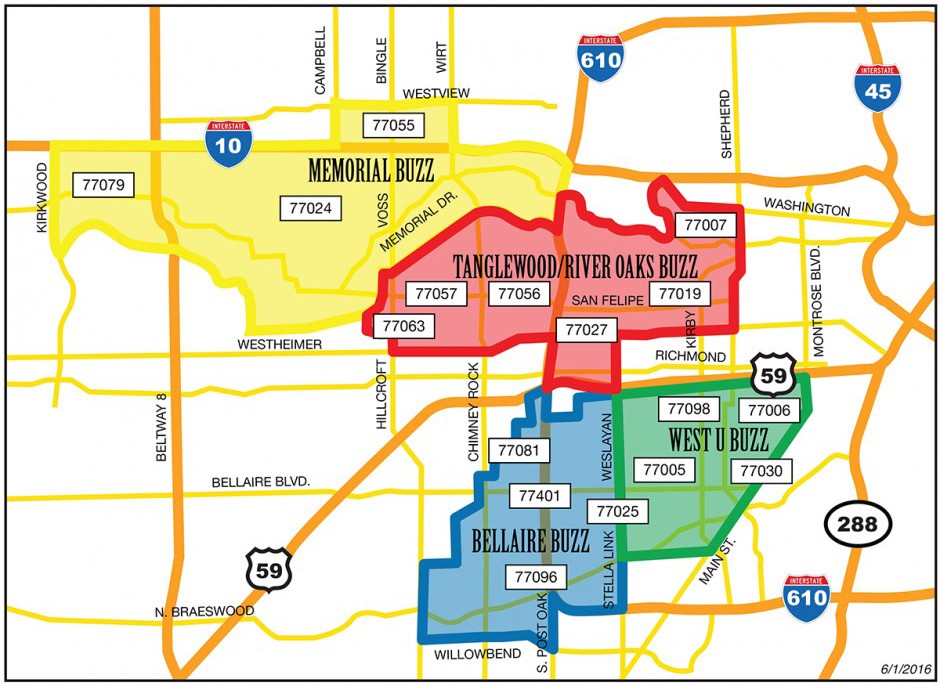 Demographics
Buzz readers are very well-educated consumers with high levels of discretionary income. Our residents are homeowners with an average household income of more than $200,000, a median home value of more than $1 million with an average of 2.75 children living at home.
Given the close proximity of our communities to the Texas Medical Center, Houston Galleria, and downtown Houston, these communities are home to many of Houston's CEOs, doctors, attorneys, financial managers and business owners.
References
Click here to read what our advertisers have to say about us.
Create a Buzz for Your Biz
The Buzz Magazines is the most cost-effective way to reach Houston's most affluent and desirable homeowners. Allow us to customize an advertising schedule to fit your specific needs and budget.
To get started, or for more information, please contact Michael Hoffman at 713-668-4157, ext. 11 or advertising@thebuzzmagazines.com