Down the Aisle
Click the Buzz Me button to receive email notifications when this writer publishes a new article or a new article in this column is published.
So, who's going to be the flower girl?" my mom asked. "Who are your bridesmaids? What kind of dresses will they wear?"
I stared at her blankly. It was about 10 minutes after my now-fiancé, Matt, had proposed, and I was still shaking from surprise and excitement. More questions were thrown at me when I called to tell friends and family the news: "When is the wedding? Where will it be?"
At that moment, I had no idea. Since our engagement in December, I've encountered a never-ending stream of questions with no quick answers. When planning a wedding, I've learned, there are way too many choices to make.
I decided to quiz some Buzz residents who recently got married. What were the highlights from their weddings? Here's the lowdown:
Ashley Chilivetis + Alan Appling
Ashley and Alan started dating at Lamar High School, but called it quits after about six months. Six years later, they ran into each other on separate trips to New Orleans and promptly rekindled their relationship upon returning home. Less than two years later, he proposed.
Ashley, who teaches first grade at Grace School, has a knack for event planning. She hired a day-of coordinator to make sure all went smoothly, but she took on the majority of the planning, especially as hubby Alan was studying at South Texas College of Law; he graduated in May.
"My house became a fake venue," she said. "I moved out all the furniture, made a head table on the floor, and placed every single centerpiece the way I wanted it."
Their reception took place at the Petroleum Club – Ashley said the view of Houston was "spectacular." To capture the moment, they hired fellow Lamar alumna Kelli Elizabeth for photography. Ashley suggested, in addition to the photo shoots on the wedding day, an after-wedding shoot because of the often-hectic nature of The Big Day. "Plus, it's one extra time to put on your dress," she said.
At the party, the photo booth from ShutterQube was entertaining; it was personalized with photos of the couple's stationery in the background as well as their names and wedding date.
Bridal advice: "A lot of people wait to book people to do hair and makeup, and I would say that this should be one of the first things you book," said Ashley. "They get booked so easily, and this is what you look like on your wedding day."
Details: Date – Aug. 13, 2013. Venue – Ceremony, St. Luke's United Methodist Church. Headcount – 275. Wedding coordinator – Erica Gordon, Elite Eventz. Wedding party – 9 bridesmaids and 9 groomsmen; blush-pink gowns from Bella Bridesmaid and tuxes from Joseph A. Banks. The dress – Hayley Paige, Now and Forever. Flowers – Always Floral. Band – Doppelganger Band. Party extras – Baskets of flip flops, glow necklaces and bracelets. Registries – Bering's, Pottery Barn, Williams & Sonoma.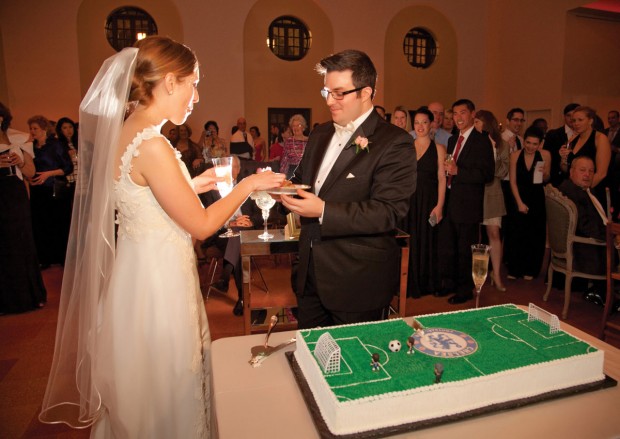 Sarah Graham + Matt Garcia
Sarah, an academic coach, and Matt, a financial advisor, both went to The University of Texas but met while playing kickball in Houston. During a trip to Washington, D.C., Matt surprised Sarah by proposing in the Bishop's Garden at the National Cathedral.
Their ceremony took place at St. Paul's United Methodist Church, and the reception was at the Julia Ideson Library. Sarah described the traditional wedding, decorated with white and blush-pink tulips with accents of white hydrangeas, La Perla roses and blush Mokara sweetheart roses, as feeling homey and warm.
Sisterhood played a big role in the wedding. Sarah and her mom, Pam Graham, were both sisters of Alpha Chi Omega sorority, and her mom's sorority sister, Ann Whittington with Ann Events, coordinated the wedding. "I found it really helpful to have someone help navigate through all the options, and it helped that she knew me and my family," said Sarah. For photography, the couple hired Michael Carr, and wife/business partner Lisa Carr turned out to be a sorority sister as well. While walking down the aisle, Sarah and her mom carried bouquets with their sorority pins on them.
Bridal advice: Sarah suggested getting as much information as possible from vendors before signing anything. "Speak up if you're not getting exactly what you want," said Sarah. After seeing their engagement photos, they realized that that wasn't what they wanted and switched photographers for the wedding weekend.
Details: Wedding date – Feb. 8, 2014. Headcount – Approx. 220. Food – Jackson & Company. Wedding party – bridesmaids wore matching black Ann Taylor gowns, and groomsmen wore tuxes from Al's Formalwear. Band: 5th Avenue. Registries: Sur La Table, Pottery Barn and Amazon.
Michelle Lewis + Jonathan Zadok
Michelle and twin sister Rachel Lewis are Texans cheerleaders, so it makes sense that a total stranger would know who they are. When at synagogue for Rosh Hashanah, her now-sister-in-law, Amy Zadok, recognized Michelle in the restroom – she had seen the twins featured in The Buzz and The Jewish-Herald Voice. Amy asked Michelle if she could set her up with her brother, Jonathan, who works in the family biz, Zadok Jewelers. Michelle said no. But after much back-and-forth, she agreed.
Michelle completed her first semester of nursing school in fall 2013, so Jonathan planned a trip for them to San Juan, Puerto Rico. She knew marriage wasn't too far off, but he was hinting that the proposal was six months away. However, the first night of their trip, he surprised her and proposed on the beach.
Both wanted a destination wedding. The springtime ceremony at St. Regis Monarch Beach in Dana Point, Calif., was a traditional Jewish wedding. Michelle said the beach surroundings helped create a beautiful, natural atmosphere. "Our friends and family really enjoyed being able to take the entire weekend to relax with each other," said Michelle.
Bridal advice: Michelle said wedding planning can be stressful, so it's helpful to work out. "Exercise is really important, both for how you want to look and for your well-being."
Details: Date – March 16, 2014. Headcount – 200. Wedding party – The bridesmaids selected their own dresses. The dress – Michelle wore one dress, from Ivory Bridal, for bridal portraits, the ceremony and a post-ceremony photo session; she wore the second (Ventura's Bridal) for dancing. Photos – Nancy Aidee (Houston) and Duke Photography (Pasadena, Calif.). Colors – Blush pink, silver, ivory. Food – Simon's Caterers & Special Events. Sweets – French vanilla wedding cake with vanilla frosting made by Schwartz Bakery in Los Angeles, plus ice cream and an exotic fruit bar. Registries – Crate & Barrel, Bed Bath & Beyond, Kuhl-Linscomb, Bering's.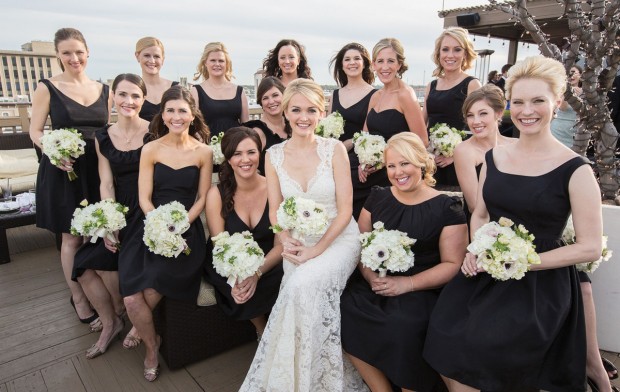 Sydney Ealand + Robert Eifler
Sydney, a civil engineer, and Robert, who's in the oil and gas business, met in 2007 but were dating other people. They turned their eyes to each other in 2011. One day, the alarm company called to alert her that the alarm was blaring. Sydney rushed home to see Robert in a tux on one knee with their song playing. He had prepared a surprise feast for family and friends to celebrate their engagement.
Their wedding weekend began Thursday with a rehearsal dinner at River Oaks Country Club; then the guests made their way to the beach for a welcome party Friday at the Roof Garden on the Strand, Saturday brunch at the Hotel Galvez, the ceremony at Trinity Episcopal Church that evening and, finally, the party at The Tremont House.
They offered four food stations, including comfort food with fried chicken, risotto and shrimp mac 'n' cheese. For dessert, they had a white wedding cake with buttercream icing, and the groom's cake – dark chocolate with chocolate icing – was a black lab in honor of their real-life black lab, Ellie. "We wouldn't let anyone cut 'her' in front of anyone," said Sydney. They also served late-night bites, including shot glasses of milk with warm cookies, ballpark pretzels and mini Coke cans.
Bridal advice: "We had a problem where our linens didn't make it in, and we had to pick a different linen before the wedding – it's just not a big deal," said Sydney. "Enjoy this time and don't sweat the small stuff."
Details: Date – March 29, 2014. Headcount: 360. Wedding coordinator – Cassie Glass. Dress – Monique Lhuillier, Casa de Novia. Photos – Barron & Barron Photography. Flowers: Island Flowers. Food – The Tremont. Cake – Susie's Cakes. Band – Professor D. Party extras – photo booth; bins with neon-colored flip flops, Mardi Gras masks, sunglasses. Registries – Williams & Sonoma, Bering's, Kuhl-Linscomb, Robert's China.
Brooke Adams + Colton Braud
Brooke, an account manager, and Colton, who's in private equity, had been friends forever. A few years after college, after not seeing each other for six years, they went to the Houston Livestock Show and Rodeo barbecue cookoff together with a group of friends. At the time, Colton was living in New York, and Brooke had just relocated back to Houston. That night amidst the barbecue sparked a romance that prompted a long-distance relationship for a year and a half, until Colton moved back to Houston.
He proposed at his family's ranch house in Round Top, and they married nine months later, with a traditional church ceremony and a cocktail hour and reception at the Houston Country Club. Brooke's parents live in Paris, France, so they supported the planning, but Brooke primarily "took the reins and held on to it," she said.
Every flower during the wedding night was white or cream, including the bridesmaids' bouquets, the bridal bouquet, centerpieces and flowers outlining the aisle. For the party, Doppelganger Band created a festive atmosphere by playing a mashup of songs and making sure everyone was dancing. During the last song, Brooke and Colton ended up on stage and looking out at all of their friends and family. "Everybody was on the dance floor and having so much fun," said Brooke. "It was such a cool moment."
Details: Date – March 22, 2014. Venue – ceremony, Memorial Drive United Methodist Church; reception – Houston Country Club. Headcount – 240. Wedding party – eight bridesmaids and eight groomsmen; bridesmaids in coral dresses, Now and Forever. The dress – Sweetheart, subtle A-line Tara Keely, Now and Forever. Photos – Tracy Eason Photography. Flowers – Houston Country Club horticulturist, Susie Miller. Cake – Marlene Romero. Band – Doppelganger Band. Hair and makeup – Jenni Davis Makeup. Transportation – Sam's Limousines. Rolls Royce Exit – Monarch Limousines. Registries – Bering's, Pottery Barn and Williams & Sonoma.
Bridal advice: "The hardest part about wedding planning is knowing you only do it once," said Brooke. "I changed my mind a lot, but I always reverted back to the traditional option. I thought, 'I can't go wrong with white flowers or a good live band.'"
Choosing the ring
With all the options, choosing a ring can be challenging. So how did Jonathan Zadok, who's been around diamonds his whole life because of his family's business, Zadok Jewelers, choose an engagement ring?
One day, Jonathan pretended he was looking at rings for a client and asked Michelle which ones she liked. Then, he got her ring size because, fortunately for him, she has a twin sister. But for those whose partners don't have a twin, it's a good idea to sneak a ring she or he owns to the jeweler for sizing. Jonathan also recommended:
• Asking questions: When you're around married friends, ask, "Do you like that ring? Why or why not?"
• Getting help: Ask a parent or friend for guidance.
• Go to the source: Ask the jeweler to walk you through it. "You can learn a lot online but make sure to go somewhere you trust," said Jonathan. "If you don't know your jewelry, know the jeweler."
Alan Appling bought Ashley's engagement ring from Jonathan's Fine Jewelers, Robert Ealand bought Sydney's ring from Valobra Jewelry and Antiques, and Matt Garcia bought Sarah's ring from Whiteflash.
#Trendspotting
Wedding hashtag: Many couples use a hashtag – such as #applingeverafter or #lewiszadokwedding – signified by the pound sign, so those on social media can track photos taken during the weekend.
Bridal parties: Many couples today have larger numbers of attendants, including junior bridesmaids, flower girls and ring bearers.
Bridesmaid-dress styles: Many brides choose a specific style and color but allow bridesmaids to opt for a different style – such as strapless or halter – for the top of the dress.
Dual dresses: A new trend is for the bride to wear a classic gown to walk down the aisle but change into something more comfortable for the party.
Photo booths: Freestanding photo booths during the reception, usually with props like sunglasses or clever signs, are popular.
Dancing shoes: Let's face it; wedding attire isn't the most comfortable for dancing – it's typical to see bins of flip-flops for guests to change into for dancing.
Groom's cakes: It's still popular to see creative groom's cakes, representing a pet, sports team or hobby (everything from a videogame to a type of beer).
Late-night extras: Often, after the cake has been cut, there will be another round of savory or sweet dishes. Some couples opt to throw after-parties too.
Delayed honeymoons: Many couples delay their honeymoons for a few months, although some also go on a "mini moon" directly after the wedding weekend for a few days of relaxation.
People in this article:
Jordan Magaziner Steinfeld
,
Ashley Chilivetis
,
Christian Louboutin
,
Alan Appling
,
Kelli Elizabeth
,
Matt Garcia
,
Erica Gordon
,
Hayley Paige
,
Sarah Graham Garcia
,
Pam Graham
,
Ann Whittington
,
Michael Carr
,
Lisa Carr
,
Michelle Lewis
,
Jonathan Zadok
,
Rachel Lewis
,
Amy Zadok
,
Nancy Aidee
,
Sydney Ealand
,
Robert Eifler
,
Cassie Glass
,
Monique Lhuillier
,
Brooke Adams
,
Colton Braud
,
Susie Miller
,
Marlene Romero
Want more buzz like this? Sign up for our Morning Buzz emails.
To leave a comment, please log in or create an account with The Buzz Magazines, Disqus, Facebook, Twitter or Google+. Or you may post as a guest.