The Buzz Magazines 2014 Photo Contest
Click the Buzz Me button to receive email notifications when this writer publishes a new article or a new article in this column is published.
After reviewing more than 1,000 submitted photographs, we are pleased to present the winners of The Buzz Magazines' Ninth Annual Photo Contest.
With any contest like this, the process is inevitably subjective. However, there are basic principles of photography that must be met, such as lighting, focus and exposure. And there are personal elements to consider: subject, emotion and storytelling. Judging is "blind," as the judges do not see the names of the photographers.
Our contest is open to any amateur photographer. We do this every summer, so keep that in mind as you are shooting pictures in the upcoming year. Congratulations to each of this year's winners, especially our Grand Prize winner, Mauricio Recinos, who will receive a Canon PowerShot digital camera, compliments of The Buzz.
We want to thank our judges – professional photographers Michael Hart, Carol Andrews and Scott Kohn – for their considerable time and effort.
Keep an eye out for next year's call for entries in our March 2015 issue.
Grand Prize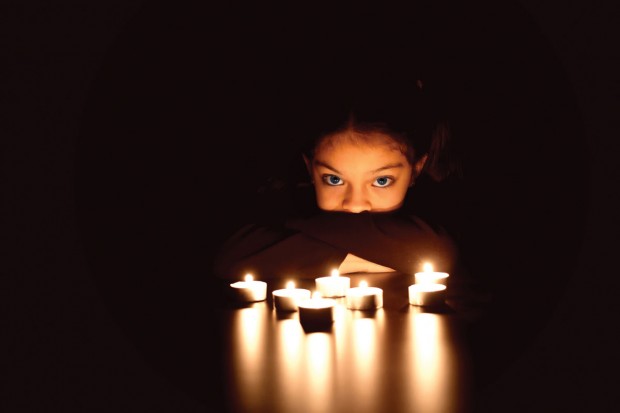 Mauricio Recinos, 43, Baby Blues "This is a photo of my daughter, Isabella, who was 7 years old at the moment. She was sitting on the dining table at home with some candles. The photo was taken on February 4, 2014. I took this photo because I wanted to have a picture of my daughter in low light. Many times we all want the perfect light for our pictures. So I decided to try with low light. I turned the lights off, lighted some candles and called her so she could help me. So she sat there and looked at me. It paid off."
Category: Animals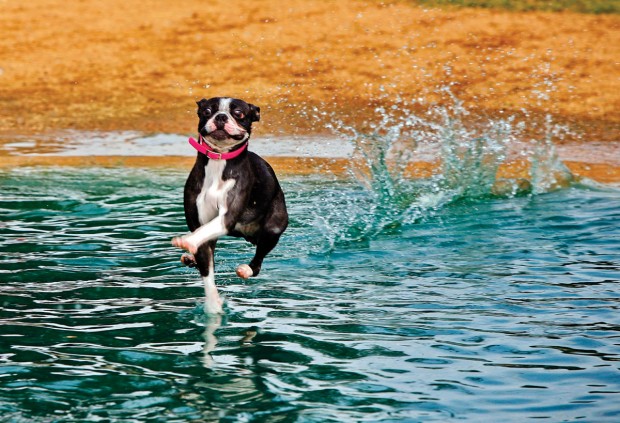 First Place: Michael Porter, 55, Walking on Water "This is a photograph of dog jumping into the fetch pool to retrieve a ball at the Danny Jackson dog park. The picture was taken in 2013 and shows the intensity and joy of dogs doing what they love to do."
Second Place: Jennifer Hong, 33, Waiting "Our family dog, Pepper, takes his job as guardian of our home extremely seriously. One morning last year I pulled out my camera to capture Pepper's perspective. This is his vigilant neighborhood watch, from 'his' window."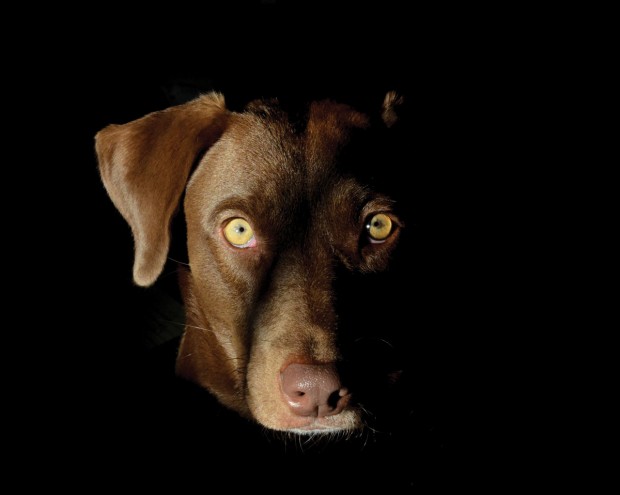 Third Place: Elaine Matte Mut, 57, Honey Go Lightly "This is our dog, Honey. She is a rescue that we adopted from Feralfelineretreat.com at PetSmart last September when we went in just to buy cat food for our four rescue cats. We fell in love with her immediately. She is about 2.5 years and an old soul. She was described as 'Honey, the Perfect Dog,' and she has more than lived up to her name. On the following Saturday when we picked her up, the HPD officer who found her took our photo. She was as happy as we were that this wonderful dog found its forever family. My home office is above our carport with glass on three sides of the room. The morning light can be very harsh. Honey walked into the room and I saw the bright light hitting one side of her face, her pupils tiny and the amber color much more prominent. I picked up my camera from my desk and took five quick shots before she approached me to be petted. This was the first and the best. Most of the time, her pupils are larger and she looks soulful and puppy-like. In this bright contrast light, she looks ethereal." 
Fourth Place: Cory Hryc, 27, The Princess "This is a photograph of my girlfriend's cute, small dog, Emma. The photo was taken at my parents' house in the living room while strong light was breaking through the window. I took this photo while exploring late-afternoon lighting. Emma had just woken up from her afternoon nap and looked a bit groggy while sitting in the rich light. The strong light and shadows really makes this image pop with a strong contrast on Emma's fur. I like this photo since I only used the available light, at the right time, which made the snapshot much more powerful."
Category: Landscape
First Place: Madeline Hamilton, 16, Movement "This is a photo of a tree in the Alaskan countryside near Denali National Park on July 3, 2013. I took this picture because I loved the movement that the photo conveys with the aid of the dynamic clouds. Also, the location was very isolated and tranquil, and I believe that the picture demonstrates that." 
Second Place: Bob Jump, 77, Guard Rock "This is an image of a rock formation. It shows a big rock on one corner that towers over a small bush in the opposite corner. I took it in the Valley of Fire State Park in Nevada, which is just outside of Las Vegas. The photo was taken on October 30, 2013, at 9:24 am. I took the images because I liked the way the sun lighted the edge of the big rock and the tiny bush at its base. I also liked the way the lines formed by the background and foreground rocks pointed to the big rock and the bush, drawing attention to them. To me, it seems as if the big rock was guarding the small bush."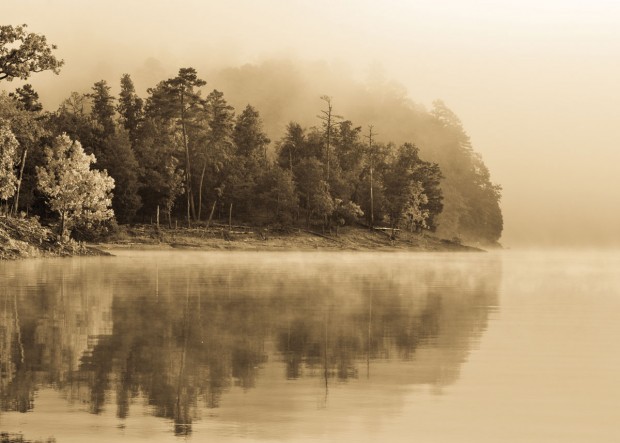 Third Place: Elaine Matte Mut, 57, Fog on Ouachita "This is a photo of a small peninsula on Lake Ouachita, Arkansas, in the early morning fog. I took the picture from a dock at the marina at Crystal Springs on the southern shore of Lake Ouachita, Arkansas, in August of 2013. My husband took me to Ouachita on our first camping trip in 1996. He and his family had camped on the lake since he was about 8 years old. I immediately fell in love with the pristine shorelines and clean water, and we have been going back almost every year since. Most of my photos of the lake are of blue skies and my family swimming or waterskiing. But early in the morning, there is occasionally a light fog that gives the lake a fairytale quality. I opted for monochrome for this shot because although the lake was built in the late 1940s through the construction of the Blakely Dam by the Army Corps of Engineers, its natural shoreline reminds me more of the earliest days of our national and state parks when the beauty of unspoiled places inspired people to preserve them." 
Fourth Place: Carl Henry, 59, Wide Open Wyoming "This is a photograph of the front of our cabin in Dubois, Wyoming, at 8800' elevation. It shows the amazing Wyoming night sky and a hint of dawn breaking at the horizon. I heard that there was going to be a meteor shower the morning of August 12, 2013. I am an early riser so I bundled up (frosty summer morning) and headed out to try and capture a meteor shot. After years of exposure, the Wyoming night always takes my breath away. Clear, wide and full of surprises."
Category: Nature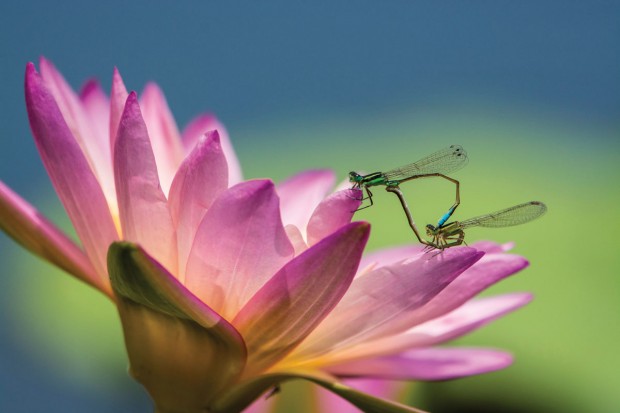 First Place: Shu Cheuk, 65, Honeymoon on Pink "This is a photo of two damselflies mating on a pink lily flower in New Orleans City Park on July 23, 2013. I love nature photography. What interested me the most about this picture is their unusual mating acrobatic and rituals on a pink water lily blossom with a nice out-of-focus green lily pad in the background."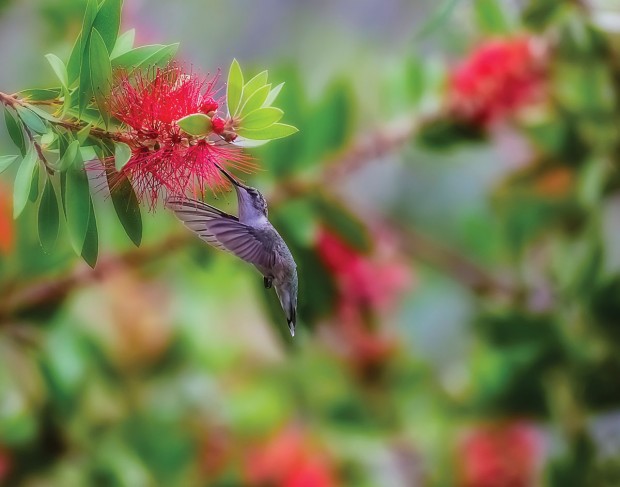 Second Place: Robert Flatt, 66, Ruby Throated Hummingbird and Bottlebrush "This photograph of a ruby-throated hummingbird feasting on the nectar of a bottle brush flower was taken in my backyard in West University on September 6, 2013, at 9:27 a.m. A favorite subject for my photography is birds in flight. I especially enjoy photographing hummingbirds. Perhaps this is because of my disability with Parkinson's disease. I really move in slow motion compared to the hummingbirds, and I enjoy the thrill and challenge of capturing them in flight."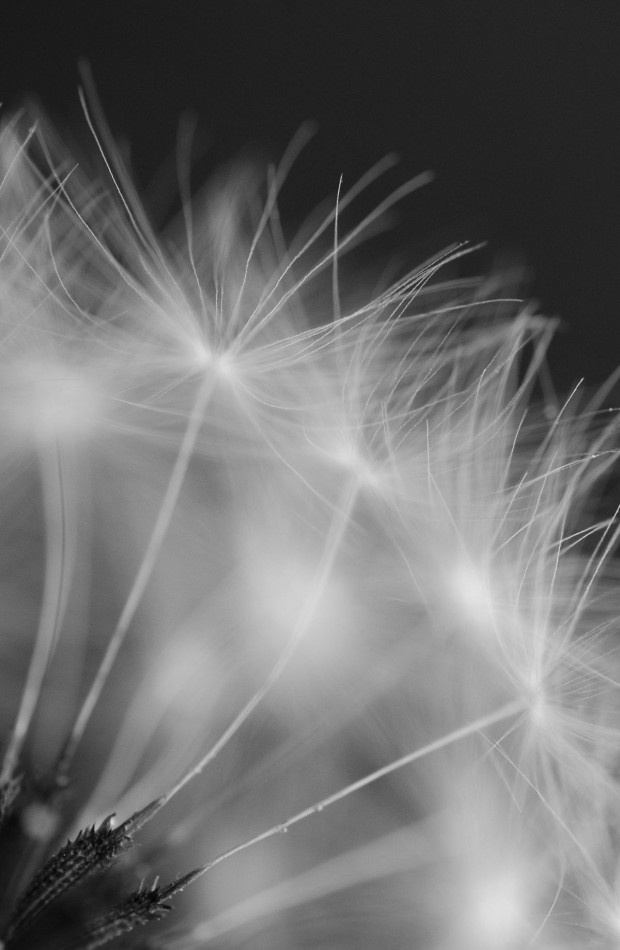 Third Place: Jennifer Hong, 33, Wabi-Sabi "The concept of this photo taken this past March was the Japanese concept of Wabi-sabi, accepting and embracing the beauty in imperfection. I went into my backyard with my camera to explore not the flowers and vegetables but the things that weren't supposed to be there.  When I got to this asymmetric, half-spent dandelion and looked closely, I was drawn to the contrast of textures and to the sense of radiating outward movement."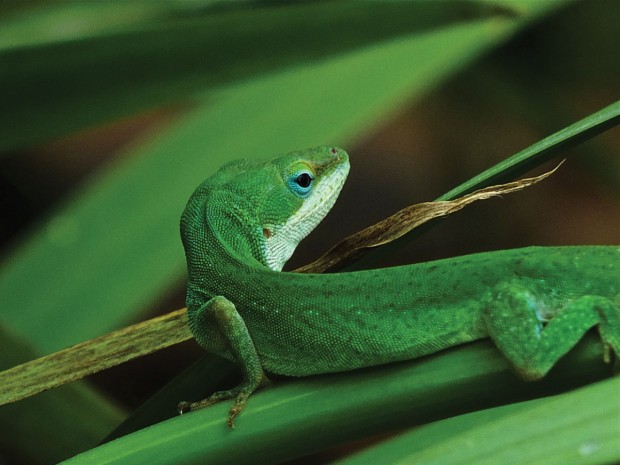 Fourth Place: Les Wolf, 62, Green Anole "This is a photo of a green anole lizard, which is common around the area. I took the photo in my backyard. I took the photograph on March 27, 2014, right after I got my new camera. I went a little photo crazy and took pictures of everything to test out the camera's features. This particular photo turned out well, and I was proud of myself."
Category: People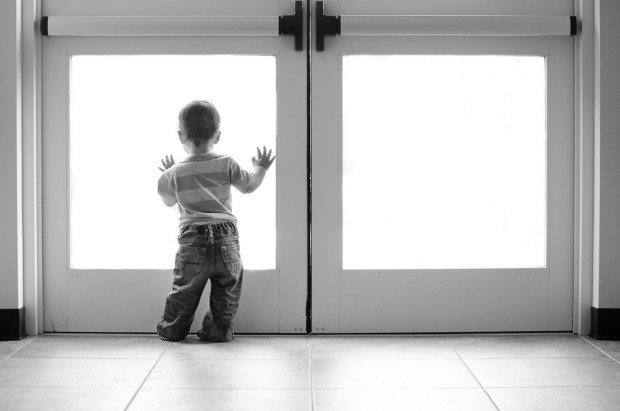 First Place: Jennifer Hong, 33, Toddler "I took this photo this past spring of my toddler as he looked out the doors of his big brother's school, watching big boys running and basketballs flying on the court outside. At this age he is forever trying to get into something that he can't safely do. I saw a shot that very much reflected this stage in life – his growing interest in the bright world outside, his small stature not even reaching halfway up the door, the limits of the heavy closed doors, yet again keeping him safely away from that which he really wants to explore."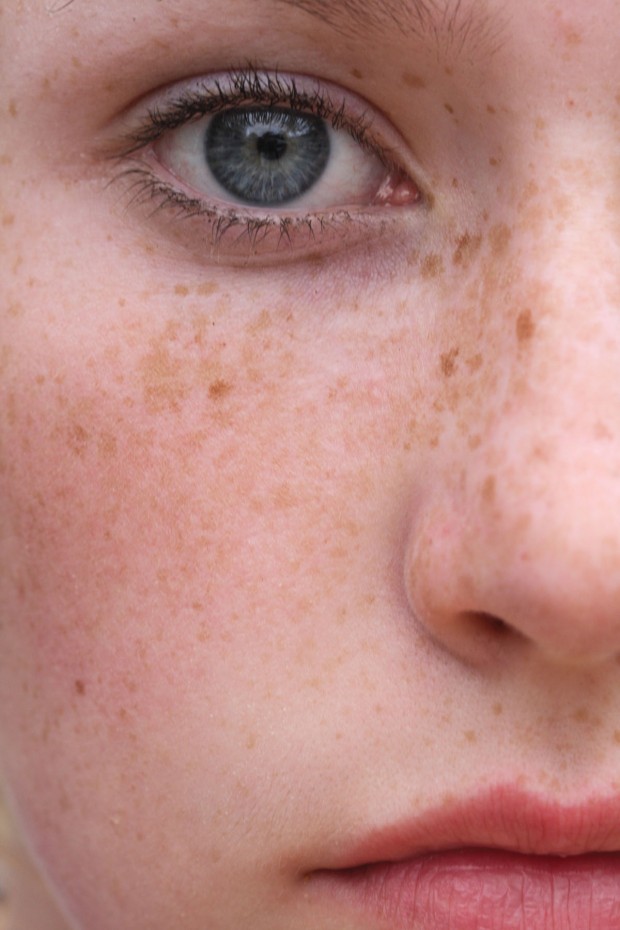 Second Place: Madeline Hamilton, 16, Natural Beauty "My sister, Grace, is the subject of this photograph taken in our backyard in March of 2013. I took this picture because I was intrigued by capturing only a portion of a subject. I was tired of seeing photos of whole faces; they seemed bland. So, I channeled my inner Picasso and captured a more interesting portrait."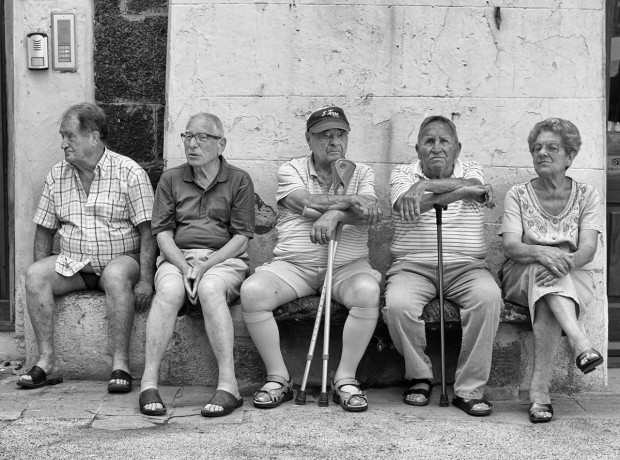 Third Place: Don Dorsey, 60, Tuckered Tourists "The photo is a group of travelers unknown to me touring Italy who appear to have run out of steam after a long outing. The photo was taken in Vernazza, Italy, in July of 2013. I took the photo because I like to 'people watch' when traveling. They're usually more interesting than buildings and statues. This particular group looked like they had hit the wall on an all-day tour of the Cinque Terre region of Italy. I liked the expressions on their faces."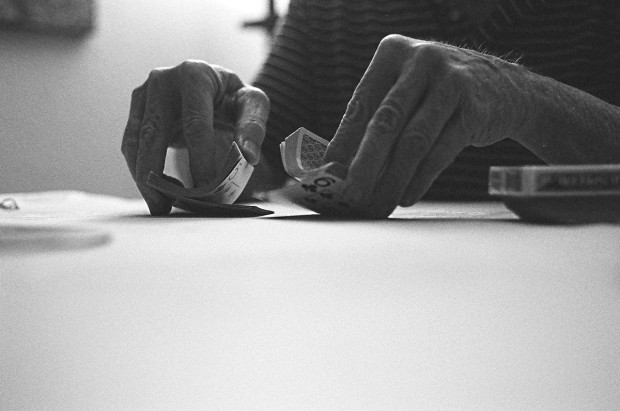 Fourth Place: Leina Betzer, 16, House of Cards "House of Cards is a photo that I took of my Opa (German for grandfather). Every summer I visit my grandparents in Los Angeles, California. While I am there, I spend lots of time with Opa because he and I share the same love for games. Every night after dinner, my sister, Opa and I all go downstairs to the living room, sit at a small round table, and play poker until we can't hold our eyes open. This is a photo of my grandfather shuffling the cards as we prepare to deal our next hand. My favorite person in the world is my Opa. My favorite summer memory is playing card games with him. As we sat around the table gambling away all our loose change, he would tell me stories about his life, give me advice, and talk to me in a way that nobody else does. We share a very special bond, and I am so grateful that I have him in my life. Last summer, I was taking a darkroom photography class in Pasadena. Given the frame limitations and expense with black and white 35 mm film, I was very picky about what I chose to take pictures of. I took and developed this photo because I wanted to capture the memory of our summer together. My Opa gave me my first 35mm camera and my first lessons on how to use it. I have been taking darkroom-photography classes since I was 11, and I have a passion for film cameras. I feel that film photography teaches patience and selectivity and offers an enormous sense of achievement. Since there are 24 or 36 negatives as opposed to endless frames on a digital SD card, film photography has made me more careful about what I choose to take pictures of. I processed the film and photo myself in a darkroom lab and then scanned it into the computer. I think it is a really cool blending of old and new technology."
Category: Sports and Action
First Place: Robert Flatt, 66, Black-Crowned Night Heron on West Boulevard "The photo depicts a black-crowned night heron flying through the oak trees on West Blvd., Houston, on April 7, 2014, at 10:55 a.m. I have spent the last three springs photographing the yellow-crowned and black-crowned night herons raising their chicks on West Boulevard in the center of the Museum District in Houston. My goal was to publish a book of photographs of these herons building nests, caring for the chicks, and the chicks fledging."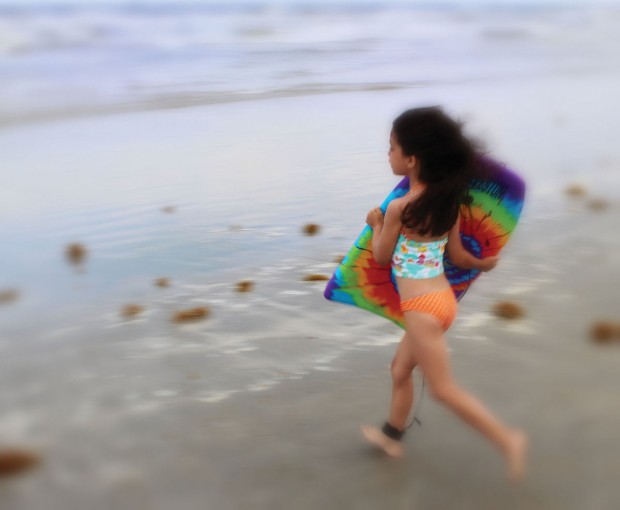 Second Place: Mauricio Recinos, 43, Let's go Surfing "The photo is of my daughter, Isabella, who was 6½ at the moment. This photo is of my daughter running on the beach with her surf board towards the water to catch some waves and was taken at Galveston Beach, Texas, on May 25, 2013. I took this photo because my daughter likes to do many activities and I wanted to preserve the moment for the future. It was spontaneous for her to take her board and run towards the water. I thought it would be nice to catch the moment."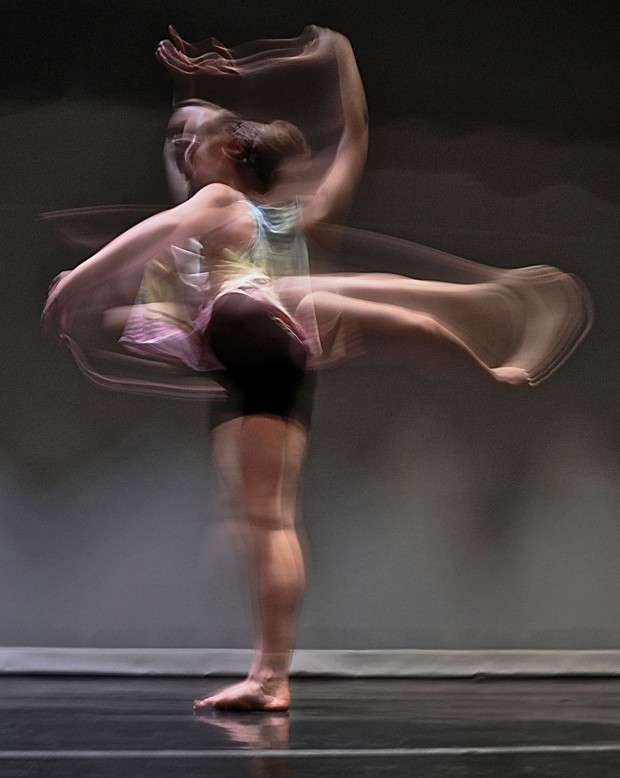 Third Place: Robin Kate Davis, 14, Pirouette "This is a photograph of a dancer and friend from my dance studio warming up before a show at the JCC Kaplan Theatre prior to Uptown Dance Centre's Fall Dance Infusion on October 5, 2013. I took this photo for a school photography assignment called 'time exposure.'" 
Fourth Place: Kathy Zieben, 60, The Gallop "While visiting Santa Barbra, California, in January 2014, I went to Hendry's Beach, also known to the locals as Dog Beach. It is one of the most beautiful spots to capture the sunset! I had been there many times to photograph dogs because they are allowed off leash here. But I did not realize that horses were allowed on this beach! These two riders were galloping their horses back and forth close to the water. The sun was about to set, and I just snapped the shot. It was an impulse to capture this photo because I grew up loving horse, and there they were!"
Category: Judges' Choice
Carol's Choice: Sam Li, 28, Jaguar Portrait "The photo is of a jaguar at the Houston Zoo and was taken on April 7, 2014. I volunteer at the Houston Zoo, and the jaguar is my favorite animal. It is incredibly powerful yet strikingly graceful."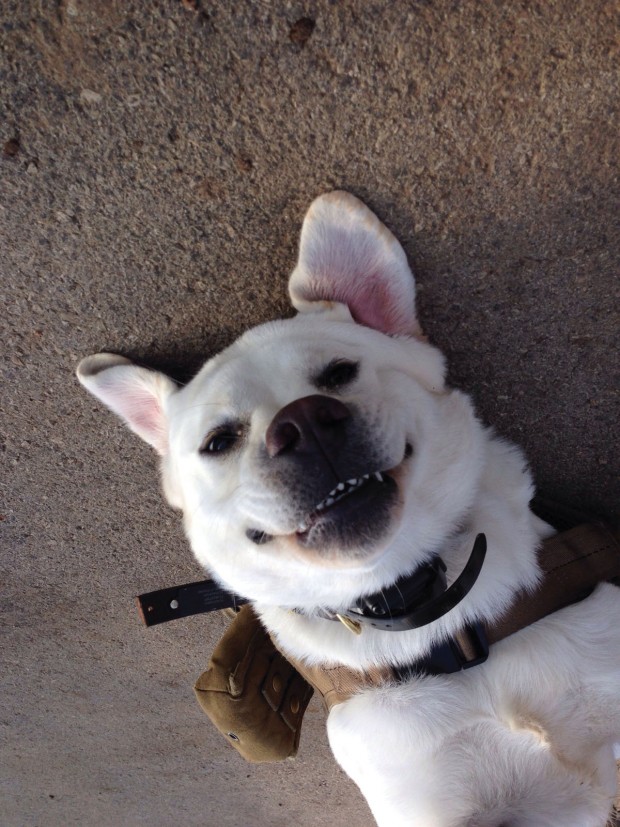 Michael's Choice: Paige Barber, 16, Smiling Bear "This is a picture of my cousin's dog, Bear. It is a picture of him having his belly rubbed, and it looks as though he is smiling. It was taken at my aunt and uncle's ranch right after Bear had gone hunting. He is still a puppy and is training to be a hunting dog. Bear has a look to him where he always looks like he's smiling, so when he wanted me to rub his belly, his smile was so visible it was as if he was smiling for the camera. Those puppy eyes and that smile just warm anyone's heart."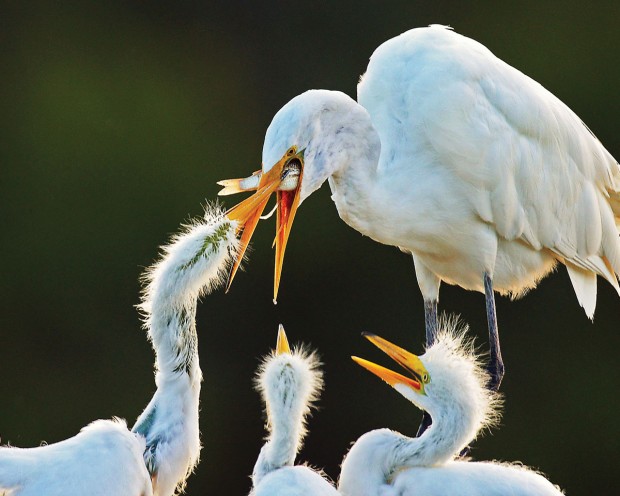 Scott's Choice: Ying Chun Jerry Pan, 73, Great Egret Feeding "This is a photo of a great egret and its three nesting offspring. Each spring and summer, the Rookery provides a vantage point for water birds' mating, nesting and birthing and raising chicks. Here in this photo, the great egret is regurgitating fish from its stomach to feed to its offspring. I took this photo at the Smith Oak Rookery sanctuary in High Island, Texas, a premier birding site of the Houston Audubon Society. This island has become a favorite roosting and nesting place for thousands of water birds, including great egrets, cattle egrets, herons and roseate spoonbills. This photo was taken on the morning of July 10, 2013. I am an avid photographer who has regularly visited the sanctuary for years to take photos of these beautiful birds. I especially like this photo because it captures the beauty of the Smith Oak Rookery with the challenge of capturing the birds in action."
Judges' Bios
Michael Hart has been providing photographic images to leading corporations, design firms and advertising agencies for over 30 years, His assignments have taken him to 49 states and more than 30 countries. Michael's work is represented again in this year's international Black and White Spider Awards, and his work appears in its book, The World's Greatest Black and White Photography. Recent shows include the third annual APA-Los Angeles' exhibit, "Off The Clock," APA-San Francisco's exhibit, "Something Personal,"  and ASMP-Houston's FotoFest exhibit, where he received the "Curator's Choice" Award. His book, Biggio: The Final Game, is in the library of the National Baseball Hall of Fame, and a print of the cover image is in the permanent collection of The Museum of Fine Arts, Houston. He has been photographing at The Brookwood Community for an upcoming book about the facility, and is about to commence another pro bono project for The Wounded Warrior Project here in Houston. Michael Hart Photography, [email protected]
Scott Kohn is a Houston-based photographer for corporate, editorial, institutional and trade-advertising communications. He specializes in dynamic people images in real-world environments in locations around the country. His images have appeared in numerous national publications, corporate reports and websites. Scott's work has been included in multiple FotoFest exhibits. Scott is a member of The American Society of Media Photographers and served 9 years as treasurer of the Houston chapter. Scott Kohn, Scott F. Kohn Photography, [email protected]
Master Craftsman photographer Carol Andrews loves to create the magic of a photograph. Over the last 20 years, her award-winning photographs have included exhibitions at Photokina in Cologne, Germany; Disney's Epcot theme park and the International Masters Loan Collection of the Professional Photographers of America. Her work has been acquired by the Sherman Hines Museum in Nova Scotia, Canada. She was inducted into Cameracraftsmen of America, an international photographic society with only 40 members; she was only the fourth woman in the society's 95-year history to be admitted. She teaches and judges photography and art internationally. "I enjoy expressing beauty and my love for life through a camera and sharing the images and stories with others. I show people what love looks like," Carol says. Carol Andrews, Carol Andrews Fine Art, [email protected]
People in this article:
Mauricio Recinos
,
Isabella Recinos
,
Michael Hart
,
Carol Andrews
,
Scott Kohn
,
Michael Porter
,
Jennifer Hong
,
Elaine Matte Mut
,
Cory Hryc
,
Madeline Hamilton
,
Grace Hamilton. Bob Jump
,
Carl Henry
,
Shu Cheuk
,
Robert Flatt
,
Les Wolf
,
Grace Hamilton
,
Don Dorsey
,
Leina Betzer
,
Robin Kate Davis
,
Kathy Zieben
,
Sam Li
,
Paige Barber
,
Ying Chun Jerry Pan
Want more buzz like this? Sign up for our Morning Buzz emails.
To leave a comment, please log in or create an account with The Buzz Magazines, Disqus, Facebook, Twitter or Google+. Or you may post as a guest.