Restaurant Memories
A look back at Houston's dining past
Click the Buzz Me button to receive email notifications when this writer publishes a new article or a new article in this column is published.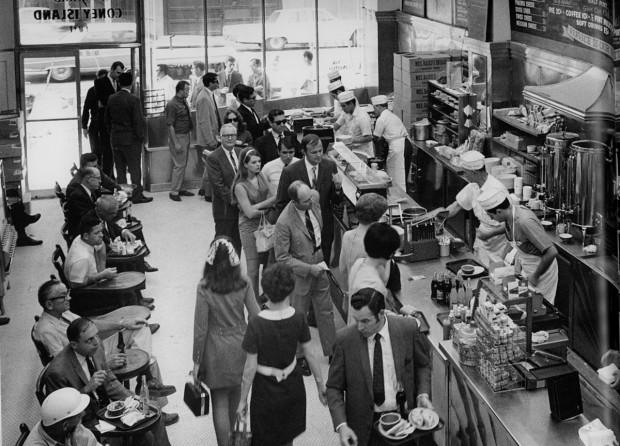 As a native Houstonian, I fondly remember many great local restaurants that were favorites of our family. While it might seem hard to believe, South Main Street in the Reliant Stadium area was once home to some of Houston's most popular dining establishments. From Angelo's Fisherman's Wharf (south) to Ye Old College Inn (north), South Main was where fine dining once prevailed. 
Nothing brings people together like food and conversation, so as I stroll down this culinary memory lane, I invite you to join me in the nostalgia by remembering some Houston restaurants of yesterday.
With the opening of the Astrodome in 1965, the South Main corridor was a hub for many legendary dining spots, including Angelo's Fisherman's Wharf. This iconic seafood buffet was located on South Main Street just south of 610 South Loop. With a trailer park next door, you might not have suspected the feast being served on the inside. Opened in 1969 by Charlie Angelo, and closing in 1991, Angelo's was one of the premier family-style Gulf-Coast seafood restaurants in town.  The food seemed to go on for miles.
Just north of 610 South was Look's Sirloin Inn, owned by Sonny Look. Noted for the knight in armor perched upon a horse, greeting patrons in the parking lot, Look's Sirloin Inn sported a British Castle feel. I fondly remember many meals at Look's consisting of a chopped steak with baked potato, or fried chicken. As a child, my culinary palate was limited. An added treat was having our family photo taken by the restaurant photographer after we had finished our meal. And, if we had cleaned our plate, we got an official-looking certificate to celebrate.  Sonny Look himself was known to have loaned customers his own sport coat to meet the restaurant dress code. (His other location, Look's Sirloin House, was located on Westheimer where The Palm Restaurant stands today.)
At 9200 South Main Street was Gaido's Seafood, the same establishment that continues to grace Galveston Island. Adorned with a large crab on the front canopy, Gaido's was true Southern white-linen service – waiters in white dinner jackets and white gloves, with napkins draped over their wrists. I remember the servers bringing the condiment stand to our table, scooping out sour cream, chives, butter and cheese on our baked potatoes.
Kaphan's, at 7900 S. Main, was known as "the aristocrat of seafood and steaks." Established in 1927, and reportedly one of the first Houston restaurants to fully integrate staff and customers, according to the Houston Architecture Information Forum website, Kaphan's was owned and managed by the Tomac brothers from the 1950s until 1997, when the restaurant closed its doors. Arnold John Tomac was chef, and older brother Pete Tomac ran the dining room and was often seen passing around broiled "Oysters a la Kaphan's" to all the tables.
Originally opening on Galveston Island in 1917, Christie's Seafood Restaurant opened its first Houston location at 6703 South Main Street, near the Medical Center, in 1934. With red, blue and green color-themed rooms, Christie's was known for its remoulade sauce on French-fried shrimp. At one time, it sold 10,000 of its famous fish sandwiches a week. Christie's has flourished for decades and calls itself the oldest family-run restaurant in Houston, still owned and operated by the Christie family at 6029 Westheimer.
There were many other South Main Street/Medical Center area favorites, particularly Ye Olde College Inn across from what was then known as Rice Institute. Longtime Houston Chronicle food editor Ann Criswell says, "Ye Olde College Inn was the first restaurant in the United States to serve baked potatoes with all the toppings. That was really something big."
Other restaurants in this area included Lee's Den, The Stables Steakhouse (with the lobster tank greeting you inside the front entrance), Red Lion, Pier 21, Valian's (for pizza), Trader Vic's in the Shamrock Hilton, Bill Williams (where my Great-Uncle Israel enjoyed breakfast every morning on his way to work at his Greater Third Ward Grocery Store), and Cathay House – the renowned Chinese restaurant in an art deco strip center on Main Street across from the Medical Towers. Not only did the Cathay House serve the best Chinese pork ribs in town, but it also had an awesome Astrodome rendering displayed on the wall, complete with twinkling lights. The Astrodome was an inspiration for many of these restaurants; in later years, the restaurant landscape of this area would change dramatically.
Eventually, the suburbs evolved into a popular destination for dining experiences, with the city's development to the west. My uncle, Leon Levinthal Jr., had several favorite places for steaks, including the original Brenner's Steakhouse on Katy Road and Bud Bigelow's "way out west" location on Westheimer. I can recall celebrating many birthdays at Bud Bigelow's as a teenager, feasting on a rib eye steak with a baked potato and the famed fudge brownie pie with vanilla ice cream.
Further to the south in Westbury, Rumpleheimer's Ice Cream Parlor brought joy to all. Located in a quaint shopping plaza, Westbury Square, Rumpleheimer's was fantasy brought to life. I can remember walking up to the counter with my father as he introduced me to his favorite flavor of ice cream, pistachio. Candy canes adorned the counter, and wrought-iron tables held many birthday parties. As a young student at Little Red Schoolhouse (adjacent to Westbury Square), I enjoyed many field trips to Rumpleheimer's.
While researching this story, I spoke with many long-timers who shared their favorite dining memories, including Buzz-neighborhood residents Nancy Levinthal, a local volunteer and philanthropist, and Leisa Holland Nelson, local author and business owner. Levinthal recalls The Green Parrot. "This was Dad's favorite place for fried chicken." Owned and run by Vira Fredericks and her sister, this establishment was located in an old house a few blocks east of Almeda in the MacGregor/Riverside area. It was famous for congealed pear salad with French dressing and other southern specialties.
Nelson's favorite dining memory is from Elliott's Steakhouse in the Medical Center. "Daddy and Mother took us there for every celebration, birthdays and all occasions. I would order either a filet mignon or fried shrimp. The sizes were just perfect."
Another resident, Julie Scheinthal, fondly remembers Antonio's Flying Pizza on Hillcroft. "Their pizzas were perfect, and I remember our favorite waitress, Kay. It is still around. We should go back."
Local physician Stuart Weil says, "My favorite place for fried chicken was Youngblood's on Main Street near Bill Williams. I thought they had the best fried chicken and fried shrimp in town. That's why I still love fried chicken." 
Food editor Criswell concurred on both of these fried chicken legends.  "Youngblood's was a big hit. And Green Parrot was a charming restaurant in a big colonial house on MacGregor, and they had the finest Southern dishes in town. Nothing fancy, but some of the best recipes from Mrs. J.B. Dowd, who owned the original Green Parrot in Kansas City. This was a go-to restaurant for Sunday lunch after church and for special occasions."
Another of Criswell's favorites was Hebert's Ritz in what is now known as Midtown. "I remember their sign with a bear, and the words A-Bear to indicate pronunciation. They were famous for their incomparable remoulade sauce and Trout Marguery, which was absolutely delicious."
No Houston restaurant memory would be complete without mentioning the history of local delicatessens. I am proud to say my family helped start one of Houston's early delis, which evolved into Schwartzberg's. Founded in 1925 by my grandfather, Robert Leon, and his brother Joe as Leon's Delicatessen & Restaurant, the name of this Kosher deli was changed in the early 1940s as another of the Leon brothers married a Schwartzberg.                                                   
One early employee there, Alfred Julius Kahn, was a young immigrant from Germany. After learning every aspect of the business, Alfred Kahn later opened his first location of Alfred's Delicatessen in 1948 at 2408 Rice Boulevard in Rice Village. Later, the main location moved to the Stella Link Center, which was located next door to Carlsam's Jewelers, owned by my uncle.
Who doesn't remember Alfred's – both the delicatessen and the man? The Stella Link location was a gourmet food store in the front, with a counter and full-service restaurant in the back. With the stocky and loveable Alfred at the helm behind the front counter, one could buy authentic Kosher deli meats, fish and cheese, or order huge sandwiches too large to get your mouth around. My favorite was a hard salami sandwich with Swiss cheese on rye, with a salami beef stick on the side along with the best half-sour pickles. You could not even move around Alfred's during Passover, as the lines were out the door due to everyone stocking up for their Seder needs. Long gone is Alfred's, since closing in the late 1990s, but never forgotten.
While I've only just started reminiscing on Houston restaurants past and present (I haven't even touched on my favorite subject – hamburgers), our journey must end for now.
Do you remember any of these places? Or others I don't mention? We'd love to share your dining memories. Comment below or send a letter to [email protected].
I look forward to hearing your tales. Until then, enjoy making your own dining memories.
Editor's note: Russell Weil reviews hamburgers at his foodie blog, eat-more-burgers.com.
Many of these historical restaurant photographs are courtesy of Mike McCorkle from his book Life and Times Around Bellaire, Texas 1909 – 2013. Additional photographs and information about the book can be found at www.bellairebook.com. Copies are also available at the Bellaire Coffee Shop and McHugh Tea Room on Bissonnet.
Want more buzz like this? Sign up for our Morning Buzz emails.
To leave a comment, please log in or create an account with The Buzz Magazines, Disqus, Facebook, Twitter or Google+. Or you may post as a guest.