Grandmother magic
Click the Buzz Me button to receive email notifications when this writer publishes a new article or a new article in this column is published.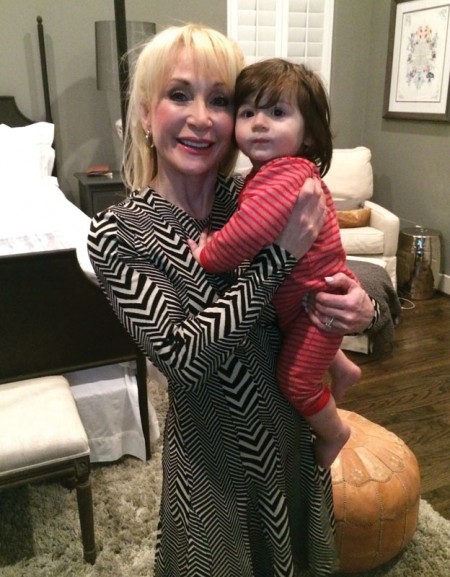 You never think of yourself as old enough to be a grandparent."
At least that's what Donna Palmer, grandmother to 10-month-old Jack, thought. But then her daughter Erika Mandel became pregnant, and Donna, a kindergarten teacher at St. John's School, went into full grandmother mode.
"I was the last of all my friends to have a grandchild," Donna says. "For years I looked at everyone's baby photos, and I knew I would like it, but I had no idea how much. Being a grandparent is truly unconditional love. Something changes inside of you."
Melinda Overstreet, first-time grandmother of 4-month-old Harrison, would agree. "I was elated," Melinda says of the day her daughter Caroline Bean announced she was pregnant.
Caroline says, "I called my mom before I even told Andrew [her husband] because I wanted to wait for him to come home." Fast forward a few weeks to the day the sex of the baby was revealed: All the grandparents, parents and siblings gathered at her mom's home. Caroline had given a sealed envelope to the staff at Moeller's Bakery, and when the family members cut the cake at Melinda's place, the inside was blue, surprising everyone – including Caroline and Andrew – with the news the baby was a boy.
As an interior designer, Melinda helped her daughter decorate the nursery. "I thought I'd be able to breeze through and I'd know everything, but it's all changed so much," Melinda says. "These girls know all the gadgets. We had a wonderful time pulling together colors and furniture. The last experience that was that much fun was her wedding."
Part of the baby prep included naming the new grandparents. Melinda originally played with French names inspired by her Louisiana roots, but she thought they might be difficult for a baby to learn. So she's settled on Mimi, which was what her children called her own mother, and tentatively Poppy for her husband Steve, Harrison's grandfather. But Caroline says, "Everything could change, because if Harrison doesn't want to call her Mimi, she won't be Mimi."
Donna says she "bounced around the typical names, and while they are precious, they weren't for me." So she got creative and named herself Lali, while her husband Steve, Jack's grandfather, will be Pops. Donna loves the names because it embodies a partnership. "It's not about being Lali or about being Pops. It's about being Lali and Pops.
"But really, this baby could call Steve anything, and he would love it."
Now that the babies are here, both Donna and Melinda say the love and connection came immediately. "I fell in love with Harrison so early," Melinda says. "You just have to remember to enjoy every bit. You want each stage to come – you want them to walk and crawl – but you have to be careful not to wish their lives away and just get to know their little personalities."
Donna loves having time and energy to pay attention to the "little details. There's nothing but pure joy because you've been through the worries, and you worried about everything. Now you can just enjoy every part of their being. It is truly magic."
Not everything has changed, though. "My mom still treats me like her little girl," Caroline says. "Now I'm just taking care of a baby." Her mom concurs. "She's still my little girl, and she's a wonderful mother," Melinda says. "I love how she's brought the songs and nursery rhymes in that I brought to her. It's a reflection of traditions that are continuing, that my mother gave to us and to Caroline and Austin [Melinda's son] and are as old as my own grandmother."

Lifelong friends
Caroline Bean, Rachael Berry and Diana Bridger met as little girls, when their mothers got to know each other in Bible study. All first children, they and their moms – Melinda Overstreet, Melissa Blandford and Joan Dunlap, respectively – forged friendships, following each other through school and back to Houston after college. This year, within five months, the threesome of daughters had their first babies together – Rachael was first with a girl, and Caroline and Diana had boys. All are the first grandchildren in their families.
"We threw each other's baby showers, and I helped with registries since I was the first," Rachael says. "We had no idea what we were doing, so it was very helpful."
All three are working moms – Caroline is a real estate agent, Rachael is a decorator, and Diana is a commercial real estate broker. Diana says, "It's been fun to have friends to go through this together. We can get real with each other and help."
They get together often, for playdates and lunches. Caroline says, "These babies will be good friends."
Want more buzz like this? Sign up for our Morning Buzz emails.
To leave a comment, please log in or create an account with The Buzz Magazines, Disqus, Facebook, Twitter or Google+. Or you may post as a guest.