Springing into Spring
Click the Buzz Me button to receive email notifications when this writer publishes a new article or a new article in this column is published.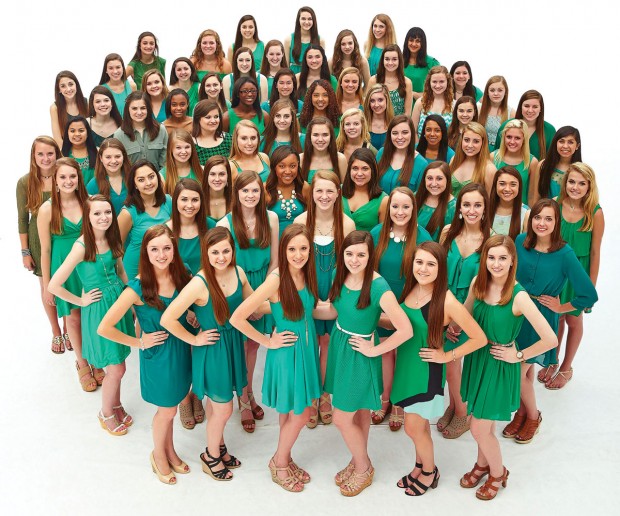 The Stratford High School Spartanaire Dance Team performs year-round at football games, pep rallies and basketball games. Their annual spring show, "Dancing Through the Decades," is set to take place April 9 and 10 at 7 p.m. and April 11 at 5 p.m. at Stratford High School. For tickets, visit spartanaires.weebly.com. Pictured are team members Makenzie Moriarty, Erin Williams, Meg Zschappel, Kate Rominger, Alyssa Plant, Gianna Smith, Annie Adams, Lauren Kouns, Claire Koenig, Amanda Acton, Lindsey Grobelny, Olivia Brady, Kendall Viator, Amanda Acton, Annie Adams, Caroline Bouffard, Essie Clayton, Corinne Farrell, Brittany Gray-Fitzgerald, Lauren Kouns, Fayth Lovejoy, Mari Marin, Makenzie Moriarty, Kate Rominger, Claire Rosas, Amy Ross, Lauren Thoman, Kendall Viator, Jazmine Vives, Erin Williams, Meg Zschappel, Korrin Benson, Olivia Brady, Molly Bridges, Madeleine Capshaw, Emily Casarin, Emily Daniel, Hayden Ferrari, Emily Gex, Georgia Ginn, Lindsey Grobelny, Katherine Ham, Anne Hodges, Tameka James, Lizzy Jones, Claire Koenig, Alyssa Plant, Natalie Raley, 
Gianna Smith, Michaela Barroga, Marley Cannaday, Jackie Comparin, Kate Frenza, Alexis Gervasio, Hannah Haas, Madeleine Hay, Ashley Joyner, Carly Keusseyan, Caroline Lydick, Blake Machen, Kathleen McMath, Taylor Morris, Gia Osso, Lauren Pfeifer, Kirby Purcell, Noor Rajab, Mary Schwabenland, Grace Tarver, Morgan Thornton, Riley Timmreck, Lizzy Wathen, Jackie White, Reilly Cizik, Kimia Allami, Mckenzie Cizik, Mia Fjerstad and Sydney Slack.
Be seen in Buzz About Town. Send your high-res photos and community news to [email protected]. Items are published on a space-available basis. Also share your photos and videos, plus upcoming-event listings, on thebuzzmagazines.com.
People in this article:
Grace Tarver
,
Makenzie Moriarty
,
Erin Williams
,
Meg Zschappel
,
Kate Rominger
,
Alyssa Plant
,
Gianna Smith
,
Annie Adams
,
Lauren Kouns
,
Claire Koenig
,
Amanda Acton
,
Lindsey Grobelny
,
Olivia Brady
,
Kendall Viator
,
Caroline Bouffard
,
Essie Clayton
,
Corinne Farrell
,
Brittany Gray-Fitzgerald
,
Fayth Lovejoy
,
Mari Marin
,
Claire Rosas
,
Amy Ross
,
Lauren Thoman
,
Jazmine Vives
,
Korrin Benson
,
Molly Bridges
,
Madeleine Capshaw
,
Emily Casarin
,
Emily Daniel
,
Hayden Ferrari
,
Emily Gex
,
Georgia Ginn
,
Katherine Ham
,
Anne Hodges
,
Tameka James
,
Lizzy Jones
,
Natalie Raley
,
Michaela Barroga
,
Marley Cannaday
,
Jackie Comparin
,
Kate Frenza
,
Alexis Gervasio
,
Hannah Haas
,
Madeleine Hay
,
Ashley Joyner
,
Carly Keusseyan
,
Caroline Lydick
,
Blake Machen
,
Kathleen McMath
,
Taylor Morris
,
Gia Osso
,
Lauren Pfeifer
,
Kirby Purcell
,
Noor Rajab
,
Mary Schwabenland
,
Morgan Thornton
,
Riley Timmreck
,
Lizzy Wathen
,
Jackie White
,
Reilly Cizik
,
Kimia Allami
,
Mckenzie Cizik
,
Mia Fjerstad
,
Sydney Slack
Want more buzz like this? Sign up for our Morning Buzz emails.
To leave a comment, please log in or create an account with The Buzz Magazines, Disqus, Facebook, Twitter or Google+. Or you may post as a guest.