His-and-hers getaways
Click the Buzz Me button to receive email notifications when this writer publishes a new article or a new article in this column is published.
For him, it might be a rough-and-tumble romp on the slopes. For her, it might be a beachside spa retreat. Getaways with friends are important, say Buzz residents who have organized them –to keep friendships alive, and to give themselves break from responsibilities.
Just the guys
Norman Stalarow is a guy who loves traveling with his family – he taught his two boys, Micah and Logan, now 17 and 19, to snowboard, and now they give him a run for his money. But he also teams up with his buddies for a different kind of experience.
He has two groups of guys he travels with. One group – the one he organizes – goes on ski retreats. The other, organized by his buddy John Blumenthal, is an annual golfing getaway.
Norman has been organizing ski trips for his buddies for a dozen years, and he's got it down to a science. The first trip – and many subsequent ones – was to Solitude Mountain Resort in Utah, hence the group's eventual nickname, the "SoliDudes."
It was Easter, and closing weekend at Solitude, and he'd organized a last-minute trip with his brother and a few other friends. "So we flew into Salt Lake City and it was like 62 degrees, and the sun was shining," he recalls. "There's no snow anywhere, and the resort is 35 minutes away, and these guys are saying, 'Dude, you really got us into a bad thing here.'"
"No, no, it's ok," he reassured them. "They said there's snow up there."
So they wound up the mountain and made a turn at Silver Fork. "Then we start to see snow on the side. We make another turn, and we start to see a few flakes. By the time we got to the top, it was dumping. It's a very cool place to be."
Norman's credibility was restored, and since that time the group has grown, and their destination has varied from Solitude to Park City to Telluride. Guys being guys, their trips have a certain flavor. As they look back, anecdotes fly as thick as the Utah snow.
There's the one about the guy who always misses the lift chair and he goes sprawling – including once when a snowboard attached to one foot whipped up and hit him above the eye, and the group dissolved in gales of uproarious laughter.
"It's not funny – I'm bleeding!" the guy exclaimed, and ended up having to get stitches.
"That wouldn't have been funny on a family trip," Norman admitted.
Family trips with kids offer a different type of enjoyment, he says. "It was fun because I was getting to teach them and be with them, but it was a lot more work. I would go with my boys when they were 8 and 6, and I would have to carry the boots and the boards and take them down with me and help them get geared up and make it to the lifts and make sure we were staying together.
"When you go with a bunch of guys… It's almost a 2-mile run from top to bottom, and I just say, 'You guys do your thing, and I'll call you when I'm done.' It's a lot easier when you don't have to look out for your family."
Nowadays things are different; the boys are young men. "They can actually go with me on these guy trips now, and they're just like one of the guys – I don't have to watch out for them. They just go do their thing."
John has been organizing the annual "Guys' Golf Weekend" since 2001, and like Norman, he feels it's important to have that time just with the guys.
"A lot of the wives are saying, 'When are we going to get to go?' But the girls have their trips, and I think it's healthy for us to do that, too. Everyone has to have their time away from the norm."
The group began with trips to places that were easy to get to – San Antonio, Boerne, Austin – and after 10 years of successful trips, Blumenthal decided they were ready for more adventure. Since 2011 they've been to Arizona, Tampa, South Carolina and Palm Springs; this year, they're scheduled for New Mexico.
Blumenthal says the key to a successful trip is "all about coordination; it's about getting your ducks in a row. You have to start early for these kinds of trips. Here we are at the end of February, and I've already got our trip for September figured out. Some of the guys roll their eyes at me when I'm sending this out in January – I don't even know what I'm doing next week, much less September. I say, 'Yeah you do – you're going on a golf trip. Now put it on the calendar.'"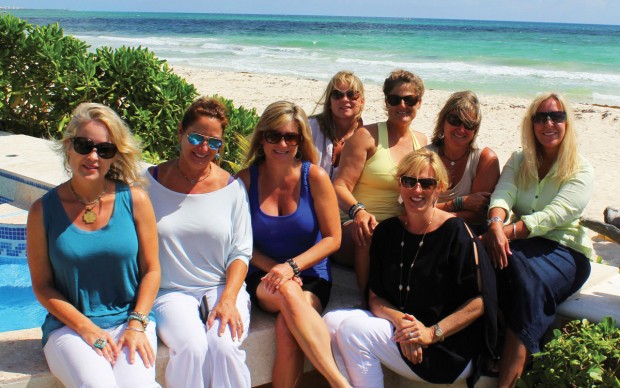 Just the gals
For years, Nora McMordie had had the idea of doing a gals' getaway for a group of old friends and former schoolmates – Nora and Yvonne Rathgeb, Katie O'Brien, Laurie Reese, Ellen Sauer, Sara Steel, Jamie Rubin and Laurie Hogan. They all graduated from Memorial High School but have known each other as early as elementary school at Hunters Creek – and most still live within 10 miles of those schools.
Nora is a travel agent, and she's been planning trips for decades – for herself, friends and clients. But it wasn't until last year that she got the ball rolling on a getaway for her gal pals in Playa del Carmen, Mexico.
"I feel like we do have to make an effort as we get older," Nora said. "Although we live within 5 to 8 miles of each other it's hard to go to 50 parties – I was thinking, let's try to see if all eight of us can get together this one time – and it was seamless."
All would soon be turning 50, and were thinking about what they might do to celebrate. "We go every month to a Vietnamese restaurant, and it was there that I pitched the idea," said Nora. "Four of us took out our checkbooks and wrote a check right then."
The trip took place eight months later, five glorious days and nights in October in Playa del Carmen. Nora rented "a really cool surfer-type beach house" with a pool, a private beach and a caretaker, a man who lives in the little house behind the big one.
"It ended up being the perfect beach, not close to any town," said Nora. "We drove into Puerto Morales one day, and Playa del Carmen another day – but we just stayed at the house for the most part, and we ended up cooking, sleeping, drinking, talking."
For Yvonne, an interior designer who had never been to Mexico, the trip was a huge adventure. Even the simple things were interesting – like grocery shopping.
"When do you really go grocery shopping with a friend? And to have seven of my closest friends in a grocery store in a foreign country – we didn't know what we were doing, we couldn't find things…. I just thought it was so fun."
It was the simple things that really made the trip – time to catch up with old friends, walk on the beach and collect shells, forget their cares.
"We got to be together; we got to spend one-on-one time; we took a lot of pictures. There were nights where we played games and did tequila shots – I never did that before…. I laughed so hard my face hurt."
One thing that helped was that none of their cell phones worked in Mexico – so they were forced to disconnect. 
"This is a really good way to get away from everything," said Nora. "They could reach us in an emergency, but we couldn't be on the phone all the time – so it kind of makes Daddy step up, which I love."
"And it's good for the kids, too," added Yvonne.
For Nora, it was fun to see the group she'd known since elementary school days "relax and realize, 'I can do this'… You think they're going to die without you, and they don't. You pick up right where you left off; it's like, 'Mom, where's my lunch?'"
The trip was such a success that they immediately began planning the next one. Nora's already found the spot, a group of connected condos in the Cayman Islands, for this October's trip.
As Yvonne said, the concept of getaways with friends goes beyond having a good time. "For a healthy marriage you should make the time to hang out with friends and make time for each other. Just like spending time with your spouse helps to sustain a happy marriage, the same goes for making time with friends.
"You have to nurture your friendships, and this made me realize, why didn't we do this before?" she said. "Everyone needs to have a friend or two, and gosh, to have eight who would drop everything to be by your side and hold your hand at the doctor's office or make you a meal – it's really special."
Together But Separate - Taking turns with the timeshare
This year the Stalarow family tried something new. They'd rented a weeklong three-bedroom time-share at the Franz Klammer Lodge in Telluride. Gail organized a girls' getaway for the first four days of the week, and Norman and his buddies flew in on Wednesday and took the rest.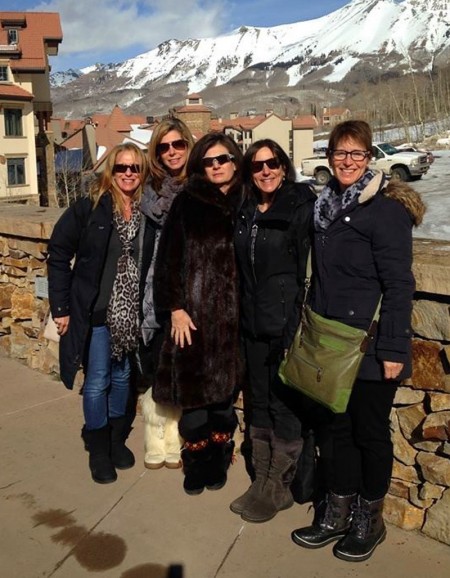 "I chose based on who I thought would mix well together – I wanted drama-free fun with people who all knew each other well and got along well."
A couple of the women in her group are big skiers; Gail, not so much. "I am barely a skier – actually I'm only a skier under duress, because I'm pretty bad at it," she confesses with a laugh. So the group divided up during the day according to what they liked to do. Some went to the spa; some went hiking; some explored the village; some just read and hung out and talked and shared girl time.
"The trip was great – there was no pressure," she said. "Nobody made anyone feel bad for not doing what they wanted to do." One day she stayed in and did some work, while one of her friends met a woman who lived in Telluride and went cross-country skiing with her.
They began the day together with breakfast in the morning; then there was a 6-hour stretch when they'd go off and do their thing, and then they'd get back together for cocktail hour.
The point was for the women was to relax, to have a good time and to reconnect while getting away from it all.
"We laughed so hard we cried – it was very therapeutic," Gail said.
For the guys, on the other hand, it was all about the powder.
"If there's fresh powder, I'm the first guy on the line – I'm there in front, taking a picture of the gate closed, waiting to open," said Norman. "If there's no powder, I'm in no rush. I'll hang out in the hot tub for awhile, get out there at 10 and be done at 3 or 3:30."
On one trip to Park City with the girls and guys together, the contrast in styles was evident; they went during the Sundance Film Festival, and the gals squeezed in a full lineup of films, while the guys skied until they couldn't ski anymore, and only then slowed down to take in a film.
For the guys, bonding may happen along the way, but it's really not the point. Norman doesn't remember heart-to-heart talks as much as he remembers shared work sessions, each one behind his laptop, catching up on e-mails and pressing business matters. Then there are the evenings when they come in from dinner exhausted, watch a little TV together and hit the sack.
For Gail, these retreats are an essential part of keeping relationships strong and healthy – the ones with her family as well as the ones with her friends.
"I love my girls' trips. I feel I don't do enough of them. It's such a happy place for me; it's cathartic and a total break from reality," she said. "I have the three greatest guys, and every time I do this I'm always happy to come home to them – but I just love getting away with the girls. It's a sweet time for all of us."
Want more buzz like this? Sign up for our Morning Buzz emails.
To leave a comment, please log in or create an account with The Buzz Magazines, Disqus, Facebook, Twitter or Google+. Or you may post as a guest.