Happy First Mother's Day
Click the Buzz Me button to receive email notifications when this writer publishes a new article or a new article in this column is published.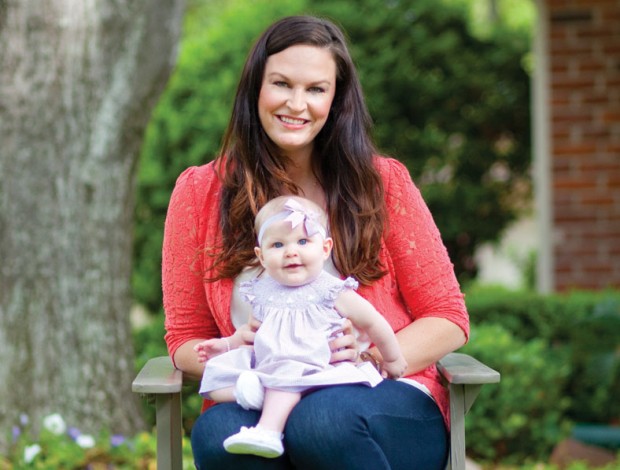 Buzz Baby is a column about life with babies from the perspective of a first-time mother. If you have baby stories to share, leave a comment under this article at thebuzzmagazines.com or email [email protected].
A recent encounter I had with a new mom in the dog-food aisle at Target left an impression on me. Strapped to her in a Baby Bjorn carrier was her 6-week-old baby girl. She looked at me and smiled as we passed by each other.
I could see it in the mom's eyes. She looked exhausted, a little stressed, yet so in love. I didn't have my 8-month-old twins with me at the time, so she had no way of knowing I was a new mother myself, but I blurted out anyway, "It gets better." She looked at me and said with a sigh, "Oh, thank God. It does?"
I remember when a mom with an older baby said that to me at the grocery store. Another comment that stuck with me I heard on The Today Show. Lead anchor Savannah Guthrie compared the early stages of motherhood to "being under water for five minutes."
I guess that's because you're tired, trying to hold on, and ready for a breath of air. Then suddenly, the kid sleeps a whole night, and the fresh air comes.
So, what I'm saying is, Mother's Day exists for a reason. Recently, I asked some new Buzz moms what their plans were for their first Mother's Day, on May 10.
Stephanie Montalbano, who welcomed son J.R. (with husband Vincent) on Christmas Eve, plans to celebrate in a big way. "Growing up, my mom celebrated if you lost a tooth," said Stephanie, laughing. "We'll have cocktails by the pool and hang out with family all day."
A lot can change in one year, especially when you welcome your first baby. "Last [Mother's Day], my family was hanging out at our house. I had just found out I was pregnant, so I fake drank," said Stephanie. "Vincent kept making me virgin" cocktails.
For Meredith Johnson, a communications consultant, getting used to the title of "mom" is still an adjustment. Meredith and her husband, Matt, an attorney, welcomed daughter Covey on Sept. 27.
"It's just such a shock sometimes that someone can call me Mom now. Maybe it'll become less shocking once she can actually say the word," said Meredith.
In case anyone forgets why we have Mother's Day, it's for moments like when Meredith went to the pharmacy to pick up some medicine and Pedialyte for Covey, who was sick at home.
"I noticed a teenage girl look at me strangely and about the same time my neck started to itch. I reached up to scratch it only find a huge streak of dried baby poop across my neck," said Meredith. "And it hadn't been my first errand. It had been there a while."
Husbands, this day is a good opportunity to make new moms feel as special as their babies. "I imagine I'll get some sort of cool new gear [from Matt] to make my daily life of being a mom a little easier or more efficient," Meredith said. "I keep trying to tell him jewelry is efficient."
For Katie Bosman, an escrow officer, the day will be full of reflection. She and her husband Paul will celebrate this Mother's Day with daughter Emory, who arrived last August.
"Other than the day I married my husband, becoming a mother has been the most joyous event of my life," said Katie.  
Katie has come a long way from the early days. She recalled when Emory was released from the hospital after spending a week in the NICU. "As a brand new mom, I grossly underestimated how long I could wait between feedings so by the time we were discharged and exited the elevators the front of my dress was completely soaked," said Katie. "Of course, we valet parked that day, so I had to sit at a main entrance of the hospital in my milk-soaked dress waiting for our car."
Katie hopes her day will be relaxing and full of a little, well, pampering. "We'll start the day with breakfast at home, preferably not made by me." 
So to Katie, Stephanie, Meredith and to you, new mom I met at Target, hang in there and Happy first Mother's Day. Hopefully, at least some of us will be enjoying breakfast in bed that day. (Yes, that's a hint.)
Want more buzz like this? Sign up for our Morning Buzz emails.
To leave a comment, please log in or create an account with The Buzz Magazines, Disqus, Facebook, Twitter or Google+. Or you may post as a guest.