The Buzz Magazines 2015 Photo Contest
Click the Buzz Me button to receive email notifications when this writer publishes a new article or a new article in this column is published.
After reviewing nearly 1,000 submitted photographs, we are pleased to present the winners of The Buzz Magazines' 10th Annual Photo Contest. With any contest like this, the process is inevitably subjective. However, there are basic principles of photography that must be met, such as lighting, focus and exposure. And there are personal elements to consider: subject, emotion and storytelling. Judging is "blind," as the judges do not see the names of the photographers.
Congratulations to each of this year's winners, and to our Grand Prize winner, Darren Inoff, who will receive a Canon PowerShot digital camera, compliments of The Buzz Magazines.
Each year after publishing our winners, we inevitably get comments from our readers. Some agree with our judges, and others do not. So this year we included a new category called Readers' Choice and let our readers vote for themselves. We posted the finalists on our Facebook page, and the photos that received the most "Likes" became our Readers' Choice winners.
The Buzz Magazines' Photo Contest is held every year and is open to all amateur photographers, so keep that in mind as you are shooting pictures in the upcoming year. Watch for next year's call for entries on our social media and in the March 2016 print issue.
Thanks to everyone who entered, our readers who voted online for our Readers' Choice winner and our judges – professional photographers Michael Hart, Carol Andrews and Troy Fields.
Grand Prize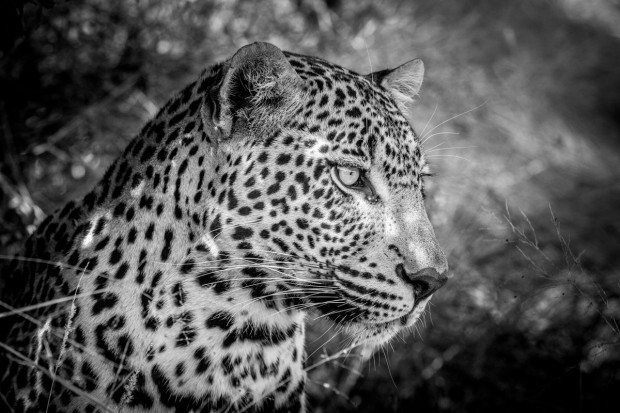 Lovely Leopard
Darren Inoff, 47, took this photo at Kings Camp in South Africa. Three male lions had recently killed an African buffalo and were busy devouring it. He says, "This leopard sat patiently waiting his turn, and I was struck with how beautiful and calm he was while waiting so patiently."
Judges' comments – The crisp black and white emphasizes the details of the animal. Utilizing selective focus creates a blurry background to strengthen attention to his face. The details of the wispy grasses in the foreground repeat and echo the shape of the whiskers. An elegant portrait. The shallow depth of field helps separate the subject from its background while the contrast of the black and white helps to add drama. These elements combine to make a very dynamic image.
Category: Animals
First Place, It Wasn't Me - Mauricio Recinos, 44, took this photo of his family dog, Chica. He caught her chewing a toy, and when she looked up at him, she "gave me the look of a kid caught with his hand inside the cookie jar."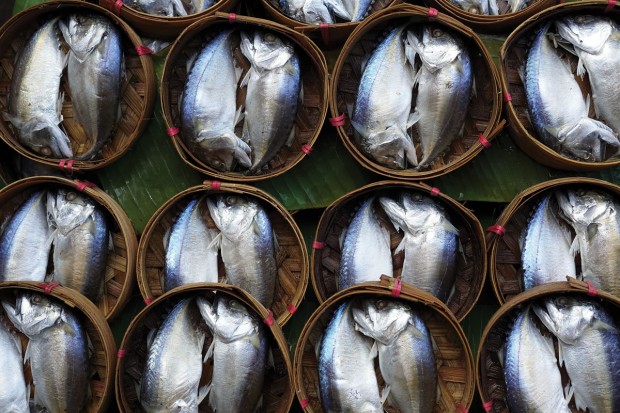 Second Place, Two of a Kind – Emily Shelton, 28, took this photo in the Maeklong Train Market, outside Bangkok, Thailand. She says it "perfectly demonstrates the creative presentation and clever packaging that allows quick organizing and sale of the fish."
Third Place, Egrets Building a Nest  – Robert Flatt, 67, took this photo of egrets at the High Island Rookery, Bolivar Peninsula. "I was worried about the overcast sky and light fog, which turned out to be an asset for this photograph. There is so little color … it looks like it is black and white."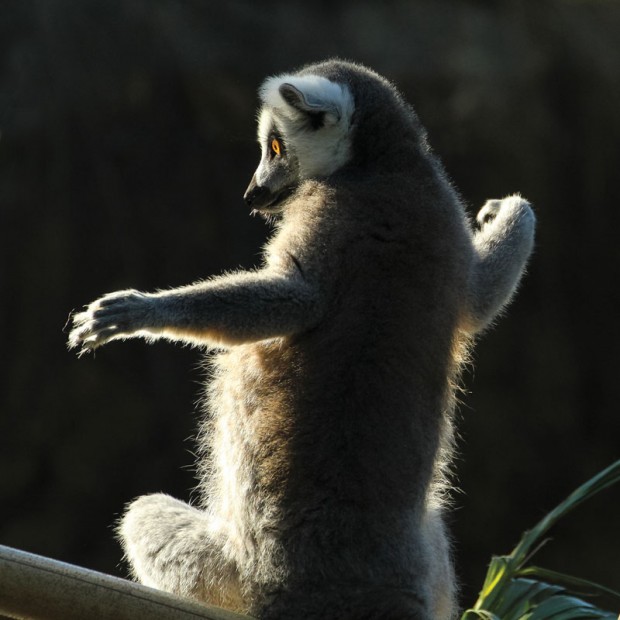 Fourth Place, Sun Worship – Jan Buchholtz, 58, was strolling through the Houston Zoo one winter morning and was drawn by the "kinetic energy of the ring-tailed lemurs." The keeper said she'd be lucky to capture a shot. "And she was correct – the required slow shutter speed offered up plenty of photos of just a blurry tail leaping out of frame. As I was about to give up, this lemur turned briefly to worship the sun. Snap!"
Category: People
First Place, The Artist – Bradley Sabloff, 46, took this photo of his 4-year-old daughter, Avery, at Camp Champions in Marble Falls. "I loved that Avery is focused and immersed in her art. I was happy to get the shot before she looked up at me and automatically smiled."
Second Place, Goodbye Pork Pie Hat – Jan Buchholtz, 58, took this photo in Tournus, France. "I was focused on the architectural details and interesting alleyways as this lanky stranger passed by, jingling his keys and looking as though he could have been an extra in a Woody Allen film…. I managed to take one photo before he turned the corner."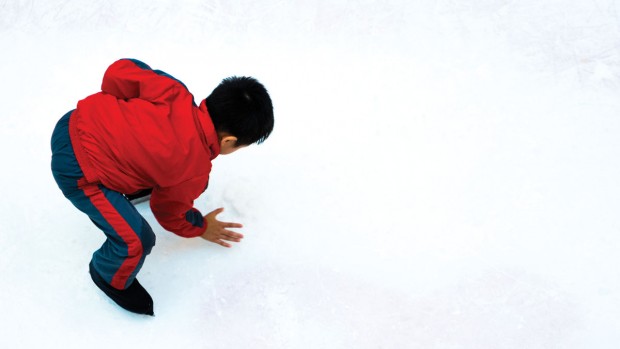 Third Place, Inspection and Repair – Raymond Zrike, 15, took this photo of one young skater among a group at The Galleria. "This particular picture (one of a series) artistically documents a brief moment of inactivity. Amongst the flurry of motion, the red jacket stood out as a static mystery."
Fourth Place, Day Dreaming – Mauricio Recinos, 44, took this photo of his daughter, Isabella, in Galveston. "She was leaning over a balcony and staring at the sea…. I got closer and took the picture. She turned to me and smiled, then she turned again and kept staring at the sea. I think she was day dreaming."
Category: Nature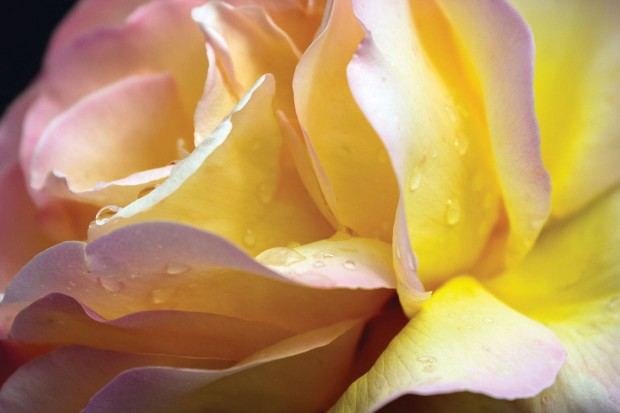 First Place, A Rose is a Rose is a Rose in Paris – Jan Buchholtz, 58, says this rose caught her eye while touring Musée Rodin in Paris after a spring shower. She was there to explore Auguste Rodin's Paris sculpture garden but was drawn to this rose. "To my eye, this wasn't just any rose. This rose was special. And so my title paraphrases patron of the arts Gertrude Stein; this photo breathes life into my memories of Paris."
Second Place, Eagle Catching Fish – Ying Chun Jerry Pan, 74, says this photo is of  "the star attraction of the Conowingo Dam in Baltimore, Maryland. From November to February, the Conowingo Dam attracts over a hundred species of birds, including the bald eagle."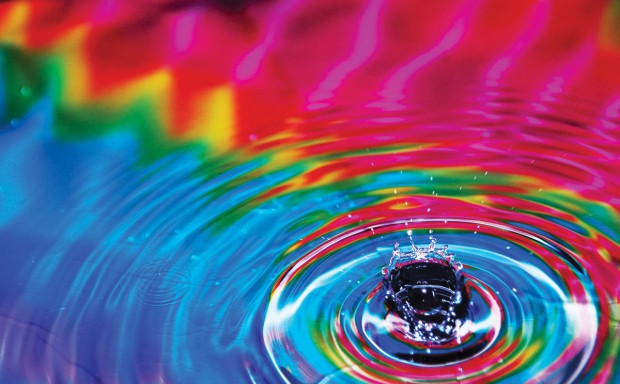 Third Place, A Splash in the Rainbow – Stratford High School student Zachary Harkins, 16, was inspired by Brooks Carver's water-droplet photography. "I set up a container of water and used a rainbow tie-dyed shirt as the backdrop. As the flash went off, the colors of the shirt were reflected onto the water." 
Fourth Place, Underwater Garden – Carl Henry, 60, took this photo while snorkeling in the Galapagos Islands. "Anyone who has tried to take underwater photos knows it is very difficult. I have thousands of pictures with silt everywhere, half of a beautiful fish, and nothing is in focus. I am thankful this picture came out so well."
Category: Landscapes
First Place, White Cliffs of Dubois – Carl Henry, 60, took this photo in March in Dubois, Wyoming. "The conditions were perfect – fresh snow, a strong wind and bright sun – so I decided to revisit a project…: laying in the driveway and taking photos of amazing snowdrifts outside our house."
Second Place, Glacial Stream – Shu Cheuk, 66, took this photo on the northern observation platform at Thingvellir National Park in Iceland. "Although it was already 10:20 a.m., the sun was only out for 40 minutes…. I was lucky to be there at that moment to capture that pinkish hue of the stream at the right angle."
Third Place, Vincent's Starry Night – Jennifer Welch, 29, went to Big Bend National Park this spring to take a photo of the Milky Way galaxy, as she's interested in astronomy. "The amount of stars that can be seen on a clear night at Big Bend National Park is absolutely breathtaking!"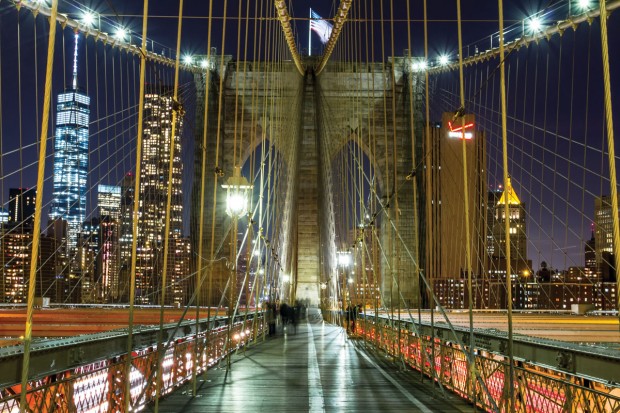 Fourth Place, Brooklyn Bridge – Darren Inoff, 47, shot this photo of the Brooklyn Bridge on the pedestrian walkway above the vehicle lanes below. "I took this photo because the Brooklyn Bridge is such an iconic New York landmark, but I wanted to capture it from a different perspective."
Category: Sports and Action
First Place, Vaulting To High Key – Shu Cheuk, 66, took this photo showing the motion of a college athlete in a pole-vault event in Louisiana. "After a thousand sharp pole-vaulting shots at 1000th of a second or faster, I decided to try some at various speeds below 60th of a second. The overcast sky was slightly overexposed, the athlete had blonde hair and was wearing white."
Second Place, Eye Ball – Carl Henry, 60, took this photo of Blake Fox from Rice University, pitching against Louisiana Tech on March 14 at Reckling Park. Rice is his alma mater, and he regularly takes photos there. "I love how Blake's stare-down matches up with the approaching ball."
Third Place, Motorists – Ying Chun Jerry Pan, 74, took this photo of two motorcyclists at the Texas Bel-Ray Action Sports Track in Conroe. He says the motocross facility, open year round, is a good place to take sports photos.
Fourth Place, Back to First – Daniel Hrachovy, 48, took this photo of his son, Connor, diving back to first base during a pickoff attempt during the West University Summer Slam 13U championship game. "You can almost feel the concentration in the first baseman's eyes. Sometimes it takes hundreds of photos to get that perfect shot." Connor scored, and his team won.
Category: Readers' Choice
First Place, The Artist – This photo of Bradley Sabloff's 4-year-old daughter, Avery, also won first place in the People Category. The photo was taken at Camp Champions in Marble Falls. "I loved that Avery is focused and immersed in her art," he said.
Second Place, Header – Randy Owens, 57, took this photo of Stephen F. Austin State University soccer player Chantal Curry while he was at a Southern Methodist University game to watch his daughter, Rachel, play. The SMU player pictured here is Chinelo Odobulu; she played club soccer at Albion Hurricanes FC in Houston.
Third Place, Caught in the Act  – Tamara Thompson, 60, took this photo of "a hawk eating its breakfast, in this case an unfortunate bird," in a pine tree next to her home in Morningside Place. "A pair of hawks took up residence in the beautiful trees on our street and began to terrorize the birds in our area. The hawks are fascinating to watch, but also a little unsettling because they are watching us as well."
Fourth Place, Vincent's Starry Night – This photo of the Milky Way Galaxy taken by Jennifer Welch, 29, also earned third place in the Landscapes Category. "The amount of stars that can be seen on a clear night at Big Bend National Park is absolutely breathtaking," said Jennifer.
Category: Judges' Choice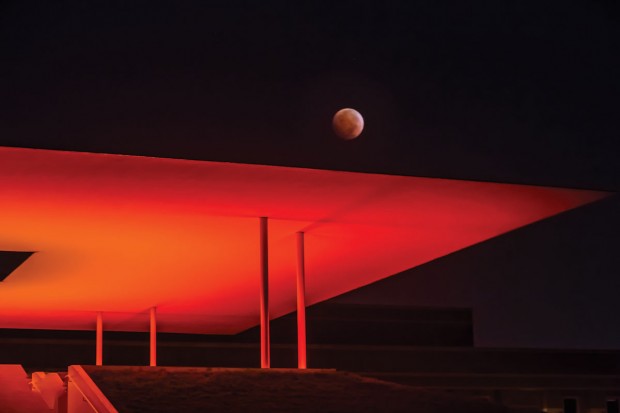 Carol Andrews' Choice, Rice University Turrell's Skyspace and a Blood Moon – Robert Flatt, 67, took this photo in October at the Rice University James Turrell Skyspace exhibit. Robert says he has been photographing this exhibit since it opened. "I am drawn to it like the people in the movie Close Encounters of the Third Kind. The feeling I get at the base of my spine when I'm photographing this exhibit can only be described by what the German philosopher Rudolf Otto describes as the 'Numinous' in his book The Idea of the Holy. This is truly a spiritual experience for me. I read about the eclipse and the red moon, did some quick calculations and found that I should have about 15 minutes to capture the moon just before it set behind the exhibit. This event will not occur again until the mid-2030s. And you ask me 'Why did you take this photo?' The better question is 'How could you not try to capture this photograph?'"
Troy Fields' Choice, Bombs Away – Carl Henry, 60, took this photo in Machu Picchu, Peru. Carl said he wanted to capture the perfect photo of a llama with the site in the background. "I found it was a very frustrating and often comical challenge. Machu Picchu was crowded, and everyone wanted to take selfie-stick photos with a llama or even a photo of a llama with her favorite stuffed comic book character." But when this girl came into his viewfinder with a friend snapping her photo, he ended up loving the shot, with the expression of the llama and the composition, with the other camera and image in the frame.
Michael Hart's Choice, My Collar, It's So Very Middle Class – Harry Buzek, 72, took this photo of Italian Greyhound Prissy at her favorite spot on the sofa. "She looked like she was posing for me. I wanted to capture the crooked ear, one up and one down. From the day she was brought home, this prim little Italian Greyhound sat and crossed her long slender legs in front of her, and looked down her nose at us. It seemed that she might be thinking, 'Are you really my new adopted parents? I thought I might be adopted by a more noble family.' At that moment she was dubbed 'Prissy.' Always graceful and elegant, she is almost inviting you to photograph her."
Judges' Bios
Master Craftsman photographer Carol Andrews loves to create the magic of a photograph. Over the last 20 years, her award-winning photographs have included exhibitions at Photokina in Cologne, Germany; Disney's Epcot theme park and the International Masters Loan Collection of the Professional Photographers of America. Her work has been acquired by the Sherman Hines Museum in Nova Scotia, Canada. She was inducted into Cameracraftsmen of America, an international photographic society with only 40 members; she was only the fourth woman in the society's 95-year history to be admitted. She teaches and judges photography and art internationally. "I enjoy expressing beauty and my love for life through a camera and sharing the images and stories with others. I show people what love looks like," Carol says. Carol Andrews Fine Art, [email protected]
Michael Hart has been providing photographic images to leading corporations, design firms and advertising agencies for over 30 years. His assignments have taken him to 49 states and more than 30 countries. Michael's work is represented again in this year's international Black and White Spider Awards, and his work appears in its book, The World's Greatest Black and White Photography. Recent shows include the fourth consecutive APA-Los Angeles' exhibit, "Off The Clock," APA-San Francisco's exhibit, "Something Personal," and ASMP-Houston's FotoFest exhibit, where he received the "Curator's Choice" Award. His book, Biggio: The Final Game, is in the library of the National Baseball Hall of Fame, and a print of the cover image is in the permanent collection of The Museum of Fine Arts, Houston. Recent pro bono clients include The Brookwood Community, the Wounded Warrior Project and the Houston Area Women's Center. Michael Hart Photography, [email protected]
Troy Fields is a Houston-based commercial photographer with over 17 years of professional experience. Troy's passion for photography started at a young age when he was asked to take photos for his junior high school's yearbook. Troy continued to study photography in high school and graduated from Sam Houston State University with a bachelor's degree in photography. Troy specializes in creating dynamic images for his corporate and editorial clients. His photography can be found on the websites and in the publications of large companies and magazines. Troy has also been a member of the American Society of Media Photographers for over 12 years. He currently serves on the organization's local board of directors, and previously served as its president and vice president. Troy's work has appeared in several FotoFest International exhibitions. Troy Fields Photography, [email protected]
People in this article:
Darren Inoff
,
Mauricio Recinos
,
Emily Shelton
,
Robert Flatt
,
Jan Buchholtz
,
Bradley Sabloff
,
Avery Sabloff
,
Raymond Zrike
,
Isabella Recinos
,
Ying Chun Jerry Pan
,
Zachary Harkins
,
Brooks Carver
,
Carl Henry
,
Shu Cheuk
,
Jennifer Welch
,
Daniel Hrachovy
,
Randy Owens
,
Tamara Thompson
,
Harry Buzek
,
Carol Andrews
,
Troy Fields
,
Michael Hart
Want more buzz like this? Sign up for our Morning Buzz emails.
To leave a comment, please log in or create an account with The Buzz Magazines, Disqus, Facebook, Twitter or Google+. Or you may post as a guest.