Double the fun
Click the Buzz Me button to receive email notifications when this writer publishes a new article or a new article in this column is published.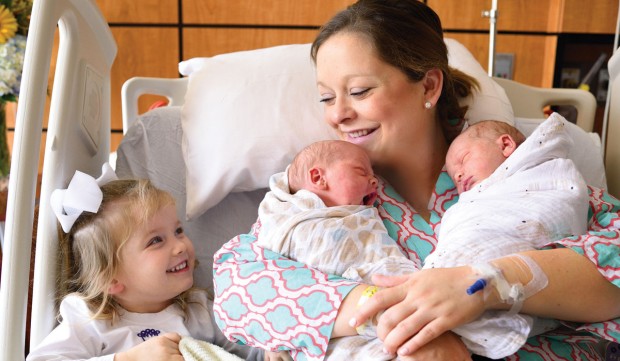 Buzz Baby is a column about life with babies from the perspective of a first-time mother. If you have baby stories to share, leave a comment under this article or email [email protected].
Babies are fun. Babies are hard work. Babies don't care if you haven't slept in three days. And sometimes, for a small percentage of the parent population, babies come in pairs.
This month, my own twins will turn 1, so I am dedicating this column to all the twin moms and dads out there.
Anyone reading this who has twins (or, if you are a twin) has heard these phrases: "My, you certainly have your hands full," (I hear this at least once at every outing); "Are they twins?"; "Are they identical?" and "Better you than me." That last one can be replaced with the occasional "Bless your heart."
Aside from these common comments heard from random strangers (confession: I may have been one of those strangers in the past, but I've since reverted and try my hardest not to stare at other twin parents awkwardly maneuvering through a doorway), being a parent to twins means a life of surprises.
Lauren Struzick, a marketing specialist at Texas Children's Hospital, and her husband Danny, a project manager, were excited to be expecting a little one – one being the operative word. All of the doctor's appointments had gone smoothly, revealing one, strong heartbeat.
Then, at Lauren's routine 20-week ultrasound, they were hit with a bombshell.
"[The ultrasound technician] discovered there were twins," said Lauren. "Apparently, with identical twins, one can hide behind the other one."
Lauren said at first they didn't know how to react. They laughed, and they cried. They already had 2-year-old Molly, so they were to become parents to three. The couple welcomed healthy boys, Wyatt and Charlie, four months ago.
Twin parenting can be stressful, even before the babies arrive. When mom Katie Woodroof and her husband Brett, controller at Better Homes and Gardens Real Estate Gary Greene, found out Katie was expecting, they decided to take a blood test that can pick up the presence of a pregnancy-related hormone called human chorionic gonadotropin.
"The hormone level was so high, so we had suspicions there may be two," said Katie.
"An early sonogram confirmed there were two babies," she said. But at their next appointment, only one heartbeat could be heard. The couple went home, distraught.
"When we went back for the next appointment, two heartbeats could be heard," said Katie. "We were ecstatic."
Katie had to take it easy for the last 14 weeks of her pregnancy. "I was on bed rest due to pre-term labor, and during that time all I did was pray continuously the babies would not come too early."
The twins made their entrance at the right time. Katie and Brett didn't hire any help for the first months, a decision they later regretted after sleepless nights. "I did not think I needed a night nanny at first, but I quickly realized I was wrong," said Katie. The night nanny helped the overwhelmed parents get the babies on a schedule, while mom and dad were able to get some sleep. "She formed a special bond with them and is now our go-to babysitter," said Katie.
Reconstructive plastic surgeon Christi Blakkolb Munz and her husband, John, an orthopedic trauma surgeon, have 10-month-old twins, John Luke and Isabella.
"There's something different about being a mom. Then add twins to it, and it's crazy," said Christi, laughing. "You have to do it one day at a time. There's no other way."
Christi was put on bed rest at 25 weeks along in her pregnancy. "Being on my feet all day at work was just putting too much stress on my body," said Christi. "I was starting to have too many contractions."
This didn't give the first-time mother much time to nest and set up the nursery, an important preparation step. "We had received so many different items and gear. We had to organize everything when [the babies] arrived."
Every twin parent will most likely remember the first their twins interacted with each other (I know I do). "It's like a light bulb turned on, and they both realized the other one was there and they giggled together. It melted my heart," said Christi.
And, you always hear this, but it's true that twins share an unusual bond. "Even when we first brought them home [from the hospital], they would still, no matter where we put them in the pack-and-play, gravitate towards each other," Christi said.
So, yes. There are twice the tears, twice the midnight feedings and twice the dirty diapers, but there are also twice the smiles, twice the baby giggles and twice the love. So, to all those strangers who say, "Better you than me," I agree.
Want more buzz like this? Sign up for our Morning Buzz emails.
To leave a comment, please log in or create an account with The Buzz Magazines, Disqus, Facebook, Twitter or Google+. Or you may post as a guest.