Safety Tool Box
Back-to-school guide for families
Click the Buzz Me button to receive email notifications when this writer publishes a new article or a new article in this column is published.
Writer Rania Mankarious is executive director of Crime Stoppers of Houston.
Children of every age need their parents or caretakers to talk with them about crime before it happens – and, most importantly, walk them through solutions in advance. Children shouldn't be left to make critical decisions during stressful times without training.
The following scenarios involving students, from elementary through high school, are actual situations reported to Crime Stoppers of Houston.
Online dangers
Kids of all ages find themselves online – either they are using social media or playing games or looking at photos. No matter how you try to protect them, the online world will creep into your children's domain....  
Parents: Teach your young child social skills and manners early. Manners in the real world must also apply to interactions online. It's critical to make sure children understand that just because you're not face to face, it doesn't mean your words and actions aren't as painful to others. Be kind in the real world, at school, on the playground and online. Start planting the seeds now against cyberbullying.
Inappropriate situations
During reading time, Sally is asked by someone at school to go with him/her into the classroom closet. The closet has the lights turned off and is very dark. She feels scared and does not know what to do…   
Parents: Prepare your children in advance to make smart judgments about the people in their life. Teach them to recognize behaviors that are inappropriate, uncomfortable or abnormal. This will help them identify and be able to say "no" if faced with a difficult situation or request. Discuss the roles of people in their lives. For example, the role of their math teacher to teach math and not personal or private subjects. Teach them to tell people no if they make them feel scared, confused or sad.
Guard against strangers
Luke and his baby sister are at the park with their afterschool caretaker. While the caretaker is distracted changing the baby's diaper, a woman with a cute puppy approaches Luke and asks if he wants to pet him, and, of course, he does. She then asks if he wants to go to her van to see the other three puppies she has. Distracted by the puppy's cuteness, Luke goes to the van without hesitation...   
Parents: Teach your children to never talk to anyone they do not know, unless they have your permission. Teach them to stay close to their caretaker when out in public, and tell them they should inform the caretaker of an unfamiliar person or if someone has made them feel uncomfortable. Remind your children that strangers look like wonderfully kind people and often approach with things like candy, puppies, games and other items your child would like. The point of items is to attract your child, not necessarily to bestow gifts.
Know your information
Timothy is at a busy playground with his afterschool caretaker, Molly, and gets lost while having too much fun with his friends. He looks and looks for Molly but can't seem to find her. He starts to panic... 
Parents: Teach your children their full name, parents' names and phone numbers, caretakers' names and phone numbers, and street names. Teach them how to actually dial the number. Teach them to find a trusted adult like a police officer or another friend's parent and ask to use their phone to contact you or the caretaker. When you go to public places, determine a meeting spot from the beginning in case somebody gets lost. For example, when you walk into a supermarket, determine a meeting point at "cash register 4" should you get separated.
Reconsider that monogramming
Mom and dad, if you're going to monogram everything on your child, will you please remind them that strangers who call out their name don't know them but are rather reading their names off their backpack, shirts or other items?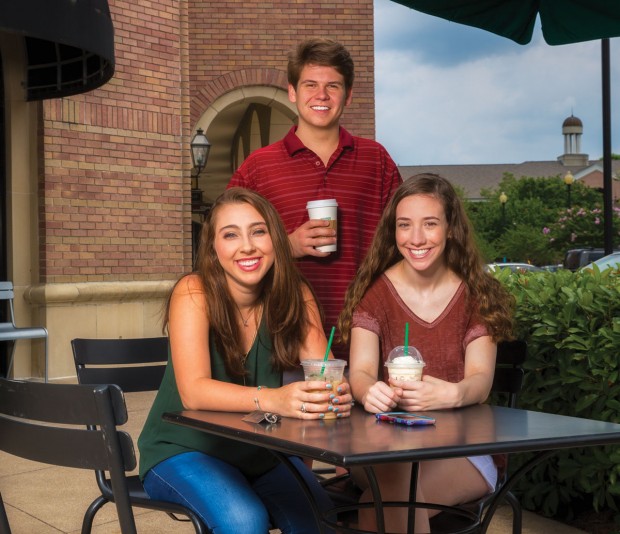 Online strangers and friends
Michelle is in eighth grade and recently met a cute boy through her new Facebook account. After only a few days, he wants to meet her after her volleyball practice at the mall near her school to "hang out." She was curious as to how he knew so much about her, but was so into him that she did not stop to think about the possible dangers of meeting him...   
Parents: Talk to your child about Internet dangers, such as online predators and the danger of revealing too much information online.
Tell students: People online are not always who they say they are. Photos often have trackers. Savvy predators can pinpoint not only where you live but where your room is in your home. Don't take images of yourself you wouldn't want everyone to see. Ignore, block and tell if someone tries to contact you online several times, pushing to meet you in person. Any time you post a picture onto an app or social-media site, it becomes that site's property and they can do what they want with your photo, including selling it or posting it without your permission. Pictures posted online can remain online for years. Pictures you post today may hinder your chances of being admitted into a school in your future. Things you post even off school grounds can still lead to disciplinary action at your school.
Everyone in high school lives primarily online. There is a drive to get as many "friends" as possible and as many "followers" as possible. That said, do you accept friend requests from "friends of friends" but people who are ultimately strangers?    
Parents: The answer is no. A "friend of a friend" is not needed on your child's social-media page. Challenge your children to take a "social media inventory." If they are willing, go through their online contacts and see how they know each person. You'd be surprised to learn how many people they actually do not know but give open access to online.
Bullying
Michael is being bullied online and has received threats warning him to "watch his back" because he was going to be beat up at school. He is afraid to return to school... 
Sam uses his phone to take pictures of other students at school. The next day the teacher sees that some students are threatening to beat him up. The teacher finds out that the pictures were posted online, with funny captions under each…
Parents: Recent laws protect students against bullying. If your child is being bullied you can request to move schools or have the perpetrator transferred to another school. Teach your child to talk to trusted adults: a parent, aunt, uncle, teacher, counselor, school nurse, police officer. Their friends, although well meaning, may lack the skills necessary to obtain help. Teach them to keep telling – even if the trusted adult fails to obtain help or remedy the situation.
Walking alone
Stacy walks home whenever her parents are not available to pick her up. Even though she lives close to the school, she should always try to walk with a friend or other walkers that might be on the same walking route...
Parents: Remind your child to walk with a friend or others on the same route. Never walk alone. Find another parent willing to watch her/him walk home. Teach children to never talk to people they do not know and never get in the car with anyone offering a ride. Determine "safe spots," places or homes that they can run to in the event of an emergency. Tell them: Never change your route; never go through secluded paths; always stay where others can see you.
Synthetic marijuana
Your friends at school are pressuring you to try a drug called K2, or Kush. It's synthetic, made in a lab, and can be easily found at a local convenience store. It's easy to get, not expensive, supposedly less dangerous than other drugs, and everyone is doing it...
Parents: Beware. The synthetic marijuana, K2, or Kush, is gaining popularity among teens and 'tweens. It's packaged specifically to entice your children. It's easy to get and readily available. One local teen suffered permanent brain damage and is not able to walk.
On the road      
You are among the first of your friends to get your driver's license. Your parents are kind enough to have a car for you, and your friends all want you to be the go-to driver...
Parents: Talk to your kids about the fact that motor-vehicle deaths are the leading cause of adolescent fatalities. There can be no texting or cell-phone usage while driving. Everyone must wear seatbelts. The car is not the place to start the party; it's just the means to get to and from the location safely. And, of course, no drinking. Texas has a zero-tolerance law; that means no alcohol, at all. And finally, never take a stranger along for a ride.
Dating and violence
Bill has been dating Deana for a few months now. She is controlling of him and does not let him hang out with his friends. He is only "allowed" to study with her. He has lost most of his friends because of her. Last week, Bill hung out with a few friends after school without telling her. A few days later he had several bruises on his arm. His friends suspect she hit him…
Parents: Teach your child that this behavior is not okay. Make sure teens know they can come to you or a trusted adult, not just their friends, with this kind of information. Teach them to keep telling, even if they don't get help right away. Title IX is a federal law that protects your child against sex-based discrimination, harassment or violence. Your school has a responsibility to respond promptly to known sexual harassment or sexual violence, including dating violence.  Students can have a protective, no-contact order so they do not have to be in the same classes as the perpetrator. They can also request to move to schools or have the assailant transferred to another school. A public school is required to have a coordinator on campus to assist students in this situation. 
Witnessing crime
Amy notices a classmate with a suspicious item in his backpack. She thinks it might be a gun... 
Parents: Make sure your child understands that all suspicious activity, crimes and potential dangers should be reported: abuse, assault, bullying, drugs, fighting, gang activity, graffiti, robbery, theft, threats, vandalism and weapons. Teach children how to anonymously report to Crime Stoppers:
Keep phone charged
Susan catches a ride with her friends to a Friday night house party. After a few hours, she notices that her friends are nowhere to be found, and unfortunately she cannot call them because her phone is dead. She begins to panic... 
Parents: Remind your children to always keep their phone charged, especially when out with friends. Should an emergency arise, they should always be able to call you or a trusted person to help them.  
Be aware of surroundings
David notices a suspicious male run up to the school and enter the school through the west entrance of the gymnasium. He has never seen this individual, and it makes him uneasy...  
Parents: Teach your children to report all suspicious activity to a trusted adult on campus. Make sure they are familiar with the school's visitor rules and check-in process. Anyone seen not following these rules should be reported immediately. Teach them to be aware of their surroundings when walking to the car, visiting with friends or just going about daily life. Being aware is a clear sign to a potential criminal that they are not a good target.
Want more buzz like this? Sign up for our Morning Buzz emails.
To leave a comment, please log in or create an account with The Buzz Magazines, Disqus, Facebook, Twitter or Google+. Or you may post as a guest.