Summer road trips with the kids
Click the Buzz Me button to receive email notifications when this writer publishes a new article or a new article in this column is published.
For the Sacks family and their friends the Corbitts, summer road trips are a longstanding tradition. For these travel buddies, the annual road trip is a plan-as-you-go affair.
For Cathy Johnson and her clan, last summer's three-week meander through the American West was a first-time adventure. The Johnsons left little to chance, with Mom as a trip planner, booking reservations long in advance.
The theme has infinite variations, but there are few childhood memory-makers that carry a greater capacity for bonding and learning than the classic summer road trip.
Michelle Sacks, who runs the Safe Schools program for Crime Stoppers of Houston, teamed up in 2010 with her high school buddy, school counselor Amy Corbitt, for the first of what was to become a summer tradition. That time, it was a straight drive down I-10 to San Diego and back again, with lots of roadside attractions along the way. Michelle's eldest, Olivia, was 7; her youngest, Bennett, was 4, the same as Amy's daughter Hayden. They were gone for two weeks.
"We were talking about how great it would be for the kids to see the United States, so we said why not just do it? We literally threw them in the car and went," she recalls. "The rule was, no electronics, and we booked as we went.
"That trip was a little more flying by the seat of our pants, but we did it very inexpensively and had a really good time."
Highlights included a reenactment of a shootout at the O.K. Corral in Tombstone, Arizona, and driving through the towering dunes of White Sands National Monument. For Olivia, four years later, the beaches of San Diego don't score a mention; instead, it's the marvels of sliding down those magnificent sparkling dunes that stay with her.
Michelle still laughs at a moment from the West Coast. "We were leaving San Diego, and the kids wanted to see one more beach before we left. We saw a sign for La Jolla, and we'd never heard of it but it sounded good, so we took a turn.
"The kids were making funny noises and we said, 'Stop that!' The kids said, 'We're not doing anything!'"
They turned and to their surprise, they found themselves 50 feet from a barking school of sea lions.
"Those are the fun and unexpected things you come across and experience when you road trip like that," Michelle says. "You see a lot more than when you're flying in."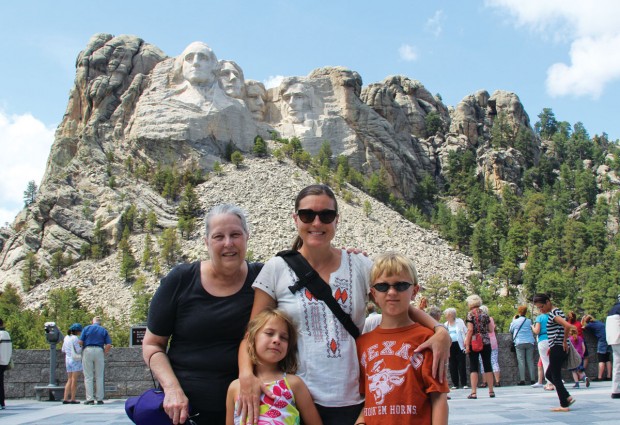 Some trips, of course, require more planning, and their trip to Yellowstone was like that – a classic journey that in many ways paralleled the maiden voyage of the Johnson clan.
Cathy Johnson, a local writer, decided to team up with her mother, Wenda Swenson, and plan a three-week adventure for Ethan and Lila, then 7 and 5 respectively. Husband Matthew Johnson, a stock trader, took a little time off work to catch up with them along the way.
"We hatched this idea about a year before we did it," said Cathy. "I wanted my kids to experience the Great American Road Trip."
Cathy and her brother had done a lot of road trips as kids; Wenda would pack them up every summer and they'd drive from Chicago, where Cathy grew up, to Maine. The trip Wenda and Cathy planned last year was epic: three weeks in the American West, crossing seven states before returning to Houston.
"We started small and said, 'Let's go see all these things,' and we ended up with three weeks of road trip. It was a lot – I would say that's the upper limit."
They started six months in advance. "My mother did all the planning, and she was amazing," said Cathy. "Every day she mapped out where we were going to go, what our route was, things we might want to stop and see – she loved doing that, so it worked out well."
They tried to keep the driving times reasonable, but it wasn't always possible. "The first couple of days were really hard, 450 miles a day," she recalls. Five-year-old Lila asked 13 times, "When are we going to get there?"
On the third day they arrived at their first destination: the Corn Palace in Mitchell, South Dakota. The exotic Moorish-Russian fusion, a building decorated with "crop art," was on Wenda's life list. Unfortunately they arrived to find it partially under construction – but Wenda was unfazed.
"We just have to roll with it – this is what happens on road trips," she said, in a bit of travel wisdom that was to come in handy later.
Next they headed west towards Mount Rushmore National Memorial, spending most of that day driving through the Badlands. Wenda had wisely tried to build time into each stretch of the journey, so they were able to stop along the way and find unexpected treasures – like a little replica of an 1880s Western town, featuring dress-up costumes and memorabilia from the movie Dances With Wolves.
Mount Rushmore was worth the effort, Cathy said. "I'm still blown away by what a crazy concept it is to carve the faces of presidents into the side of a mountain," she said. That's where things started to go a little haywire. First, Lila got sick with a fever. They kept on going, heading to see the Crazy Horse Memorial, a massive carving of the Oglala Lakota warrior that will dwarf the heads of Mount Rushmore – if it is ever finished. Then it was on to Devils Tower National Monument, the strange striated formation featured in Close Encounters of the Third Kind, and finally landing in Cody, Wyoming, gateway to Yellowstone National Park.
"That's when we had the craziest day of our trip," said Cathy.  "We drove into Yellowstone, and ended up in the middle of a freak midsummer winter storm. We knew it would get cold, but not like this." It was 32 degrees, raining, with snow on the ground, and they needed gear. So the first stop at Yellowstone was at the little town of Fishing Bridge, where they stocked up on sweatshirts and raincoats.
"In the middle of the night I felt this hot foot pressing against my back. It was my son; he got the fever my daughter had."
She gave him Advil and in the morning, drove the kids down to the lodge for breakfast. Ethan didn't feel like eating. She got the kids back in the car to take him back for medicine, and the car made a funny noise but turned on.  Then she heard another noise. It was her son.
"Mom, I threw up on myself," he said miserably. She hit the button to open the door, and the doors wouldn't budge. "Mom, I threw up on myself again," said her son – crying now. Finally she pried the door open and found Ethan sitting amid vomit everywhere – on the floor, on the carpet, even splattered on the door.
"It's cold, it's miserable, it's raining, the car's a mess – and the door's broken. I'm in the middle of Yellowstone with a car full of vomit, and the battery is dead."
A series of harrowing events ensued, involving multiple calls to a mechanic in Fishing Bridge, who, miraculously, had a battery for a Honda Odyssey. They got the battery, cleaned up the rest of the vomit and managed to salvage what was left of their trip to Yellowstone with a close encounter with bison in Hayden Valley, Mammoth Hot Springs, a night at Old Faithful and a "bear jam" (a traffic jam caused by a bear sighting).
The rest of the trip had its ups and downs, but no more breakdowns or upchucks. It was one superlative after another: moose-watching in Grand Teton National Park; zip-lining in the Wasatch Range near Park City, Utah; Fourth of July fireworks in Las Vegas with Daddy, whom they picked up at the airport; Hoover Dam, the Grand Canyon, Carlsbad Caverns.
The Sacks and the Corbitts also took in Mount Rushmore, Yellowstone and Jackson Hole on one trip, but saved the Grand Canyon and Las Vegas for a different trip. One of their favorite stories involved little Hayden, who was listening carefully as the tour guide at the Hoover Dam told of the people who had died in the building of the dam. Later, gazing across the South Rim of the Grand Canyon, she uttered the words that have made their way into the family lore: "I wonder how many people died making this?"
Like the Johnsons, they found Vegas to be not the most kid-friendly destination; they just about bolted after an encounter with more seediness than they'd bargained for, but the next morning ended up finding some age-appropriate activities, like the gondola ride and the water show at the Bellagio.
"You have to take the good with the bad," said Michelle. In retrospect, their stop in Vegas would end up being a quintessential part of the adventure. As with travel in general, the best advice was to relax and have fun with it, she said. "You just have to have a quirky sense of humor and go with the flow."
Travel tips from Cathy, Michelle and Olivia
Pack a folding travel potty. Cathy found one online, which, together with a box of gallon-sized Ziploc bags, provided a touch of pint-sized civilization at critical moments. "I know my daughter, and I knew there would be times when she'd need it," said Cathy. "She's not the type to squat by the side of the road."
Pack a battery-powered, hand-held vacuum cleaner to zip through the dirt and crumbs, or the car can get pretty filthy.
Limit or even prohibit the use of electronics on the road. "When you're driving, there's so much out there to see, and if they're enthralled in a game they miss the whole point," said Michelle. "For us, it's zero electronics when we're on the road."
Check out an app called Roadside America (also at www.roadsideamerica.com), to locate quirky, out-of-the-way attractions along the way; Michelle used it in Tennessee to find a restaurant that delivered food on a toy train, and in Atlanta to find the original Chick-fil-A.
Involve the kids in planning the trip; it's more fun, more engaging and makes for a better learning experience.
Advice from the younger set: Don't fight with your parents or siblings. "You will not get anywhere doing that, and it makes it a harder and more difficult trip," counsels Michelle's daughter, 11-year-old Olivia.
Editor's Note: See road-trip tips from Cathy Johnson here.
Want more buzz like this? Sign up for our Morning Buzz emails.
To leave a comment, please log in or create an account with The Buzz Magazines, Disqus, Facebook, Twitter or Google+. Or you may post as a guest.