A Grand Love
In praise of grandparents
Click the Buzz Me button to receive email notifications when this writer publishes a new article or a new article in this column is published.
"I'm just really lucky to have them."
That's what Lorn McLaren, 15, says of his grandparents, Olga and Theron McLaren, as they and Lorn's brother Duncan, 12, drive back from a summer trip to New Orleans.
Olga, a longtime first-grade teacher at St. John's School, and Theron, a retired engineer, "waited a long time" for grandchildren from their only son, and they've relished every minute since.
When the boys were young, Olga set up a playroom in her attic filled with "all the things that were developmentally correct," collected during her years of teaching. And she has kept journals for the boys since the days they were born. "I wanted them to see all the things they have done from my perspective," she says. "I'm on the third volume."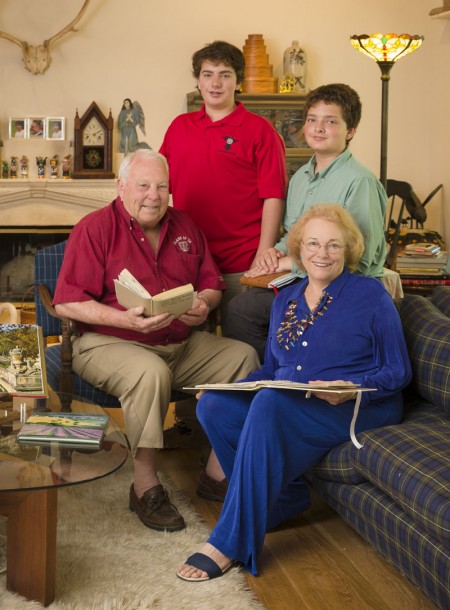 Olga and Theron also started a tradition with the boys: weekly sleepovers with dinner at Grotto, pancake and egg breakfasts, "garage sale-ing" and a trip to House of Coffee Beans.
"I once was at a gymnastics class when a woman said hello to Lorn," Tevia McLaren, the boys' mom, says. "He was maybe 5 and said hi. She was a regular at House of Coffee Beans and knew Lorn from his Saturday mornings there!"
In addition to making friends, the boys learned to bargain, asking, "How much do you want for this?" at garage sales, followed immediately by, "Would you take 25 cents?"
"As my children grew up, their [grandparents'] phone number was by the phone, and both boys could call at any time to ask to be picked up or spend the night or be taken to Baskin-Robbins, and over would come my in-laws."
Studies show that when children report sharing close relationships with their grandparents, they also report greater academic and social competence, increased self-confidence, lower levels of depression and increased levels of maturity. Involved grandparents serve as role models and confidantes, and, echoing the sentiment, "It takes a village," they support parents, decreasing stress in children's worlds.
But grandchildren and their parents aren't the only beneficiaries of such a supportive relationship. "When my father-in-law had bypass surgery, my mother-in-law put pictures of [the boys] all over his ICU recovery area to remind him why he had to live," Tevia says.
Avril Danziger, a retired kindergarten teacher, says her relationship with her nine grandchildren (four in Houston, ages 10 to 16) is "the greatest enrichment I could ever wish for.
"I've always had a granny day from the time Emma was 10 months. I would take her for a day, and then when each one came along, I would do it with them. With four children, I knew they needed one-on-one time with somebody, and that was going to be me."
Once the children started school, 'granny day' became the day when Avril would pick up one grandchild from school, take them home for homework, let them choose an activity, then do dinner and bathtime before taking them home to parents Susan and Paul Danziger. The activity could be anything from a baking project to a trip to Target.
"If all four wanted to bake, I'd bake four days a week," Avril says. "Or I'd take them to Target. Only a granny can stand around for two hours while they look at every doll or every nail polish or whatever.
"The two younger ones still have a granny day, and the two older will call when they have time and say, 'I need a granny day.' It's usually when they need more nail polish or something like that. Whatever it takes."
The Jinks family takes grandparent-grandchildren relationships a step farther. "Grandma and Grandpa moved in next door when our kids were little," (they're now 15 and 12) says Caroline Jinks. "Being so close gives the children and the grandparents security. It keeps the grandparents young to look out the window and see the children running and jumping in the pool with their friends."
EllaDee Jinks (a.k.a. Grandma) says, "We just love having the kids pass through all the time. We took down the fence and it's just one big yard in the back. There's hardly a day goes by during the summer that they're not in the pool, and we get to know their friends."
From seeing the children off at the bus on their first days of school to checking in every afternoon, EllaDee says, "They are a part of our daily life. We share so much we're like one family in two houses. That adds a lot of joy to my life."
Want more buzz like this? Sign up for our Morning Buzz emails.
To leave a comment, please log in or create an account with The Buzz Magazines, Disqus, Facebook, Twitter or Google+. Or you may post as a guest.