Campus Shootings: A Response to the Umpqua Community College Shooting
Click the Buzz Me button to receive email notifications when this writer publishes a new article or a new article in this column is published.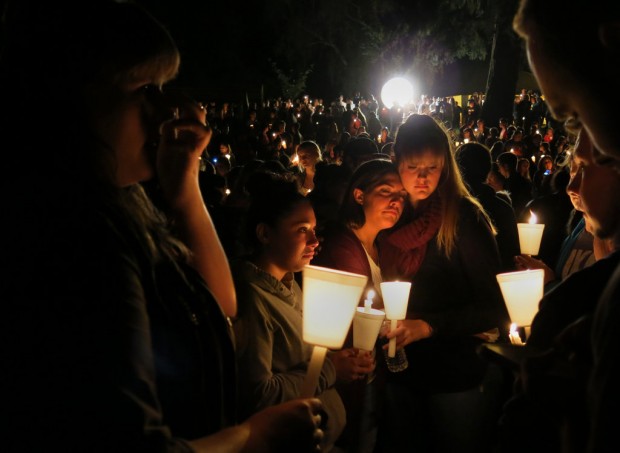 "We called the cops and we called our families and we prayed…. Prayed that we were not going to be next…" Kendra Gordon, Umpqua Community College student in the room next to shooting 
Thursday, Oct. 1, 2015. It's a day that marks the start of different things for many people. In fact, it was a day where people across this city purposefully and proudly (and rightfully so) put on either pink or purple in honor of Breast Cancer or Domestic Violence awareness month, respectively. 
Each of us has a cause to champion. Yours may be health, hunger, clean water or the environment. But as we run a million miles a minute and get ready to tackle our overly-filled agendas, how many of us hug and kiss our kids goodbye and wonder if that was the last time? As our kids pack their bags, grab their lunches, nap mats or car keys, do we ever stop to think that this day, this average normal day, where all they are doing is going to school, could be their last? For many of us, that thought is nowhere on our radar….
But it needs to be. Right now. Because as the breaking news Oct. 1 unfolded, an incredibly sobering reality set in. There was another active shooter taking place in a school setting. This time, we were taken to a small town 180 miles south of Portland. On the scene at Umpqua Community College was a lone shooter, with what one account described as having four handguns. The shooter walked into a classroom and killed approximately 13 students and wounded another 20. I cannot help but think about every detail of this case and wonder about solutions. 
But that's what I do…Actually, as the Executive Director of Crime Stoppers, I've been told I "overthink" and "overanalyze" criminal activity. Those comments leave me shaking my head. Inside, I'm bursting: Really? Am I putting too much thought into the fact that since the start of this year alone, there have been approximately 45 active shootings in schools across the USA? This means an average of more than two school shootings a week! Tell me, what number must we reach for school violence to get an official "color" or "awareness month?" Once that happens, does it make it okay to champion the cause? How many more boys and girls, young men and women, have to senselessly die while doing nothing more than being where they are supposed to be and focusing on making the most of the lives ahead of them? How many more "mass funerals" do we need to cover?
Tell me I overanalyze; I do not care. Here's where I am: I'm a parent. I love my kids and I love yours too. I believe that as a nation, we have been officially put "on notice." This will keep happening if we do not do something about it. And above all else, I firmly believe these senseless killings have the potential of being 100 percent preventable. Yes, I said it. Preventable. 
So while the country hops on the runaway train of political shifting, blaming and gun control discourse, I'd like to take a moment to focus on real solutions. It's time to: look at the facts, talk to our kids and provide resources. 
A review of most of these shooters shows us that at the root of this violence is a variety of things ranging from mental illness to uncontrollable anger, the effects of bullying or neglect, ideological differences that can go back to a host of things but usually relate to affiliations (gang, faith, culture, etc.) or a deranged hope of fame or to send a message. Parents, you have a duty to address these issues with your kids. I know it's hard, I know you have a lot on your plate, but you have to do this. You must. In today's world, with all our children face, parents are facing the extra work of analyzing and addressing potential risks within their children. You simply must and there's professional help for you when you need it.   
Additionally, in many of these cases, we see clear predictors – a message, a social media post, a threat or comment that puts the community on notice of the attack. In fact, our work has taught us that someone somewhere always knows what is about to potentially happen. So now the question becomes: would your child say something if they knew something? It's no longer good enough to think that "someone else will say something." No. You, me, each of us has the burden to say something. It's time to talk, right now, in an age-appropriate way and ask your child if he/she would honestly report a known or potential criminal activity on their campus. If not, find out what's holding them back. We recommend telling a trusted adult, school counselor, school admin, and/or school officer. Above all else, students can always call Crime Stoppers (713-222-TIPS/8477), anonymously, and tell us of any potential criminal activity at school.
Many don't know but Crime Stoppers of Houston has been working on this issue locally, in our community, for almost 20 years. Since 1997, our free Safe School Program, has been offering solutions and getting results. Our program has helped law enforcement solve almost 2,000 school cases and removed almost 300 weapons from schools right here, in our backyards. We've done this through the help of anonymous student heroes who call us. Stopping tragedies before they could affect the student body is our main goal and it's what we've been doing since day one. While the nation "discusses", we are in the schools quietly and efficiently working. Because the reality is, we don't have time. Each week, we are seeing a school tragedy. Each week, parents are losing children. It's not acceptable. 
Additionally through our Safe Community program we walk the community through free seminars on How to Survive an Active Shooter. This informative presentation done by Stephen Daniels with HPD is eye-opening and important in today's world. Not to mention, during the Q&A, I'm always taken aback as visitors share their personal stories of being involved in an active shooter incident. Their most common statement: for those who survived, their lives will never be the same again. 
Oct. 1 marks the beginning of great philanthropic initiatives locally and nationally. But I'd like to add another national campaign to this date, in fact, I want it to be prevalent every day. This cause doesn't want a month or a week. This cause marks the start of a movement where we as a community come together and say: NO MORE SCHOOL VIOLENCE. It's the day that reminds us that the safety of our children requires a hands-on approach by all of us, every single day. It should become the day that marks a shift in our conversations so that with each kiss and hug in the morning comes a review of what it means to be safe. 
Each of us has a cause to champion. Mine is public safety and the colors are marked by my children's favorites. As I live for its awareness, this means I'm thinking of next week's potential tragedy. I'm thinking about each of those kids and their parents. I'm thinking about those teachers who will make the choice to take a bullet for their students. I'm thinking about the law enforcement who will arrive on the scene. And I'm strategizing for a solution. There's plenty of room for you to join me. The safety of your child is worth it. 
Want more buzz like this? Sign up for our Morning Buzz emails.
To leave a comment, please log in or create an account with The Buzz Magazines, Disqus, Facebook, Twitter or Google+. Or you may post as a guest.