Where the cool kids sit
Click the Buzz Me button to receive email notifications when this writer publishes a new article or a new article in this column is published.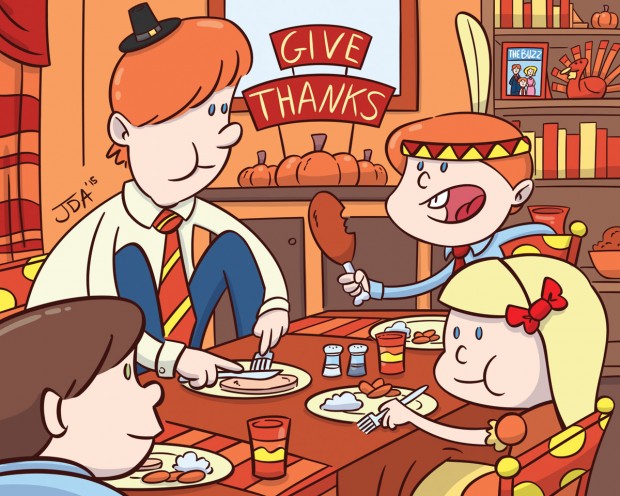 I'm pretty sure I was halfway through college when I realized I had never actually had Thanksgiving – or any other holiday for that matter – with my parents.
Sure I spent the day with them, helped set tables and basted the turkey alongside my mom. But it took me more than 20 years to look up and notice that I had never actually sat with them at the Thanksgiving table. Because I was always at the kids' table.
Looking back, it wasn't a bad place to be. Snickering with the cousins about my mom's rotating assortment of random guests was definitely more exciting than listening to old people talk about work and politics. And for 20 years, I never knew the difference. Turns out, I wasn't alone.
Tevia McLaren, who now is a mom of two teenaged boys, remembers sitting at her own family's kids' table: "As the fourth-youngest out of 45 first cousins, I was never allowed to sit at the grown-up table," she says. "Now I find that as an adult, when we have kids' tables, I would much rather sit at the kids' table!"
Having a table just for kids is not without controversy, though. Arguments against it abound: Aren't the holidays supposed to be about the whole family being together? How are the children ever going to learn manners if they sit by themselves with no one watching over them or leading by example? They need to learn to eat what the grownups eat.
One attorney and mother of three recalls her family's kids' table in Boston as turning into something of a parent's nightmare. "Our family is very, very big. It wasn't uncommon to have 75 people in my parents' foyer, with the kids at the end of the table," she says.
"For Passover, we'd be at the end, but we still had to participate in the Seder [typically everyone takes turns reading parts of the story of Passover from a book called the Haggadah]. There's all this wine they say you're supposed to drink [as you read the story], but really you're not supposed to drink it. Anyway, I was 10 and drank it all, and suddenly my dad realized the kids' table had been vacated. I was upstairs drunk and vomiting and crying. My dad came up and said, 'Stop crying, you have the flu,' and my 13-year-old sister said, 'She doesn't have the flu, she's drunk!' My dad was like, 'No, that isn't possible,' but nobody was watching the kids' table."
For all the complaints, though, there's still something about a kids' table that makes everyone a little nostalgic. In a good way.
Public relations exec Kim Tarleton and her sister Kelly Mills are both pregnant with their first babies, Kim due in February and Kelly in December. "We've been cleaning out my parents' house," Kim says. "And of all the things my mom kept, she kept our kids' table."
Kim has fond memories of sitting at the tiny table, round with four little chairs. "It was literally kid-sized," she says. "My sister and I sat at that table until we were in elementary school and big enough to sit at the kitchen table. But when the other cousins came along, we sat back at the little kids' table to help them."
"The younger cousins are exactly 10 years younger than us. So it wound up that we were sitting at the little table when I was a little older than 10! We didn't get a choice. We were told we would sit at the little table with the baby cousins so they wouldn't feel left out."
Eventually the younger cousins grew big enough to move to the kitchen table, which was where the entire clan of cousins celebrated holidays for years. "The adults always sat in the dining room, and we were always in the kitchen. I do remember finally asking, 'Why can't we sit at the adult table? We're going to college. Aren't we adults?'"
Kim's mom (Sherry Tarleton) finally acquiesced, reconfiguring the dining room table to hold more adults, but not until Kim and Kelly were firmly affixed in college. "I remember being so happy to sit with actual silverware and candles instead of the everyday utensils we got in the kitchen. We felt so grown up."
Having found the treasured table, and with children of their own on the way, Kim and Kelly plan to carry on tradition and use the table for the next generation of cousins.
Want more buzz like this? Sign up for our Morning Buzz emails.
To leave a comment, please log in or create an account with The Buzz Magazines, Disqus, Facebook, Twitter or Google+. Or you may post as a guest.