Hosting the Big Game
Countdown to 2017 Houston Super Bowl LI
Click the Buzz Me button to receive email notifications when this writer publishes a new article or a new article in this column is published.
Super Bowl VIII MVP Larry Csonka, the Miami Dolphins fullback, remembers taking a victory lap around Rice University Stadium. It was Jan. 13, 1974, and his team had just won the Super Bowl.
Viewing the stands packed with cheering fans, Csonka carried his sons, Doug, 7, and Paul, 5, with him. "Looking up from the field, well, it was exciting! The boys were tickled that I was carrying them around and happy that we had won," recalls Csonka.
"I have nothing but great memories from Houston. Before the game, I was a little apprehensive about the stadium. Would it be big enough? Would the facilities be big enough? Nothing went wrong. Rice Stadium was wonderful, and it was the right place to be that day and that time."
In the 42 years since that game, the Super Bowl has grown in size and scope, and is the most watched football game in the world. Super Bowl XXXVIII came back to Houston in 2004 at then-Reliant Stadium, and next year Houston will host Super Bowl LI on Feb. 5, 2017, at NRG Stadium.
Csonka and the Miami Dolphins made history that day at Rice Stadium, completing a run that put them in the Super Bowl for the third time in as many years and winning for the second consecutive year. "To go back-to-back winning is something. To be in three in a row is something," says Csonka, who was inducted into the Pro Football Hall of Fame in 1987. "And being undefeated in the previous season (1972 season, Super Bowl VII) is something no one else has ever done."
The game was played at Rice Stadium because, at the time, it had much more seating than the 10-year-old Astrodome.
"Up until that point Super Bowls had been held in Los Angeles, Miami and New Orleans, and having the game in Houston was the first time coming out of the major three cities," Csonka says. "It all started with Houston because it left everyone with a feeling that it was the right city and struck such a positive note."
President and CEO of Super Bowl LI Sallie Sargent is excited that the game is once again making it back to town. A veteran of special-event management, Sargent's background with sporting events includes five Super Bowls and 14 years managing sponsor relations and special events for the Fiesta Bowl. "Sports and football in particular, have always been a big part of my life," says Sargent. "I started my career in college football."
Sargent, who was a part of the successful bid committee for Super Bowl LI, says Houston is a perfect place for the game because it has traditionally been a football town. "Houston has always had a unique place in Super Bowl history," says Sargent. "In 1974 Super Bowl VIII was the first time a Super Bowl was not held at the home of an NFL franchise, and in 2004, Super Bowl XXXVIII was the first Super Bowl played under a retractable roof." This will mark the first time a woman has been at the helm of a Houston Super Bowl.
As Houston looks forward to Super Bowl LI, Buzz residents took a moment to look back at the last two times the big game was here.
Super Bowl VIII
Jan. 13, 1974, Rice University
Miami 24, Minnesota 7
"The stadium was crowded and everyone was excited," says attorney and former Houston Mayor Fred Hofheinz. "I had just been sworn in as mayor a few days before the Super Bowl, and I got invited to the ball game. For the first half, I sat on the 50-yard-line with all the VIPS. Then, I was with [then-Houston Oilers owner] Bud Adams in a box for the second half. It was memorable!"
Seeing that game from a different vantage point was attorney and board chairman of the Harris County Sports Authority, J. Kent Friedman. "He had a lot better view than I had! It's good to be mayor," laughs Friedman, who recalls watching the game at Rice at a distinctly higher spot in the stands. "Just being there at the game was a big deal to me," notes the long-time sports fan. "And one thing I do recall was the horrendous traffic jam getting people into and out of Rice Stadium – there were 72,000 people there at one time, and it took a lot of time getting into the parking lot and the stadium."
Just a few blocks away from the stadium, on Bolsover, Geoff Angulo recalls making money from the big game. "We lived north of campus, and the city had put up 'No Parking' signs on the streets in the  neighborhood," says Angulo. "People offered to pay to park in our driveway, so we charged them $5 apiece. That was a lot of money to me – I was 8 years old at the time, and Cokes were still 5 cents at Jamail's."
Angulo says he made $50 that day, which he used to buy the ultimate kid prize: Hot Wheels. He remembers sneaking into the stadium with friends after the halftime show, which included singing by Charley Pride. "There was a conduit behind one of the concession stands, and we climbed up it and got into the stadium," recalls Angulo, now an energy-industry investment banker at Jefferies. "We just ran around the stadium being goofballs – there is no way you can get away with any of that today, but back then nobody cared too much about a pack of 8 year olds running around having fun."
Friedman remembers that obtaining tickets for Super Bowl VIII was relatively easy and inexpensive. "I was pulling for Miami since I knew them better," says Friedman. "My best recollection is that after the game, people were complimentary about Houston. Obviously it was played outdoors but fortunately we had nice weather.
"Back in 1974, the Super Bowl was an important football game. I also went to Super Bowl XXXVIII at Reliant, and in those 30 years between the games, the Super Bowl turned into a big spectacle."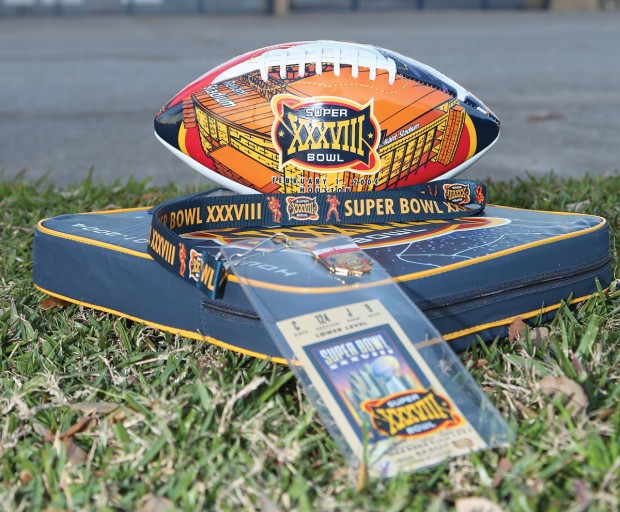 Super Bowl XXXVIII
Feb. 1, 2004, at Reliant Stadium
New England 32, Carolina 29
Peter Buettgen says attending Super Bowl XXXVIII was a bucket-list event. "The Super Bowl absolutely exceeded my  expectations – it was a blast," recalls Buettgen, who is a managing director with Accenture. A lifelong football fan, Buettgen went to the game with a good friend from Boston, who came to town to cheer on his Patriots. Buettgen's friend brought a group of Patriots fans with him — and they all slept on the Buettgens' living room floor in West U.
"I did not have a dog in the hunt, but the game was an offensive showcase to watch," says Buettgen. "My favorite memory was being there with a group of Patriots fans and having that experience watching the game come down to the wire. It was exciting down to the last minute."
The cost of the tickets, Buettgen recalls, was $2,220 each, which they bought from an online ticket broker. "I sat in Section 124, Row J, Seat 9. We had great seats," he says. "It was a lot of money, and my wife and I were a young married couple with our first baby. But it was a once-in-a-lifetime opportunity to go – how often does a Super Bowl come to your hometown?"
Buettgen says the vibe at then-Reliant Stadium was electric. The fans were spirited, the halftime show was exciting (and no, he says, they were not aware of Janet Jackson's wardrobe malfunction in the stands), and there were celebrities. Bruce Willis and Tom Arnold were both seated near him. "It was a blast," he says. "NRG is such a great facility and it's outstanding for our city – I think that is great that Houston will again be hosting next year."
Super Bowl LI
Feb. 5, 2017
NRG Stadium
Sargent says the host committee is bringing the Super Bowl back to Houston in a big way. She promises events that will appeal to visitors even if they don't have a game-day ticket. One is Super Bowl Central, a free fan event that will have interactive games, exhibits, music and food.
Chairman of the Super Bowl LI Host Committee Ric Campo says Discovery Green and the George R. Brown Convention Center will be the epicenter of the events.
"The fan fest will have something for everyone – NASA wow-factor ride, live music, NFL exhibits, Houston's story told by Host Committee sponsors and fireworks every night," he says.
These efforts and media coverage of the Super Bowl will translate not only into the Houston economy, but also, says Campo, "3 billion media impressions." It's the Host Committee's job to ensure that Houston is in the spotlight. "Demographically the rest of the United States will look like Houston in the next 20 years – our people and diversity is the future of the country today," he says.
Sargent says, "We are the culinary capital of the south, and we are second to New York City for theater seats – our plan is to make sure people know all the great things about Houston."
Csonka did not make it to Houston in 2004 for Super Bowl XXXVIII but says he would like to return for Super Bowl LI – especially if a certain local team is on the field. "I am a huge J.J. Watt fan," enthuses Csonka. "He is a talented player, and he just does so much good taking his time with the kids and the foundations. If it turns out the Texans are in the Super Bowl, I am getting a ticket and coming to watch."
For more on Super Bowl LI
Twitter: search #HOUSuperBowl, #SBLI
Instagram: @HouSuperBowl
Also, for more on Larry Csonka.
Want more buzz like this? Sign up for our Morning Buzz emails.
To leave a comment, please log in or create an account with The Buzz Magazines, Disqus, Facebook, Twitter or Google+. Or you may post as a guest.