Hawaii: A state of grace
Click the Buzz Me button to receive email notifications when this writer publishes a new article or a new article in this column is published.
Hawaii is not a state of mind, but a state of grace, once wrote Paul Theroux. "Hawaii seems a robust archipelago, a paradise pinned like a bouquet to the middle of the Pacific, fragrant, sniffable and easy of access," the dean of American travel writing penned in an article for the Smithsonian magazine in 2012. But Hawaii, he stressed, is not easy to know, as it is not one place, but many.
Each of the travelers this month has visited a different Hawaii. Betty and Shabbir Akbar penetrated the natural mysteries of the Big Island. Clay and K.C. McMordie have returned again and again to the postcard-perfect beaches of Maui. And Holli and Bill Clayton found their "happy place" on Kauai.
The Big Island
From the moment they landed, Betty felt a connection with her native Indonesia – beginning with the tiny airport, where travelers disembarked onto the tarmac.
The Akbars had been to Honolulu and to Maui, but Shabbir was fascinated by the lure of an active volcano, so the Big Island was their third Hawaii destination.
It wasn't the Hawaii most people imagine – sparkling palm-fringed beaches. Much of the coastline here is of volcanic stone; some beaches are of black or even green sands. The biggest of Hawaii's eight main islands is the least densely populated, and its diverse landscape holds surprises. "It's great for people who like to do nature hiking and learn culture," said Betty.
Highlights included the Mauna Kea Observatories, a ranger-guided expedition in Hawaii Volcanoes National Park, an hour-and-a-half hike to Papakolea, the Green Sand Beach, and a trip aboard the Atlantis Submarine to the ocean's teeming depths.
On Mauna Loa, they got to take a peek at the stars. They learned that the mountain is a sacred site for native Hawaiians and that the proposed construction of a new Thirty-Meter Telescope has been postponed due to protests.
At Volcanoes National Park they were lucky to have "Ranger Dan" as their guide on the tour to Halema'uma'u crater, a local with an adoptive native Hawaiian mother who had immersed himself in Hawaiian culture and natural history.
One thing they learned was that if you're going to hike, you'd better be prepared to get wet – but there's a bright side: rainbows. The on-and-off rains on the island occur about every 15 minutes, followed by a 15-minute burst of sunshine.
Ranger Dan shared stories of plants they found along the way, such as 'Ohelo, a fruit related to the blueberry and sacred to Pele, the volcano deity. Here they learned an important lesson: Always ask permission before you pick something. 
"It's a mystical thing," said Betty. "When you go to the volcano, people in that area believe you have to ask permission to enter the caldera; we respect and believe that we should try to obey what the local people think is right."
Accompanied by the ranger, they were able to walk within 10 feet of the crater, which they couldn't have done alone. They were not able to see the lava flowing on that particular trail, although after dark, at the Jaggar Museum in a different place in the park, they could see the red glow from the magma reflected on the fumes.
After they left the crater, they stood at the edge and Ranger Dan held a small prayer ceremony in the Hawaiian language to give thanks for having been allowed to come to that sacred place. He ended by playing music with the hano, the traditional Hawaiian nose flute.
Kauai
Holli loves the beach; Bill loves raw adventure. Holli likes to chill out and work on her tan; Bill likes to climb mountains and push his limits. Kauai is where they meet in the middle. 
The Claytons married in 2013, forming a blended family of eight, with Bill's three grown children and Holli's three, still at home. Kauai has long been a special place for Holli. So they planned a trip after Christmas this past year, when five of their children were able to make it.
Bill had climbed Kilimanjaro, been on safari, trekked in South America. He figured he'd like Hawaii, too – he just didn't know how much.
"It totally exceeded my expectations," he said. "I've been to every continent but Australia and Antarctica, and I've never seen anyplace as beautiful and as stimulating as the north shore of Kauai.
"It's a wonderland of imagery that stimulates the brain and the imagination. I work daily on the left side of my brain, and this opens up the right side with all the nature and beauty."
It's hard to overstate the experience, he says. "All your senses are sort of on alert – it's almost like your body is telling you, wow, this is different – from sight, from smell, from hearing, everything – with the ocean crashing."
For the Claytons, the best beaches are secluded and require a little hiking to get to them.
One of Holli's favorites is Lumaha'i Beach, where part of the film South Pacific was filmed. Epic landscapes such as this one, looking out onto the mythical island of Bali Hai, have inspired more than one filmmaker; much of The Descendants with George Clooney also was filmed from Kauai's North Coast, mainly from Hanalei Bay.
Hanalei's laid-back hippie-style charm, with its little cafes and one-lane bridges, attracts famous visitors. The Claytons spotted one at the Hanalei Dolphin.
"Anne Hathaway was at the restaurant right next to us," said Holli. "We were acting like we didn't know who it was, but we're not sure our acting was good enough."
The Claytons rented a house near Princeville, with stunning ocean views, through VRBO. They enjoyed the finesse of the St. Regis, where they went for dining on the Makana Terrace, and golf at Makai Golf Course, with expansive views of Hanalei Bay and Bali Hai. "It's like the pot of gold at the end of the rainbow," said Holli.
One big draw for both of them is that as part of the United States, Hawaii has all the comforts and safety of home.
"It has given me my happy place in the world," said Holli.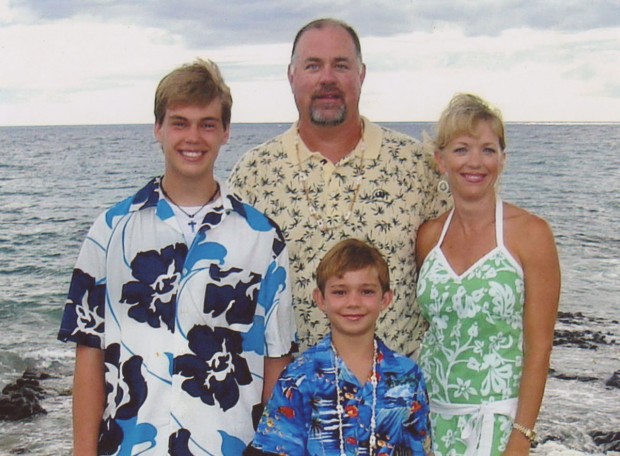 Maui
Clay and K.C. McMordie have been going to Hawaii for 18 years, since Clay surprised K.C. with a trip for their 15th wedding anniversary; they loved it so much they've gone back about 25 times.
After their first trip to Waikiki, they explored other islands and settled on Maui as their favorite – and on the Fairmont Kea Lani, with its spectacular views and walking paths, as their home away from home.
Why Maui? They love the beaches, and there's so much to do on the island, said K.C.. She loves to paddleboard; he loves to golf.  "A number of the courses were designed by some of the legendary golf course designers," Clay said.
A favorite place they took their boys – Blake, now 28, and Hayden, now 21 – when they were small, for snorkeling and snuba is Molokini Crater, a half-submerged crater off the coast.
Part of the excursion was a trip to Turtle Town, "where you can stop and see the turtles come up and look at you while you're looking at them," said Clay.
The McMordies have already gotten all the tourist activities out of the way. "Now when we go, it's really just relaxation," said K.C. "We play a lot of golf, spend time in the water, in the sun, relaxing. It's a long flight, but it's worth it."
The two main choices are to fly eight hours directly to Honolulu, or with a layover in Los Angeles, then direct to Maui. They prefer the former, because it's a bigger plane. Some, however, prefer the latter, because it breaks up the long journey.
Another favorite experience is a meal at Mama's Fish House. But nothing beats whale season. "Literally from your hotel room balcony you can see the whales breach right outside," said K.C.
"You can hear them come out, and you can hear them hit the water," added Clay. "They're just 400-500 feet off the beach; it's really incredible."
Often Clay will go scuba diving just off the beach. "It's just me and the dive master. I just walk off the beach and swim out around 50-60 yards and see I don't know how many different kinds of fish and turtles."
One time they headed out to another reef and were able to snorkel with mother and baby whales within 30 yards.
"You get blown away by the nature, the sounds, the beauty of the wildlife," said Clay. "It's the best place on Earth, to me."
Hawaii vs. Indonesia
Here's a video presentation Buzz resident Betty Akbar made of her trips to Hawaii and Indonesia.
Kauai's north shore
By Holli Fawcett Clayton
Editor's note: Travel Buzz writer Tracy L. Barnett interviewed Buzz resident Holli Fawcett Clayton about her experiences in Hawaii. Holli wanted to add some more details in her own words, so here is her story below.
When dreary winter days bring you down, it's easy to find yourself dreaming about soaking up the sun in paradise. If you crave the exotic, you might instantly imagine the Caribbean, Mexico or some other picturesque international destination. But what if I told you that, right here, in the good ol' U.S.A., is an island so beautiful that you absolutely must see it, for not only does it offer some of the world's most stunning beaches, but also its own unique vibe, with scenery and adventure surpassing even the most coveted of tropical island vacations?
The place I'm speaking of is Kauai, Hawaii, the fourth-largest and least populated of the main Hawaiian islands. Kauai's north shore, accessible from the Lihue airport by the Kuhio Highway (one of the top 10 most scenic coastal drives on the planet), should, without question, be on everybody's bucket list.
Prefer a luxury resort that has it all? Try the St. Regis in Princeville, where you might run into a celebrity or two (the cast of The Descendants, including George Clooney, stayed here while filming). There you'll find a private beach and world-class accommodations, including incredible views of Hanalei Bay (a prime filming location for The Descendants), along with lush, green, mountainous terrain like Bali Hai (a breathtaking landmark seen in the film South Pacific). During the summer season when north shore seas are calmer, you can enjoy fun activities at the beach here, such as snorkeling, paddleboarding and ocean kayaking. Beautifully stacked on the side of a sea cliff, the St. Regis also has private swimming pools and plenty of opportunity to indulge in fabulous food and drink while poolside or beachside. The hotel's amazing Makana Terrace restaurant never disappoints, as you'll swoon over the scenery, whether you're there for breakfast, brunch, or dinner.
Another great option is to rent a house, condo or villa along the north shore and drive to different beaches while sightseeing along the way. My husband and I recently used VRBO (www.vrbo.com) to rent a beautiful home in Princeville for our large family during a post-Christmas vacation to Kauai, and the process was very easy. The house we selected far exceeded our expectations with its stunning ocean views, and it looked even better in person than it appeared online. We also rented a nice, roomy SUV for a reasonable price online at Discount Hawaii Car Rental (www.discounthawaiicarrental.com), although other sites suggested that these vehicles were unavailable during the busy holiday season.
While in Princeville, we enjoyed driving into Hanalei, a small, laid-back town just up the scenic Kuhio Highway. On the way in, you descend from the top of a mountain into a beautiful valley, crossing a unique one-lane bridge over the quaint Hanalei River (where you can always find folks quietly paddleboarding and kayaking). From there, you maneuver through rice fields and eventually come into Hanalei's low-key restaurant and shopping area. This little island village is a favorite of famous people, and we actually met one in person! We particularly enjoyed and highly recommend eating at the Hanalei Dolphin (get there early for dinner if you want a seat; they don't take reservations) and Kalypso (try their divine coconut shrimp). Also try the Hanalei Wake-Up Café for breakfast (macadamia nut cinnamon rolls are beyond delicious) and Puka Dog (even if you're not a hot dog fan, you'll love this place)! If you're in the market for T-shirts or island wear, or if you want to rent snorkeling or other beach equipment, check out Hanalei Surf Company. When you finish shopping, don't forget to indulge in Hawaiian shave-ice (we preferred Jojo's, with their option of adding a scoop of macadamia nut ice cream at the bottom of a custom-flavored shave ice cup). 
After exploring Hanalei, you'll want to hit the beach, and, boy, are you in luck. Hanalei Bay boasts some great stretches of public beach, and the pier there is very busy and popular, but if you keep driving up the Kuhio Highway, you can pull off to the side of the road and hike down to some unbelievable places. A few highlights along this route are Lumahai Beach (also seen in South Pacific, with take-your-breath-away scenery), Tunnels Beach and Ke'e Beach. The latter two are known for wonderful snorkeling in the summertime, although the surf is usually too rough in the winter (as it was when we were there). In fact, visitors are warned to stay out of the water during the winter months, when rough seas and rip currents have been responsible for numerous drownings. The drive and beaches are still gorgeous in winter, but you have to be extra careful about going for a swim.
Near the end of the Kuhio Highway, you will find the trailhead entrance to the Kalalau Trail, an 11-mile hiking path that will lead you to magnificent views of Kauai's NaPali Coast, a majestic, mountainous coastline. The Kalalau Trail is beautiful but a bit strenuous (we only completed the first two miles, ending at Hanakapiai Beach, and back). Again, you must be cautious in the winter months, for the trail can become muddy and slippery in places due to the rainy season weather, and the beach at Hanakapiai can be rocky with rough surf. But, no matter when you go, the NaPali Coast is still one of the most incredible coastlines in the world, and is definitely a must-see. If you opt to visit in the summer, you can take a boat to see it by ocean, although winter conditions generally do not allow for this.
Some other "don't miss" places on Kauai's north shore include Queen's Bath (a unique tide pool surrounded by giant lava rocks), Kilauea Lighthouse (a stately landmark crowning the end of a lava peninsula, which is surrounded by a wildlife refuge) and Anini Beach (a beautiful, calm stretch of beach protected by a large reef). You can also find companies that offer activities such as ziplining, horseback riding, kayaking, tubing, hiking and ATV tours.
If you're especially adventurous, there are different helicopter tours that leave from the Princeville Airport, and they supposedly offer some of the best views of the island that you can possibly get. In fact, some places on Kauai are only accessible by helicopter. I haven't ever personally experienced a helicopter ride and can't formally recommend it, but consider yourself informed and at least check it out. 
In short, if you enjoy beach vacations with an exotic feel and a plethora of adventure, Kauai's north shore should be at the top of your list. And, it's right here in the U.S.A., just a 5-6 hour flight from the mainland. I've only touched on a select few of the many things you can do there, but there really is so much more. Want additional information? Check out The Ultimate Kauai Guidebook by Andrew Doughty, a staple in my suitcase during my last few trips to the fabulous Garden Isle. Aloha!
Want more buzz like this? Sign up for our Morning Buzz emails.
To leave a comment, please log in or create an account with The Buzz Magazines, Disqus, Facebook, Twitter or Google+. Or you may post as a guest.