Spanish sojourns
Click the Buzz Me button to receive email notifications when this writer publishes a new article or a new article in this column is published.
Spain is so much more than a country. It's a way of being in the world, a presence that evokes passion and drama and intricate, overwhelming beauty. Nowadays upwards of 64 million people visit this singular peninsular nation to explore architectural treasures like the Alhambra, the Alcazar and the surrealistic, boundary-breaking work of Antoni Gaudi; to witness the flamenco dancers whirling and stomping their way across the tablao; and to join the river of humanity that tests its mettle every year by running alongside a herd of charging bulls.
Francyne and Kevin Jacobs – he, an attorney, and she, a cantor at several local synagogues – went in search of a lesser-known side of the country, what Francyne referred to as "Jewish Spain." For Carol Lester, who went with her two daughters, it was a time of self-discovery, as well, with her daughters setting the itinerary. And Candido Alvarado, who traces his roots to Spain, finally completed his lifelong dream of running with the bulls.
Candido's first trip was in 1977, when he went with his soon-to-be-bride, Carol Alvarado, now a dentist. They went to Madrid, to the Riviera, to Monaco, to Gibraltar – and they were entranced.
"We fell in love with Spain as a country, with the people, the culture, the food – we just thought it was fantastic," said Candido. Carol fell in love – with Spain and with the man at her side.
As much as they loved it, their romance with Spain was destined to be a long-distance relationship for a quarter century – but Candido never forgot a long-held dream to return. Inspired in part by Ernest Hemingway's descriptions in The Sun Also Rises, he wanted to participate in the millennial tradition of the Running of the Bulls in Pamplona.
A badge of courage
"I'd been putting it off, putting it off, and as you get older you realize you don't have forever to do these things," said Candido. "So in 2005, at the age of 55, I did complete the run – all the way to the bullring."
It turned out to be a defining moment in his life – and for both of them, a rendezvous with their old Iberian flame.
The years rolled back as they made their way north on the high-speed freeways from Madrid through the rugged landscape of the Pyrenees. "Suddenly we pulled into a magical little town that pops up out of nowhere, this Spanish medieval town," said Candido of his first impression of Pamplona. "We were sitting around the plaza and then the cannon goes off… all the kids are having time of their lives pouring wine all over themselves – and they were just getting started."
A rowdy tradition dating back to Medieval times, the festival occurs every July and draws upwards of a million people from all over the world. Every year an estimated 200 to 300 people are injured every year, and 15 have died since the event began keeping records in 1925.
"Of course, it's dangerous," Candido responded. "It's one of the macho, idiotic things that men do; it's man versus beast and hopefully you'll survive."
His wife tried to talk him out of it, to no avail. So they set a rendezvous point for after the run.
"You hear the cannon go off, and there are thousands of people in the small streets…. Then all of a sudden the crowd starts to move." It was all over in a few minutes but it seemed to last forever. Candido thought he was far ahead of the crowd but when he stopped, a bull went flying by and he jumped into a cubbyhole of a building to take refuge before jumping back out into the melee.
"Out of all those people probably a quarter of them made it to the bullring; most drop off to the side and stop running. You've got to be pretty agile to avoid the steers and the people and, of course, the bulls."
Back at the rendezvous point he found Carol. "She said, 'God, that's the most incredible thing I've ever seen – are you going to run tomorrow?' I said, 'No!'"
"It was an experience that was once in a lifetime – it's priceless, honestly," he said. "It was a very personal thing for me to accomplish… it's one of the highlights of a male who accomplishes it, and probably a female too – kind of a badge of courage."
Trail of the Sephardim
For the Jacobs, the experience was much more introspective. While their own family heritage traces back to Eastern Europe, they still felt a connection with the tragic story of the Sephardic Jews. Spain had one of the largest Jewish communities under Muslim rule. But with the rise of the Roman Empire, Spain was pressured to convert or eliminate them; the end came in 1492, with the Alhambra Decree, ordering the expulsion of practicing Jews from what is now Spain. Those who stayed had to convert to Christianity, or face the Spanish Inquisition.
"There were lots of 'marranos' who kept the Jewish traditions secret and stayed in Spain – there are those who say, 'My grandmother or my great-grandmother always lit candles on Friday night and I never knew why; and then it turned out I had a family history of Judaism.'"
A number of tour groups offer specialized Jewish heritage tours, but Francyne charted her own course. They started in Seville, the capital of the traditional Andalusia region, where they explored synagogues and old Jewish quarters. They took in a flamenco show there and marveled at the Moorish architecture of the Alcazar; then they took a day trip to Cordoba, home of the Grand Mosque-Cathedral of Cordoba. Then they headed for Granada, where they witnessed the Arabian Nights grandeur of the Alhambra; they were lucky enough to stay at the Parador Granada, which is part of the palace complex, and went for a run before the crowds arrived.
In Madrid, they took in the Prado as well as the Reina Sofia Museum, home to Picasso's Guernica, and took a side trip to Toledo, whose Jewish quarter is considered one of Europe's most important. (For those who would like to explore a bit of Jewish Spain on their own, see http://worldjewishheritage.com/spains-top-10-must-see-jewish-quarters-2/.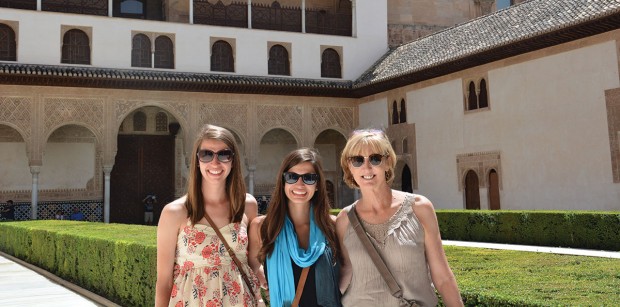 Mother-daughter trip with a twist
Carol Lester is the mother of four daughters, and she loves to travel. So naturally when Daughter No. 3, Natalie, invited her along on a trip to Spain, she quickly agreed. Ultimately it ended up being a mother-daughters trip: Carol, Natalie, and Teresa, Daughter No. 4.
Natalie, 24, the instigator and planner, had been out of school for three years and has a good-paying job. Teresa, 21, had just graduated, so Carol agreed to help her with some of her trip expenses.
"But this wasn't a trip for a mother to take her daughters to Spain – and that affected everything," Carol said. "The budget was their budget, not mine – so I had an experience like I haven't had in a long time. My husband and I are used to eating in nice places and staying in nice places; this was not like that. We would go miles out of our way to save a few dollars on tapas and sangria.  It took a lot of control on my part to not take over."
So the trio ended up tripping around five Spanish cities and Morocco backpacker-style, with the help of Air B&B (airbnb.com).This made for a more "local" experience – staying in neighborhoods, shopping at the local market, chatting with the neighbors.
They dined, slept, moved around and entertained themselves on the cheap – above all, people-watching. "In Spain people work, then go home and relax, dress up and go out and just stroll down the tiled streets," Carol explained. "It's a national pastime they take very seriously."
They had a packed itinerary and only a week, so they "blasted through it," Carol said: Madrid, with the "fabulous and beautiful, must-see" Prado, and the Parque del Buen Retiro. Seville – like the Jacobs, they visited the Alcazar, a royal palace renowned as one of Spain's most beautiful. A flamenco performance – but this is where Carol drew the line.
"We went to a hole-in-the-wall bar and saw a horrible flamenco performance, and I said, we're going to have to do this again, and we're going to do it right." So she broke her rule and found a top-rated show with a flashy-costumed couple stomping their heels into a blur to a Spanish guitar rhythm. "That was one thing I just couldn't let stand.  It had to be right."
In edgy and hip Barcelona, they walked its imminently strollable Las Ramblas, and took in Gaudi's influence everywhere – sea-themed Casa Batllo, Parc Güell, and most epic of all, La Sagrada Familia (Sacred Family) – a massive cathedral under construction since 1892, and slated for completion in 2030.
Finally, they went to Málaga on the Costa del Sol and on to windy Tarifa, where they took a ferry to Tangier, Morocco, for a quick dip into the Arab world. Camel rides, tea and hospitality, shopping for pashminas and oriental rugs – it was all a splendid and unforgettable whirlwind.
"While the rooms and food were downgrades to my typical travel, their fast pace was a physical upgrade for me. But I think I kept up, and was excited and happy to be there, just like they were," said Carol, still smiling at the memories.
Want more buzz like this? Sign up for our Morning Buzz emails.
To leave a comment, please log in or create an account with The Buzz Magazines, Disqus, Facebook, Twitter or Google+. Or you may post as a guest.