Then and Now: Pokémon Go Review
Click the Buzz Me button to receive email notifications when this writer publishes a new article or a new article in this column is published.
Back in August 2003, Devin Blitzer (then age 9) and Andy Hoffman (then age 11) co-wrote our very first Buzz Kidz story. It was a review of the Pokémon Ruby and Sapphire video game.
This past week or so has been a blast from the past, with everyone buzzing about Pokemon. The app is currently more popular than Twitter. So we asked Devin and Andy to share their thoughts on the new phenomenon. 
Devin Blitzer, age 22  
Five hours into its initial release, Pokémon Go became the #1 app on the App Store (for both iPhones and Android phones). Since then it has continued to grow its user base at an exponential rate. So with all the hype, of course I had to download it. Regardless of the fact that I haven't played Pokémon in years, I have to say I'm quite addicted. All the time. Although the servers crash constantly and it seems to be more of a beta version than a stable one, the idea of the app could be seen as one the most innovative of all time. Unlike Pokémon games in the past, which allow you to play the whole game without having to move from your couch, Pokémon Go forces you to be active. 
Want the best Pokémon out there? The rarest? Want to fight other users in Battle? Get out of the house and start walking. By walking you'll find Pokémon and catch them. And of course I want the best Pokémon. Of course I want to fight other users. And because of this, I've already walked 20 miles the first week. That's 20 more miles than I typically walk in a week before this game came out. Pokémon Go forces you to get out of your environment. 
Although the concept of the game is revolutionary, there are still many flaws with the game. As I mentioned before, servers crashing is a huge one, along with some need for graphic improvement and change of gameplay. It's understandable, though, as no one expected this app to soar so fast. So fast Nintendo's stock saw a 30 percent increase in one week (should have invested). It has the potential to become the best Pokémon game ever created, all depending on how they scale the application. Really more so the direction they take it to keep users still active with the game. But from what I've seen and experienced so far, it's a hit. 
I don't really have time for video games nowadays. Pokémon Go has been the exception. Because of this, I'd say I'd rate this game an 8/10 with the potential to turn in a 10/10 with updates. If you ever played previous Pokémon games or had an interest for video games, this is the game for you. And if you haven't downloaded it already, you'll probably be judged by the rest of your friends.
Devin Blitzer, a graduate of Bellaire High School, currently lives in Austin. He attends St. Edwards's University and works full-time at IBM as a Software Engineer.
Andy Hoffman, age 24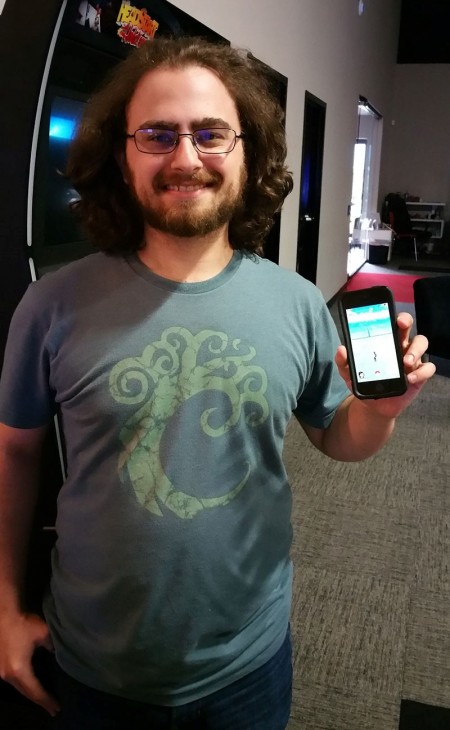 It's been just over a week since Pokémon Go's launch on iPhone and Android, and the craze has yet to die down. It's shattered the App market and broken records, but how long will it last? The app has players venturing out into the real world to collect the virtual monsters and compete with each other to take control of Pokémon Gyms littered throughout the world. Using their cell phones' GPS to track their location, players travel to real world locations where digital Pokémon are waiting to be captured.
In terms of gameplay, it's more app than game, with minimal features and no resemblance to the GameBoy games Go is spun off from. However, the game's augmented reality integration combined with my generation's passion for Pokémon has turned Pokémon Go into a viral hit, spreading outside of its target audience and into the mainstream.
It's unclear how long this game will hold the attention of the core "gamer" audience such as myself, as the actual game is very bare bones right now. (The developer, Niantic, has promised regular updates, though it's still too early to know how significant or frequent these updates will be). We're a fickle crowd with short attention spans, and an endless amount of games to choose from.
However, there's no telling how long Pokémon Go will hold the attention of the mobile game audience that it's acquired; The Candy Crush and Clash of Clans crowd. These sorts of players are a silent majority, the largest growing demographic of gamers since the boon of mobile gaming in the past decade, and if Pokémon Go can successfully keep these players hooked, the game will have a long life ahead of it regardless of whether or not the core audience has moved onto the next big thing.
Andy Hoffman, a graduate of Carnegie Vanguard High School and Savannah College of Arts and Design, currently lives in Greenville, NC. He works full-time as a Games Programmer at Grover Gaming. 
Are you playing Pokémon Go? See more buzz about the game and share your experience in the comment section below.
Want more buzz like this? Sign up for our Morning Buzz emails.
To leave a comment, please log in or create an account with The Buzz Magazines, Disqus, Facebook, Twitter or Google+. Or you may post as a guest.