Duchesne Academy's Concert for Uganda 2017
Click the Buzz Me button to receive email notifications when this writer publishes a new article or a new article in this column is published.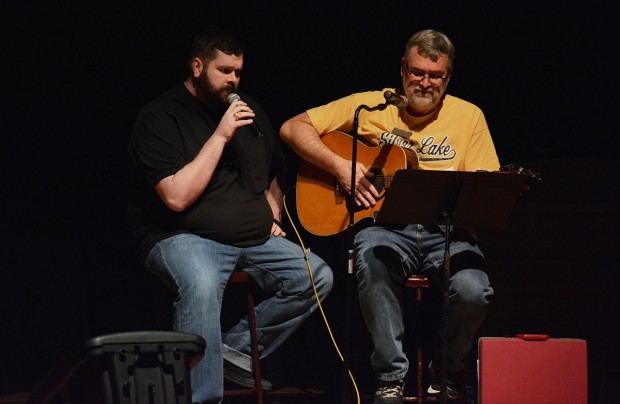 At Duchesne, service is one of the most important aspects of our education. In fact, one of the five goals of the Sacred Heart schools is "a social awareness which impels to action." One example of Duchesne students and faculty working to help those in need is the Concert for Uganda.
The Concert for Uganda is an annual event at Duchesne that takes place every January. Mr. Michael Horne, the upper school American history teacher, founded the concert in 2007 and organizes it every year. The money raised from the concert is sent to our sister school in Uganda, The Sacred Heart Primary School in Kymausanala. The school opened in 2003 with only 70 students, but today more than 600 students are enrolled!
Supporting the education of these girls in Uganda is extremely important because the UN estimates that "every year of primary education in Uganda raises the economic level of the family 4.7 percent." $720 pays for the tuition, food and board of one student at the school for one year. The money raised at the Concert for Uganda raises money that provides children in Uganda and Kenya with the opportunity to lift their families out of poverty through education. 
In the concert this year, there were 18 different performers, a mix of students, teachers and people outside of Duchesne. Mr. Horne himself performed a few times onstage, as he does every year.
"I am very comfortable performing on stage," he says, "I never get stage fright."
He sang some songs with his band and another song with his son, and the students at Duchesne always love to see their history teacher sing rock 'n roll songs onstage. Out of the 18 performers, most were students at Duchesne. The concert provided the perfect opportunity for many students to use their incredible talent to support a wonderful cause.
The concert's opening act included a diverse group of performers, including Mr. Horne, several other teachers at Duchesne, and two students at Duchesne, seniors Michelle Salomon and Avani Sihra. One of the early performances in the concert was a duet of sophomores Tatiana Passmore and Joanna Kass, who sang "Riptide" and "Chains/Drag Me Down," with sophomore Andrea Tager accompanying them on the guitar. My friends and I were in the audience of the concert, and we were immediately impressed by their beautiful voices. Next, other performers like senior Riley Battenfield and theater teacher Ms. Michelle Britton performed, and the concert remained upbeat and entertaining.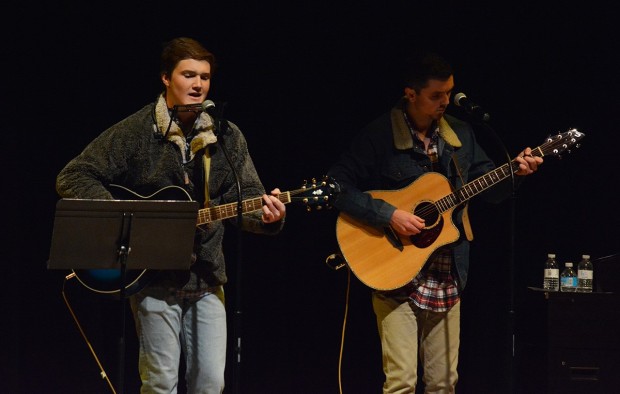 As I watched students and teachers at my school perform onstage, I felt very proud of my community; they had all clearly worked hard for the concert to run so smoothly, and each performer did a great job. Mr. Horne remarked that this year "the acts were all excellent." Mr. Horne and his band, called "Greg Partyka and his Partakers of the Seventh Heaven" performed onstage during the concert, which was a very fun addition to the concert.
Other performers included freshmen Owens Taylor, Avnika Dubey and Emmalynn Barry; sophomores Gabby Holder and Abby Garrett (who played the guitar for several singers); juniors Camilla Valente, Andreina Pardey and Katherine Guidry and senior Laura Lee Johnson. Each act was wonderful in its own unique way, and it was additionally impressive that the performers came from all different grade levels. 
Katherine Guidry, who both played the guitar at the concert and helped organize it, says that "Concert for Uganda was such a great event to be part of. From working with passionate students and teachers to performing the first time in front of a crowd, this concert will truly remain one of my closest memories throughout all of my high school years at Duchesne." About halfway through the concert, the head of the upper school, Dr. Donald Cramp, performed a song with the head of the middle school, Mr. Tony Houle. When they sang Bon Jovi's "Livin' On A Prayer," the entire audience sang along during the refrain. This too is a reflection of Duchesne's unique participative community. Mr. Horne noted that this year "the audience was big but very attentive and appreciative." Choir teacher Mrs. Manley performed a song, as did her son Jacob Manley, who is a student at St. Thomas High School. Near the end of the concert, a boy band called "3 Exits to Hattiesburg" performed, which the audience greatly enjoyed.
The grand finale of the concert included all the previous performers and the entire upper school choir. The performance was complex, as it included a diverse range of instruments like hand bells and electric guitars and showcased dozens of talented singers. The finale's high energy embodied the positivity that was present throughout the concert. Mr. Horne described this energy when he said, "for some reason this year was the best 'vibe' we have ever had." 
The concert was overall a fantastic success, for it brought together the Duchesne community and raised money to support our sister school in Uganda. Through the concert, we raised about $7,000 for the school! This incredible accomplishment reveals the Duchesne community's passion for helping those in need, and the Concert for Uganda exemplifies our Goal Three, "a social awareness which impels to action."
People in this article:
Michael Horne
,
Michelle Saloman
,
Avani Sihra
,
Tatiana Passmore
,
Dylan Horne
,
Joanna Kass
,
Andrea Tager
,
Riley Battenfield
,
Michelle Britton
,
Owens Taylor
,
Avnika Dubey
,
Emmalynn Barry
,
Gabby Holder
,
Abby Garrett
,
Camilla Valente
,
Andreina Padry
,
Katherine Guidry
,
Laura Lee Johnson
,
Dr. Donald Cramp
,
Tony Houle
,
Jacob Manley
,
Kathy Manley
,
Grace Burgert
,
Benny Muniz
Want more buzz like this? Sign up for our Morning Buzz emails.
To leave a comment, please log in or create an account with The Buzz Magazines, Disqus, Facebook, Twitter or Google+. Or you may post as a guest.