Chef's Corner: Johnny Carrabba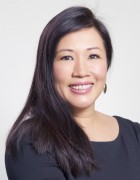 Click the Buzz Me button to receive email notifications when this writer publishes a new article or a new article in this column is published.
Find out about your favorite chefs, and where they like to eat, in our Chef's Corner column. This month, restaurant writer Dai Huynh interviews chef Johnny Carrabba.
"I dressed up for you," Johnny Carrabba III said with a grin.
"I can see that," I replied, noting his slouchy sweats and disheveled, dark, wavy hair under a navy baseball cap. Other than a few laugh lines and grays, he hasn't aged much through the decades. There is the same mischievous twinkle in the eyes, cheerful confidence and infectious boyish smile.
Maybe it's because the Original Carrabba's on Kirby still draws huge crowds daily. This isn't a small achievement after three decades in business. Or maybe it's finding love in his mid-50s and marrying Randi Smith (principal of Client 1st real estate) in 2014. More likely, it's all those things, plus the twists and turns.
Johnny frequently reflects on the past these days and how the pieces came together. The 58-year-old restaurateur offers a glimpse of his journey in his award-winning cookbook, With Gratitude, a hefty 288-page volume sprinkled with beautiful photographs, treasured family recipes and colorful vignettes about the Carrabbas and uncles Tony, Vincent and Damian Mandola.
Johnny and his uncle Damian founded the Original Carrabba's on Kirby, followed by a second location seven years later at South Voss and Woodway. Both locations are still family operated. The 250-plus Carrabba's Italian Grills across the country and around the world are not. They are owned by Bloomin' Brands, parent company of Fleming's Prime Steakhouse and Outback Steakhouse. Neither Johnny and Damian are involved in the day-to-day operation of the second largest Italian-themed chain in the nation (behind Olive Garden), but they remain brand ambassadors.
Many restaurateurs can only dream of turning one restaurant into a nationwide chain. But it took work and being lucky enough to be born into a family where cooking comes from the heart – a lesson drilled into Johnny by his grandmother, Grace Mandola. But along with Grace, another woman's gutsy determination inspired him and other family members to open some of the most successful restaurants in Texas. Truthfully, Johnny said, he isn't sure if there would have been a Tony Mandola's, Damian's, Nino's, Vincent's or Carrabba's without the grande dame of Tex-Mex. Here, Johnny reminisced about Ninfa Laurenzo and opening day.
Do you remember the day you and  Damian opened the Original Carrabba's on Kirby?
Oh, yes, very vividly. That was on Dec. 26 of 1986. I really wasn't that experienced. I really wasn't ready to open a restaurant. But Damian, my uncle and partner, he said, "Man, we got to to get it open." So Dec. 26 was the day, and I'll never forget on Dec. 25, the day after Christmas. I'm sitting next to my dad, whose name also is Johnny. I said, "Dad, do you have any money on you?" Being a typical Sicilian guy, who's close with his money, he asked, "What do you need money for?" 
I said, "I don't have any money to open the cash register for change." I borrowed $500 from my father.
How did Carrabba's do on the first day?
Damian had the flu and had to leave early. I was so nervous. I thought to myself, "How am I going to do this?" Even though it was only a 3,000-square-foot restaurant, I felt I was in the ring with Rocky Marciano in his prime, and it was overwhelming. This restaurant is a hard business.
But through hard work, I kept trying and I got better at it. On the first day, we had a private party for the Menchen family. We charged them $1,200, and then we rang up $3,000, so we made about $4,000.
And you were able to pay your dad back.
Well, Dad owns 10 percent of my company, so he's been paid back. It's the best investment he's ever made.
So 27 years after opening Carrabba's, you opened Grace's (3111 Kirby) and Mia's (3131 Argonne Street) next door. Grace, of course, is a tribute to your grandmother, and Mia is your daughter.
The Carrabba's on Kirby has always been my first love. That's where I cut my teeth, and all the blood, sweat and tears went into it. But through the years, I had accumulated properties around it. There were these big developers wanting to build skyscrapers on the properties, but that just didn't interest me. I made a commitment to be in the restaurant business, and I had a revelation.
But the gutsiest thing I've ever done was to build a whole new Carrabba's on Kirby. That was a big gamble. People felt attached to that little building, and most of the time, it doesn't work out. But we had a really good architect, and he kept it feeling the same even though it had a new engine. 
The restaurant business is transient. People come and go. But many of the servers and cooks in your book have been with you for 15 years or longer, and in the "Heart, Soul and Characters" chapter, you expand on your fondness for employees with colorful personality.
Any business will take on the personality of the owner and their employees. When my uncles Vincent and Tony opened Nino's on West Dallas, I was a young boy. Nino's is 38 years old. We would go there as a family to eat, and I was so entertained by the cast of characters. They had every walk of life in that restaurant. It was entertainment at its best, and I wanted to emulate that feeling. Restaurant managers don't want to manage characters because they are hard to manage. But people go out to eat for more than just getting their stomach full. It is a form of entertainment.
You mentioned that without Ninfa Laurenzo, there might not have been a Carrabba's.
I was at Ninfa's opening night. My uncle Tony was dating Ninfa's daughter, Phyllis. They're married now. I give a lot of credit to my grandmother Grace. Amazing Grace, we called her. But you know, Ninfa was a great figurehead, too. It was her vision, her family and her kids, you know? You take this widow with five children – all in Catholic school – and you put her back up against the wall. What does she do? She opened a little restaurant on Navigation and changed Mexican food as we knew it. She inspired me, my uncles, and what spun off was Tony Mandola's, Nino's, Vincent's, Damian's, among other things. She's the one. If it weren't for her, we probably wouldn't be in the restaurant business. You never know who's going to impact your life.
Where do you and Randi take the family out to eat?
I am partial to family businesses. I love Shandy's Cafe (5815 Memorial Drive). She has good, clean, consistent food. She has a patty topped with bolognese sauce that's terrific. She has a great turkey burger, and her salads are good. I love Kenny & Ziggy's (2327 Post Oak Boulevard) because I love Ziggy [Gruber], Niko Niko's [multiple locations] because I love Dimitri [Fetokakis]. And for upscale, I love, love Philippe Verpiand and Monica [Bui], at Etoile (1101-11 Uptown Park Boulevard). I love Damian's (3011 Smith). It's still good. I just think a family-owned business has more soul.
Your cookbook marked Carrabba's 30th anniversary. It's full of coveted family and restaurant recipes, from the best-selling Dessert Rosa to the famous Brick Chicken. Which one is your favorite?
We worked with an amazing team, and we'll never make money from it, but I don't care. The book is meant to be a gift. We wanted to thank our good customers. Also, too, if I could give this book to my sunshine, my daughter Mia, it was worth it. I included all my favorite recipes. But there is one that grabs my heart: my grandmother's chicken soup, or Sicilian penicillin; that says it all.
Editor's note: Buzz dining columnist Dai Huynh is a James Beard food-journalism award winner and longtime Houston-based restaurant writer.
Want more buzz like this? Sign up for our Morning Buzz emails.
To leave a comment, please log in or create an account with The Buzz Magazines, Disqus, Facebook, Twitter or Google+. Or you may post as a guest.