Chef's Corner: Richard Sandoval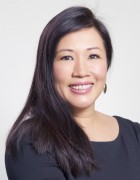 Click the Buzz Me button to receive email notifications when this writer publishes a new article or a new article in this column is published.
Find out about your favorite chefs in our Chef's Corner column. This month, restaurant writer Dai Huynh interviews chef Richard Sandoval.
Chef Richard Sandoval racks up about 300,000 air miles annually. That's roughly 12 trips around the globe.
With 45 restaurants and lounges around the world, Mexican-raised Sandoval is a superstar. Recently, he opened Bayou & Bottle, in the lobby of the Four Seasons Houston (1300 Lamar). The bourbon-and-whiskey concept is his first Texas endeavor. Known as  the "King of Latin Fusion," he opted instead for an abbreviated, modern, American platform of small plates and a few entrees for Houston. The real stars are the 100-plus bourbons and whiskeys savored in a mid-century modern "living room" accented by rich walnut, European gray oak, onyx and Carrara marble.
Hours before boarding a plane to inspect his three restaurants in Dubai, he took time out to talk. 
With restaurants in beautiful resorts and your free miles, you must take the family on great vacations.
You know the worst thing about it all? I have restaurants in all these great resorts, but we don't go on vacation while there; I go to work. I can't disconnect. I'm always observing, judging.
Would you say that your grandmother, Maruca, introduced you to the love of food?
Absolutely. In our culture, in Mexico, family is important. On weekends, our entire family would get together at my grandparents' home. If you can imagine this long table with about 20 people, and my grandmother would sit at the head of the table. She and her cooks have been cooking six, seven courses all morning, and there I was, a young boy of 8 or 9, watching what they were doing.
What was the most important thing you learned from your grandmother about good cooking?
She and the maids were always tasting. They weren't cooking from recipes; they were cooking by taste, and that's the most important thing that I've passed on to my chefs. When you cook from a recipe, you're not going to be a good cook because ingredients are always changing.
You published "Modern Mexican Flavors" in 2002, five years after opening Maya on the Upper East Side of New York City. Do you remember what those first few months were like?
It was hard. I was two months from closing. Many people traveled to Acapulco, and all they saw were tequila, shooters, tacos, nachos and combination plates. What they probably had was Tex-Mex. People would say, "Why would I spend $50 at Maya when I can spend $10 at Margaritaville?"
Now, whenever I see (New York Times restaurant critic) Ruth Reichl, I say thank you because she changed the direction of my life. She knew Mexican food and wrote a great review. Maya was the first Mexican restaurant that got 2 stars from The New York Times, and we went from doing 25-30 covers a night to doing 250 every single night thereafter and for the next five years.
Through the years, you've partnered with some high-profile individuals. You and Plácido Domingo opened critically acclaimed Pampano on East 49th Street in New York.
I knew Plácido and his family while I was working in Acapulco at my father's restaurant. He has a compound there, and his family would gather there. When I opened Maya, he would periodically come in to eat.
Why did you opt for a bourbon-and-whiskey modern American concept, rather than a tequila-inspired venue?
There are so many good Mexican restaurants here. To do another Mexican or Latin concept here just didn't make sense.
If this was someone's first visit to Bayou & Bottle, what recommendations would you give them? 
The oxtail and bone marrow. It's a braised oxtail with bone marrow. That's one of my favorites, especially in cold weather. Another favorite dish is the scallop with brown butter, sunchoke, and pears.
Bayou & Bottle features many rare whiskeys and bourbons, but you are a tequila and mezcal fan. Do you have a favorite tequila, and can you give us your recipe for a perfect margarita?
I personally like to put a little mezcal float on top to give it a nice smokiness. I use a blanco rather than añejo or reposado tequila. I put in about 2 ounces of fresh lemon or lime, a tablespoon of simple syrup, a tablespoon of quarto and an ounce of tequila.
Editor's note: Buzz dining columnist Dai Huynh is a James Beard food-journalism award winner and longtime Houston-based restaurant writer.
Want more buzz like this? Sign up for our Morning Buzz emails.
To leave a comment, please log in or create an account with The Buzz Magazines, Disqus, Facebook, Twitter or Google+. Or you may post as a guest.