Chef's Corner: Ho Chee Boon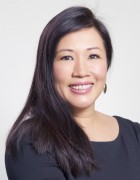 Click the Buzz Me button to receive email notifications when this writer publishes a new article or a new article in this column is published.
Find out about your favorite chefs in our Chef's Corner column. This month, restaurant writer Dai Huynh interviews chef Ho Chee Boon.
When your restaurant is awarded a Michelin Star, it is a sign that you've succeeded at the highest level as a chef. Yauatcha chef Ho Chee Boon doesn't believe in the stars, at least not the astrological kind. "You really believe that if you're born in the Year of the Ox then you'll be stubborn and hardworking?" the 44 year old asked. "No, I don't believe. It would mean that everyone born that year will have the same traits."
Chef Ho, born in 1973, the Year of the Ox, is, without a doubt hardworking, a tad stubborn and a good leader. He oversees 47 chefs at the Galleria's Yauatcha (5045 Westheimer Road). And that's just the Houston location. The Michelin-starred toque with an easy smile and serious brown eyes is the international-development chef of more than a dozen restaurant concepts. They belong to the Hakkasan Group, which operates one of the most famous modern Chinese restaurants, Hakkasan, with locations in the Middle East, China, the United States, Indonesia and the United Kingdom.
Earlier this year, Yauatcha opened in Honolulu. But Houston is the first mainland location, with plans to open more around the country. Sitting down to chat, the boyish Chef Ho scans the kitchen. "I want to hire more chefs," he said. "We're doing about 400 covers a day."
The Yauatcha in Soho, London received a star from the Michelin Guide, which described it as "high-quality cooking, worth a stop!" Houstonians are doing that. Yauatcha (pronounced yow-atcha) is booked through the summer but accepts walk-ins. Granted, it's hit or miss. The bar is a safer option, and you might squeeze in on a sluggish Tuesday night. 
The panoramic view of Yauatcha's open kitchen feels mystical, with chefs in their pearly whites, engulfed in steam. Ho's team starts at 7 a.m. "I work 15-hour days," he said. Helen Chuong places a pale jade-colored teapot in front of Ho and pours golden Anxi Tie Kuan roasted ooglong. "It has a fragrant nose of honey and lilac," noted the 23-year-old barista. "It's my favorite."
Back in ancient times, travelers along the Silk Road would stop for a light repast of yum cha, or tea and dim sum, which means small bites that "touch the heart." What is dim sum like in China these days?
Tea is still a big part of dim sum. Here, at Yauatcha, we offer more than 24 kinds of teas. In Houston, the restaurant is busiest at night, but in China, dim sum is enjoyed mainly in the morning.
Your parents are Chinese, but where were you born? Do you have brothers and sisters?
I was born in a small town, Taiping, in Malaysia. I come from a large family: eight brothers and one sister. I was No. 9. I started in the kitchen very young, washing dishes. I was 8. But I wanted to work. Nobody made me. The restaurant turned me away at first. The next day, I just stood there. Finally, they said OK.
In 2012, you moved to the United States to open Hakkasan New York. Eight months later it was awarded the Michelin star. Your mother must have been proud of her son with not just one, but two Michelin restaurants.
Mom asked, "What is this Michelin star?" It's nice. But I never think, "Now you're a famous chef." I just want to work and to visit my mother for two months every year. She's the most important person in my life.
What's with the tea house at Yauatcha? The ceiling is black with tiny, twinkling lights. Are they supposed to be stars?
This restaurant is modeled exactly like the one in London, which is in this very dark basement, so we needed to do something to make it brighter. You see the blue lit wall over there. In London, it's a fish tank.
What should I order at Yauatcha? There are more than 66 menu items, not to mention the French desserts. 
We use only fresh seafood here. The shrimp is from the Gulf of Mexico. At other locations, we use imported tiger prawn, but not here, so I would try the shrimp har gau or the Phoenix tail shrimp sui mai dumplings. I can also recommend the XO scallop dumpling and the pork dumpling soup. The venison or roasted duck pumpkin puff are popular.
A Chinese friend of mine wants to order your famous Peking duck, the one that sells for more than $200. Really? 
Don't judge until you try it. It's very special. It's a whole duck served in two courses. The first course comes with Tsar Nicoulai Reserve caviar. The second one is stir-fried with XO or black-bean sauce. It's been a hit in Houston. In London, we may get two orders a day. Here, we get three or four.
Editor's note: Buzz dining columnist Dai Huynh is a James Beard food-journalism award winner and longtime Houston-based restaurant writer.
Want more buzz like this? Sign up for our Morning Buzz emails.
To leave a comment, please log in or create an account with The Buzz Magazines, Disqus, Facebook, Twitter or Google+. Or you may post as a guest.