Family Quest
Grandpa was a Polish war hero
Click the Buzz Me button to receive email notifications when this writer publishes a new article or a new article in this column is published.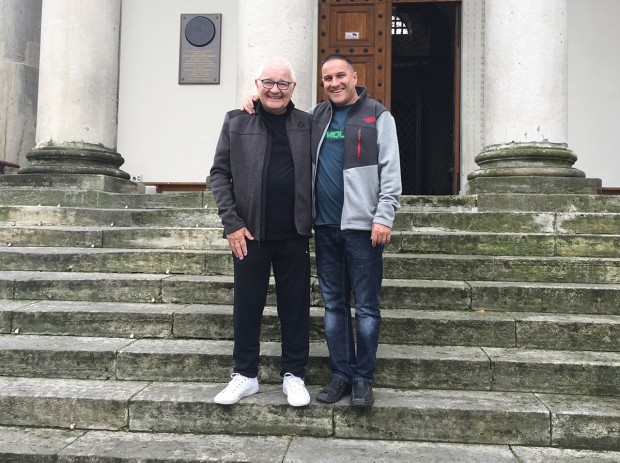 It all started – as so many things do, these days – on Facebook.
Leszek Kolawik was in his native Pulawy, Poland, in 2015, putting together his family tree. He reached out to second cousin George Arzymanow, whose family had been exiled to London after World War II and who now lives in Houston.
The two had met in 1969, as teens, when George's family had gone back to Poland to visit family. The years flew by; the two grew up, had families, had jobs, lost touch.
The year 2015 was tough for George. He was going through treatment for pancreatic cancer. When his long-lost cousin Leszek found him on Facebook, the discovery was bittersweet; he soon learned that Leszek was battling stomach cancer.
When George pulled through his treatment, he decided to celebrate. He reached out to his son Mark and invited him on a father-son trip to meet Leszek and his three adult children, Pawel, Bart, and Ewa, Mark's third cousins.
As it turned out, there was another reason to celebrate. George's father, Wladyslaw Arzymanow, was being recognized as a war hero. In his hometown of Pulawy, there were two ceremonies scheduled for September 2016, to recognize the role he played in protecting his city and his country from the Axis forces.
It was decided that the whole family would go – not just Mark and his parents but three cousins and an aunt in London, and they would visit the family in Poland that Mark had never met.
The visit was filled with sightseeing, delicious food and conversation, which was managed with the help of Leszek and his two sons, Pawel and Bart, as tour guides and translators. The two ceremonies in Pulawy were moving experiences for the family. First was the opening of a World War II exhibition at the Oswiatowe Museum to honor Polish army heroes from the Pulawy region. And second was the honoring of Mark's grandfather, George's father, Wladyslaw Arzymanow, and the dedication of a plaque at a military church.
The visit came none too soon, as Leszek lost his battle with stomach cancer in December, just three months after their epic journey to Poland.
"I never actually knew my grandfather," explained Mark, who contacted The Buzz to share his family's story. "He died of a heart attack when my father was 21. We always thought it was because of the stressful World War II days."
Mark, who was born in London, was always interested in learning more about where his family came from. He has traveled widely in his work as an internal auditor and currently works for Occidental Petroleum. "I've had the opportunity to travel to a lot of cool places, but never to Poland."
He and his father started talking about the trip when George was still in treatment. George was close to his father, as he was the oldest son. His brother and sister are about 10 years younger and grew up in England, and George is the only one still surviving who really knew his father, so the ceremonies meant a tremendous amount to him.
"When we were at the museum, they were presenting, and I saw him kind of crying," said Mark. "It was the first time Poland had recognized him as a war hero."
Their first stop was the big city of Warsaw (pop. 3 million) – "crazy traffic," Mark remarked. Pulawy (pop. 50,000) is a two-hour drive from Warsaw, and the family enjoyed the slower pace and the quiet of a smaller city.
"We had a lot of great Polish food, and the exchange rate is great, so we ate like kings," he recalled. He has the photos to prove it: pickled herring, his most selected appetizer; zurek, a traditional Polish vegetable soup; veal with dill potatoes; Polish pancakes and sausage; and a family classic that had been handed down through the generations: barszcz, which is a Polish beetroot soup.
One memory stands out. Cousin Bart took Mark and his father to a church that stands on top of a hill, the highest point in Pulawy. Atop the hill is a large cross and a view that extends for miles.
"From the top of this hill you can see the bridge where my grandfather tried to defend Pulawy from the Germans," said Mark. "My dad stood on these steps with his dad a year before he died – and 50 years later we took a picture of ourselves, father and son."
The region was beautiful – hilly, woodsy and green. They went to the museum to check it out before the exhibit honoring the Pulawy war heroes opened. Mark, long fascinated by World War II movies, marveled at the helmets, guns, shovels, posters, all the artifacts of a global cataclysm brought home in a modest museum in small-town Poland. 
They went to the church where his grandfather served as an altar boy, with a portrait of John Paul II – the Polish pope.  And they wandered the green hills where his grandfather used to go as a child.
"My grandfather had a hard life, so he would go to these hills and cry," said Mark. "He would call them the crying hills. We don't know exactly why it was so hard, but his parents died at a young age."
The family tour included a visit to Zbedowice, an entire village that was wiped out as revenge by the Nazis during the war. Eighty-four people were killed, a third of them children.
At the bed and breakfast where they stayed, the owner told him some of the history of the home. One story that the owner shared was about Jews who hid in the attic while German soldiers were staying in the basement.
"Older people would come back to visit the bed and breakfast and remembered these things," said Mark. "This lady had come back and remembered looking out the front door and hearing the dogs of the soldiers searching for people in the distance."
On the brighter side, they visited a medieval castle dating to the founding of Pulawy in the 1500s. They spent time in the historic market square. They explored family roots in one of the town's cemeteries, with their lineage well represented.
One of the most powerful experiences was in Lublin, where the family visited the Majdanek concentration/death camp. The history of the place was nearly impossible to fathom, but there were clues to how it must have been – like the bullet holes in the wall, the enormous furnaces and the crematory, the massive mound of human ash, and the cages – the length and height of the long room – filled with the shoes of those who had been shipped here to die. Women's shoes, men's shoes, children's shoes, by the thousands. The image haunts Mark still.
Their tour guide was an English-speaking Polish woman. At the end of the tour, she said, "You might wonder why I'm doing this. My grandfather actually survived this concentration camp." The connection came full circle when Mark was able to respond, "The reason I'm here is because my grandfather is being honored for his service in the war."
The ceremony to honor his grandfather was also moving, but in a different way. His dashing blue-eyed figure smiles down from the wall of the museum now, exuding kindness, confidence and courage. Everyone wanted to serve under him, Mark said, because he had the fewest casualties.
His grandfather Wladyslaw Arzymanow was one of the first European spies, and he held some key positions in the war. At the outbreak, he defended his hometown from the oncoming German armies. Then he acted as a courier between Hungary and Poland, helping the Polish Resistance. He joined the newly formed Polish armed forces in Syria and saw front-line action in North Africa, including Tobruk. Then he was assigned to the Italian campaign actively involved in the battles for Monte Cassino, Ancona and Bologna. By the end of the war, he was the youngest major in the Polish Army.  He was twice awarded the Cross of Valour (equivalent to the U.S. Purple Heart).
The flag ceremony at the military church was all in Polish, so Mark couldn't understand much, but it was beautiful – and impressive, with national media coming to cover it, and the church packed to overflowing.
"They definitely haven't forgotten World War II. It's in their culture. They're survivors," said Mark. "It's very hard for us to understand."
Looking back, Mark says he would strongly recommend reaching out to family in the Old Country, wherever that might be. "I would just say meeting new family members and not letting language be a barrier was a neat experience," he said.
Above all, the visit to Majdanek was a powerful eye-opener. "Visiting that death camp and knowing what people went through so many years ago…. It's very important not to forget."
Want more buzz like this? Sign up for our Morning Buzz emails.
To leave a comment, please log in or create an account with The Buzz Magazines, Disqus, Facebook, Twitter or Google+. Or you may post as a guest.