97 years of travel
Click the Buzz Me button to receive email notifications when this writer publishes a new article or a new article in this column is published.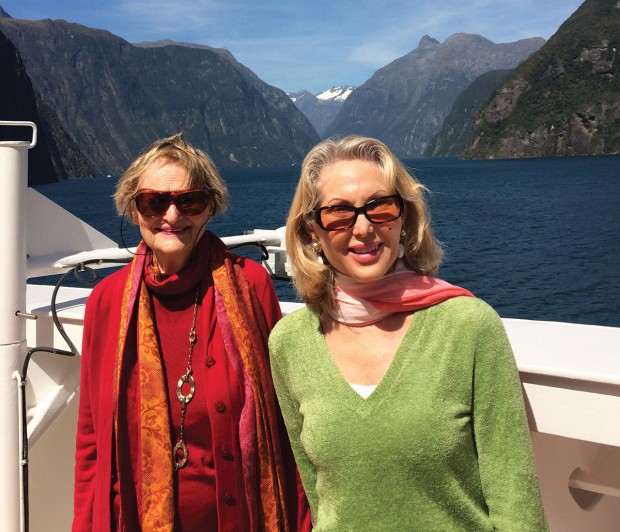 Ruth Peters' first mode of transport was in a horse-drawn wagon from her family farm in Central Kansas to the one-room schoolhouse she attended as a child. Little did she imagine, as she pulled the straw up over herself to ward off the cold, that she would one day fly first-class around the world and dine with a king.
Ruth, 97, has seen most of the world and quite a lot of changes in nearly a century of travel, and she shows no signs of slowing down. Nowadays she is an inspiration to those who travel with her, says her daughter and favorite travel companion, Gayle Christie. To see her sprightly form striding over the deck of a cruise ship, most would never guess her age; indeed, says Gayle, many fellow travelers have chosen to accompany her on her appointed rounds as a way of staying fit during the cruise.
The Buzz caught up with the pair just as they were packing for a month in Europe. "Whenever we go anywhere since Mother's been 90, people always ask: What's your secret?" Gayle said. Her answer: tons of vitamins, a strong faith and a grateful attitude.
"That's what we tell them. If they listen or not, we don't know," says Ruth with a chuckle.
Ruth's father raised her and her three brothers after her mother died. She met her future husband while she was still in high school. Ken Peters was growing up five miles away on a family farm, homesteaded by his great-grandfather in 1882. Both families were very poor, but in the 1930s, the Peters family struck an oil deposit on their farm, and they kept working the farm but got into the oil business, as well.
In 1939, Ruth married her high-school sweetheart, and their travels together began with a road-trip honeymoon to Monterrey, Mexico. 
"My husband took $300 dollars along," she recalls with a laugh. "We ate all our meals out, paid for our hotel and paid for our gas – and we came back home with $150.
"A lot of times you could buy five hamburgers for a quarter back then," she added. "These days, $150 couldn't buy you the meal in some places!"
Ken took flying lessons and became a pilot. In the fall of 1946 an airport opened in their tiny town of Ellinwood, and Ken opened the first flying school in Central Kansas.
"So that's how our flying began," explained Ruth. They became active in a group called the International Flying Farmers, which scheduled family-oriented events all around the country.
"It was wonderful for our children," she said. "They made friends all over the United States and Canada. Every flight had an educational part to it. They did not have a fly-in just for fun."
Flying in those days was less complicated, and many farmers owned their own aircraft. The Flying Farmers peaked at around 11,000 members in 1977, before the farming economy crashed and aviation regulations and fuel prices made airplane ownership less accessible. 
Ruth never got a license but she did her share of flying. "My husband would get us up in the air and point me in the direction we were going to go and take a nap," she recalls. They'd fly all over the country on Flying Farmer-related activities.
"One time when we went to see some friends in California, my husband was a very good pilot, and he decided to fly into the Grand Canyon," she said. "That's a real no-no now, of course. But we flew right past the faces at Mount Rushmore, too. And we flew over Niagara Falls when a part of it broke off and they diverted the water to fix it."
One time she remembers flying up to Manhattan in the summer of 1969 when they got a message on the radio near Ithaca, N.Y., telling them to steer clear of the airspace. Later they learned they had been about to fly over the famous Woodstock Festival.
Another time they flew to Cuba with two other couples shortly after the Cuban Revolution. The Havana streets were eerily silent.
"There wasn't anybody in the night clubs, but they were all open," she recalls. They went to the Copacabana and a band was performing – but it was just them and the band. Then they flew out to Guantanamo Bay and were overwhelmed by the poverty they saw everywhere. "I didn't like going to these places where the people were so poor and I couldn't do anything to help them," she said.
Gayle inherited her father's love of aviation, and when she grew up she went to work for British Caledonian Airlines. She was able to allow her parents to fly for free when seats were available, so they traveled around the world, visiting friends they'd made in their years with the Flying Farmers.
After her divorce in 1980 Gayle moved to Houston to start a floral preservation business called Florage, and her parents, now retired, exchanged their plane for a Greyhound bus, which they had customized into a motor home. They drove to trade shows all over the country to promote Florage, and then they began making friends among the motor home community, attending motor home rallies in different states.
Ruth is astonished when she stops to reflect on all the changes she's seen – from the horse-drawn buggy to the Model T to the automatic to the plane. "And now they even have rockets to the moon!" she says. "I remember in Sunday School saying they'll never get to the moon, God won't let them. It's amazing what God has allowed Man to do. Now we're in the era of so much knowledge, and I've seen all that unfold."
In 2009, Ken passed away, and a new chapter began. Ruth came and stayed with Gayle, and they began to take international mother-daughter journeys together.
They began with an autumn tour of Montreal and Quebec in the fall of 2012. In 2014, they went to Norway; in 2015, they toured Turkey, where they attended a special dinner in the ancient library at Ephesus, went up in a hot air balloon to see the Fairy Chimneys of Cappadocia, and took in the sights of Istanbul; then they went to Australia and New Zealand, where they saw the Blue Mountains and the Great Barrier Reef and visited with friends they had met on a cruise.
Last year they got to go to Romania where a friend who works as the royal family's financial advisor invited them to the romantic Peleș Castle in the Carpathian Mountains, for a garden party hosted by King Michael of Romania.
This year the pair was preparing for an action-packed Reformation Jubilee Tour of Germany, France and Switzerland to celebrate the 500th anniversary of the Protestant Reformation; then from there they planned to take a cable car to see the Eiger Mountain in the Swiss Alps. In November, they are planning a trip to Tasmania.
But despite her cosmopolitan lifestyle, the Kansas farm girl is still very much alive and well. "When you have your feet on nothing but cement you lose your connection with God very quickly," said Ruth. So everywhere they go, they take trips out of the city to see the countryside and meet the people.
They make friends everywhere, Gayle says. "We're very inclusive and outgoing. People open up to us, maybe because Mother is 97 and looks so harmless."
They remember with particular fondness an 87-year-old Jewish gentleman they met on a cruise from Amsterdam to New Zealand.
"His story was just phenomenal," said Gayle. "He opened up to us and told us unbelievable things."
As a 10-year-old boy he and his family was taken to Auschwitz. He was allowed to take only a deck of cards, and every day he would play this game for two years. One year he won the game and made a wish that he and his family would get out of the concentration camp. Right afterwards the guard came and said he and his family were free to go. They put them on train that took them through Bulgaria, Turkey and Syria all the way to Jerusalem. The allies were bombing all around the train, but it was never hit.
On that cruise, as on others, Ruth was known by all on board. One 20-year-old crew member began joining Ruth on her daily walks around the ship.
Ruth is unfazed by the constant movement – in fact, it seems to be just her pace.
 "That's what's so unusual," said Gayle. "Everywhere we go, they cannot believe mother is traveling internationally. She's very active; she's like the hero on the trip."
Ruth is grateful to have a daughter who enjoys being with her, and Gayle feels the same.
"It's very rich, because she's very, very wise," said Gayle. "So God's just richly blessed me with this relationship. It would be nice to be married again, but right now God hasn't revealed him, so it's just been me and my mother traveling the world."
Want more buzz like this? Sign up for our Morning Buzz emails.
To leave a comment, please log in or create an account with The Buzz Magazines, Disqus, Facebook, Twitter or Google+. Or you may post as a guest.