Road tripping to Florida
Click the Buzz Me button to receive email notifications when this writer publishes a new article or a new article in this column is published.
Buzz Baby is a column about life with little ones. Writer Annie McQueen has three children under the age of 3.
On a July morning four years ago, around 4 a.m., the Boudreaux family backed out of their driveway in Houston. The car was packed at capacity, with dad Aaron, mom Lexie and daughters Annie, 5 weeks at the time, and Vivi, 19 months. They had tons of toddler snacks, videos, beach toys and a breastmilk pump.
They were embarking on an adventure, about to head east on Interstate 10. It's one that many Houston families set out for every summer: a 629-mile road trip to the Florida panhandle. Their final destination: Watercolor.
The stretch of Florida has sugary white sand beaches and calm blue water. The natural beauty draws Houston families to make the more-or-less-10-hour drive, sometimes a challenge with small children. "It is totally worth it," said Lexie. This summer will mark their fourth year in a row to drive. They rent a house with several families.
When Annie was only 5 weeks old, Lexie said, "I had to buy the Medela pump adapter for the car and pumped while cruising, every three hours." She alternated pumping breast milk for bottles and nursing Annie. "I do remember pulling off the side of the road to rinse bottles in a bathroom and another mom looking at me like I was a crazy person," she said. "She must have thought I was homeless and needed a sink." 
On their trips, they like to hit the road before the sun rises. "The kids sleep until the sun comes up, or are at least quiet until then," she said.
She has some tricks to keep the girls happy. "We travel with bad snacks that we never allow at home, like Cheetos." She said games also help, charged iPads with pre-loaded shows, or movies if you have a DVD player.
They make it all the way from Houston to Mobile, Ala., with very few stops, just in time for lunch at Mellow Mushroom, a popular pizza joint. They're checked into their rental home and the car is unloaded just in time for happy hour.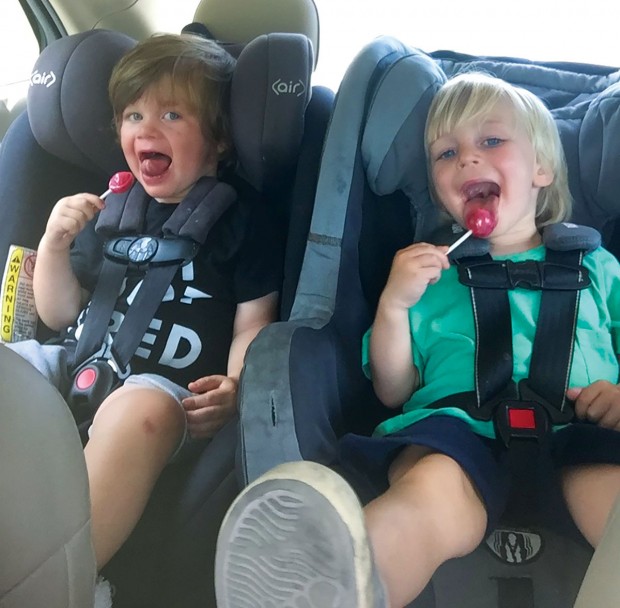 Close friends Anne Echols and Rose Ramsey, who both have toddler boys, decided to road trip it this May to Watercolor as well. Their other friend, Caroline Hadlock, whose daughter Campbell is 8 months, opted in to the trip, but out of the driving part.
"I had wanted to drive" with them, said Caroline. "There was not enough room in the car for three car seats." Caroline ultimately decided it was a good idea, mainly based on Campbell's age, to fly: "Campbell gets bored easily, loves to be involved in her surroundings, and enjoys playing. She would not be able to do that in a car seat, and she hates the car seat."
Anne's son Behr, 2½, loves the song Take Me Out to the Ball Game, so Rose found Jimmy Buffet's version, which the moms found more tolerable than the preschool version. "He just loves all things baseball, and Rose was kind enough to play it for him on repeat. We all sang along," Anne said, laughing.
Rose's son, 3-year-old Liam, is potty trained, but he's still learning. "Liam doesn't get the idea that he needs to give me a warning," said Rose. "He peed a lot on the side of the road from [Houston] to Florida. It did save us a lot of time on bathroom breaks."
They chose to leave town at 3 p.m. "We didn't let the boys nap before we left town, so both eventually took decent naps," said Anne. "We drove [almost six] hours before needing to stop. We had iPads, Apple Music with their favorite songs."
The trip was a straight shot east on I-10, with a slight detour onto I-12 near New Orleans. "We did get on I-12 instead of dipping down to New Orleans," said Rose. "I remember passing Slidell and regretting not stopping there because it looked like they had a good restaurant selection. We ended up just stopping at some McDonald's."
The long road trip was Anne's first but not for Rose. "Last summer, we drove to Marfa and Horseshoe Bay," said Rose. "When [Liam] was a year old, we flew to Augusta but then drove to Hilton Head, which took nearly three hours, we also drove from Reno to Yosemite before he was 2 years old."
The friends have plans next year to return to Florida. Same place, same time, same highway.
Have you ever taken a long road trip with babies and toddlers? Email [email protected] or comment below. For more baby stories, see Annie Blaylock McQueen's column, "Mommy Moments."
Want more buzz like this? Sign up for our Morning Buzz emails.
To leave a comment, please log in or create an account with The Buzz Magazines, Disqus, Facebook, Twitter or Google+. Or you may post as a guest.