No Safety in Numbers: 'Generation Z' Applying to College
Click the Buzz Me button to receive email notifications when this writer publishes a new article or a new article in this column is published.
"Nothing is more dangerous to the adventurous spirit within a man than a secure future...."–Chris McCandless
I'm pretty sure that in 1992 the SAT wasn't a big deal.
Maybe it was somewhat of a big deal. I imagine that it played a role in college applications, and that it partially determined what your future looked like. In all these ways, the SAT represented a small slice of the "what I will do after high school" pie. However, for teenagers today, the SAT is the pie.
In 1992, a young man named Christopher McCandless died in the Alaskan Wilderness. If you've ever read Into the Wild, then you're familiar with his story. After graduating from Emory University as a top student and athlete, McCandless donated all his savings to charity, strapped on a pair of hiking boots, and moved to Alaska. He was alone except for the clothes on his back and the smile on his face. Until the moment he died, Christopher seemed happy.
However, Christopher's story poses one question: how far is too far? How much of your life should be determined by standardized testing and how much by your own free will?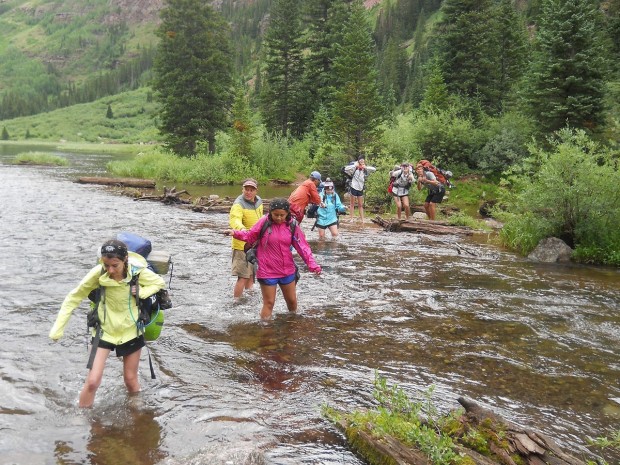 You could argue that poisonous berries didn't kill Chris. You could argue that it wasn't the spirit of exploration that led him to give up all property and return to the land. Quite possibly, it was the quiet, constant expectation to pursue a picket-fenced-future, instilled in students the moment they open an SAT prep book.
To live a life of leap frog, jumping from sedan to mini-van, from one secure future to another, may very well be the real killer. Maybe Christopher's slice of "American Pie" was just too sweet to swallow.
Almost as important as SAT prep books is the fact that I represent the next "slice" of America. Generation Z, otherwise known as the "selfie generation," is subject to the scrutiny of young baby-boomers and retired millennials alike. Too young for Facebook yet too old for Flappy Bird, the 17-year olds of America today ride on the brink of an epidemic.
Social media broke out in the years preceding our birth. We don't understand a world without constant and easy communication. As much as we reveal in it, we are equally infected by it. Pressure oozes out of our Instagram pages like pus from a festering blister. The only difference between the consequences of disease and the consequences of social media is that our wounds are self-inflicted. The baby-boomers might have the right idea on this front: we could at least set the phones down for dinner.
I'll be the first to admit that a large chunk of the pressure hankering down on teenagers today stems from the technology with which we choose to engage. After all, what would Chris think of selfies? Well, to give you a fact, he took one picture of himself before he died, and that was about it.
Another fact: All of my friends have "snapchat scores" around 40,000. For those of you over the age of 35 (teenagers secretly envy you) a "snapchat score" is the number of selfies you've sent or received.
It's no coincidence that the "security" of your future is directly proportional to the amount of "friends" you have and "likes" you receive. Keep in mind, by "secure" I mean white-picket-fence and by "friends" I mean people you communicate with once a year through the interchange of over-edited information.
There's pressure in scores and pressure in pictures. There's a requirement to flourish academically, athletically and socially. And it's all too much.
I think we could all use a fresh dose of Chris. I'm not saying that we need to pack our bags and move to Alaska. But I also think a little fresh air could be useful - in 1992, you didn't have to tack on a VSCO filter to your panorama shot of the Grand Canyon in order to enjoy the view. All you had to do was shut up and stare.
To quote my grandmother: "Get off your damn phones and live your life." I agree. However, another voice rebuts her sentiment: "Don't forget just how useful a cell signal is when you're stuck, starving in the wilderness."
In the end, it's a question of balance. How many selfies is too many? How much should we study for the SAT, and how much of our self-worth depends on a number?
There's a broad spectrum between Chris McCandless and the Ivy-obsessed teens of today. We must all be weary of our choices, in and outside the classroom, on and off line. Trading likes for real life, scores for sincerity and security for the unknown is a risky gambol. But I'd say that if we don't pause to consider the world around us, the outliers that chose to live in Alaska, or the impact we could have when we stop taking selfies, then we've already lost.
Toni Morrison, an All-American superstar in the purest sense, once said that, "At some point, the world's beauty becomes enough. You don't have to photograph, paint, or even remember it. It is enough."
Our futures may not be certain, but if I've learned anything from Chris, it's that happiness does not lie in security. 
Want more buzz like this? Sign up for our Morning Buzz emails.
To leave a comment, please log in or create an account with The Buzz Magazines, Disqus, Facebook, Twitter or Google+. Or you may post as a guest.